You vent about your teams, I offer solutions

By John Buccigross
ESPN.com
Archive
Great response from Wednesday's fan base/e-mails column, especially from Dallas Stars fans. Way to step up, Texas!
Bucci,
I often turn to write you an e-mail, but never have gone through with it. But since you have asked for e-mails from Dallas Stars fans, and apparently aren't getting them, I thought I would oblige. There is a laundry list of problems for the Dallas Stars in terms of a fan base. I will do my best to explain them:
1. Dallas loves a winner, and doesn't much care for anyone else.
2. The fans in Dallas have lost a lot of faith in the ownership group. After the 2008 run to the [Western Conference finals], let's just say that no one doled out the cash to replace Sergei Zubov with another No. 1 defenseman. All of the sudden, we're $9 million under the salary cap, Marty Turco is facing 35-plus shots a night, allowing three goals a game, and the losses started piling up.
So, in summary, Dallas is a terrible place for a sports franchise that doesn't seem to be trying to put a winner on the ice. Attendance here is directly related to wins and losses, and the media often ignores [the team] if we aren't putting up wins night after night. Our TV ratings are also pretty bad, despite having one of the best broadcast duos in all sports, in my opinion.
Anyway, hope that helps in answering your question on the waning support of the Dallas Stars.
Jefferi M.
Bucci,
I'm 28. I was in the fifth grade when the Stars moved to Dallas. It takes a lot to make the front page of the sports section in this town. You better be good, and on top of that, you better have character. The Stars used to do it with great characters ... Churla, Hatcher ... then Carbonneau, Keane, Dave Reid, Lehtinen ... those teams had an identity.
This is a franchise without an identity. I truly believe this franchise would be in a different place if Jamie Langenbrunner hadn't been traded.
No one lives in downtown, the public transportation might be the worst of any top 20 metro area in the country. So if I want to go to a Stars game, I have to fight like hell through traffic, pay $20 to park and not get home until 11.
The Rangers and Stars have the same problem. Their division road games start at my bedtime. I stayed up for a double OT loss last year and ended up being late for work the next morning. Why? The game ended at 1:30 a.m.
Get the Stars and Rangers into divisions with teams in the Central time zone and you've solved a mammoth problem. Truthfully, Ralph and Razor deserve to be seen by more people.
Mat Tonne
I unquestionably received more e-mails from Stars fans than any other team in the last 24 hours. Sports is not just laundry. Fans will always root for their team, but they aren't always in love with their team. Part of the euphoria over the Boston Red Sox finally winning a World Series in 2004 was because of the players on the team. They were interesting and tough.
In just about every athletic endeavor, fans, especially in America, want their players to be interesting and tough. It explains the popularity of Jimmy Connors, Arnold Palmer, Larry Bird, Peter Forsberg, Alex Ovechkin, Muhammad Ali, Tiger Woods, Cam Neely, Wendel Clark and Steve Yzerman. Football towns, like Pittsburgh and Dallas, also require tough hockey teams.
Hello Mr. Buccigross,
I read your column every week. I really like the way you write and seem passionate about hockey. Every time I speak sports around here, I always refer people to ESPN's Web site. I do that because I believe this is the best site to obtain purely neutral and professional sports information. But the thing is, here in Quebec, we mostly speak French (as I do). So many people miss this wonderful Web site, and especially their nice hockey analysis. Anyway, I'll keep advertising for you!
Sebastien Levesque
Bucci,
Just read the blog and I thought I'd send you a warning shot: Come playoff time in a few weeks, the Red Wings will once again dominate. Now, you know.
Sean Jagels
Dear John,
Your description of Rangers fans is dead-on: frustrated and angry. I'm tired of seeing the team have to win almost every game in March just to get the 8th spot. I'm tired of seeing Wade Redden's contract kill this roster. I'm tired of seeing Marian Gaborik out there with no help. With the salary-cap disaster that Slats has put together, my question is: how do you fix this team?
Vince
Oakdale, N.Y.
Buyouts, trades or burying players in the minors are options. The Rangers can afford to put Wade Redden in Hartford if they wish for more cap relief. They could trade Chris Drury if he chose to waive his no-trade clause. What about the Islanders? They are the perfect kind of team for Drury. Drury wouldn't have to move and the Islanders get a perfect player they could use for the last two years of his contract before they have to extend deals for younger players. It is quite obvious the Rangers will, and probably should, do everything they can to sign Ilya Kovalchuk.
Hello Mr. Buccigross,
Thank you for your kind words regarding Ducks fans. We are an intelligent, hockey-loving fan base here in SoCal. I was 12 when the first game was played at The Pond, and I have seen the fan base grow each year.
Recently, the Ducks purchased four different inline and ice rinks in Orange and Riverside Counties (saving one, Westminister Ice, from certain demolishment). The rinks are heavily branded with the Ducks logo and have many youth teams that are sponsored directly by the Ducks. I know these efforts will help tie the current youth to Ducks fandom, and I hope when my wife and I are blessed with children someday, they will be Jr. Ducks or Lady Ducks.
Charles Eldridge
Hi John,
Just read your take on the e-mails you receive from various franchises and wanted to say, "Hey! Not all of us Pens fans are young!" Of course, the vigor is in jest. I wouldn't mind being 20 again. Alas, I'm 40 and can recall the Pens losing to the Islanders in the playoffs. No, not in '93. No, not in '82, either. I remember the 1975 debacle. Ah, well, it's up to us to educate these passionate youngsters, eh? Like why, for instance, no matter how much I love El Sid and Geno, Mario will always be The Man!
Keith Justus
Hey John,
Longtime reader, first-time writer. I think you're spot-on about Minnesota's feelings of frustration about the Wild, and I believe a share of it comes from watching all of the homegrown and transplant talent not being kept in Minnesota. We have six of the 12 WCHA teams, plus North Dakota across the river (we'll begrudgingly annex them for this discussion), and the best high school hockey tournament in the nation, possibly the world.
Ben Bolek
Austin, Texas (by Roseville, Minn.)
Bucci,
Hey, we Panthers fans may sound like crickets, but take a 12-step walk west from our arena into the Everglades and you'll find some of the biggest damn crickets you've ever seen. The fact of it is, this season was destroyed by Mike Richards back in October when he knocked out David Booth for most of the year. Nathan Horton going down for over a couple months didn't help, either. Imagine some of those top teams playing without their top two scoring threats for a big chunk of the year. I think the fans are just waiting for that 10-year anniversary of the last playoff team we had. Oh wait, that's this year.
Karl
John,
As a Caps fan, I think you are dead-on. I've been a season-ticket holder for more than 15 years (pre-Verizon Center). The plan to tear down the team before the lockout was hard on us long-term fans. But many of us started to believe in the plan right away and our faith is being rewarded. Alex Ovechkin and the team's recent success have brought in thousands of new bandwagon fans. They are unencumbered by memories of playoff failure going back to the '80s. And I think they are right. This generation's team is different!
There are some longtime fans who are still pessimists and seem to think that a team has to be absolutely perfect to win the Cup, but not many. We don't have to be perfect; we just have to win four out of seven, four times! If Tampa has a Cup, Carolina has a Cup and a team named after a Disney movie has a Cup, why can't we!? Who knows, maybe we'll win three or four out of the next 10! OK, I'll say it ... DYNASTY!
Tom Lynch
Mr. Buccigross,
As a Boston Bruins season-ticket holder, I, like every other Bruins fan, had high hopes for this season. Obviously, it's been pretty frustrating. This summer has the potential to be a big make-or-break offseason for Bruins management, from the draft in which we might have one of the top three picks (thanks to Toronto), to a busy offseason of trades and signings.
My question for you is, what moves and/or signings would you make if you had the chance to throw on some stylish glasses, grow a goatee, shave your head and play Peter Chiarelli with the cap next year at the same level as this year?
Josh
Charlestown, Ma.
1. Trade Tim Thomas. He has three years at $5 million per starting next season. If Philadelphia or Washington or Chicago doesn't win it all because of spotty goaltending, maybe the Bruins can get rid of Thomas' cap number this summer. Tuukka Rask sure looks like a star.
2. Try to trade for Kings defenseman Jack Johnson. Johnson would be the perfect Bruin and bring exactly what the team needs -- talent and attitude. I would consider trading Patrice Bergeron in the deal. The Kings need a second-line center behind Anze Kopitar and Bergeron is the perfect complement; maybe even expand the deal to involve Zdeno Chara and Dustin Brown. Chara has a one-year deal at $7.5 million, and a veteran playing for a contract is always attractive. Brown gives the Bruins a winger with attitude, exactly what they need. The Bruins would probably also have to take Jarret Stoll or Michal Handzus to have the salaries line up better. (Talking big trades is fun, kids!)
3. The draft Part of the above suggestions is a little contingent on whom the Bruins draft this summer. Taylor Hall is a goal-scoring left winger and Tyler Seguin is a high-end center. They will likely go 1-2 in June's NHL draft. If the Bruins get Seguin, trading a center is more likely. Of course, this is all contingent on getting a top-two pick following the lottery.
Hey Bucci,
I am a 22-year-old Devils fan, and you hit the nail on the head with your post about them. I am very spoiled as a hockey fan and am confident every season that the Devils will be in contention for the Atlantic Division title. Despite every season being a great one, I am still extremely worried every summer when the Devils and Lou let another key player walk away, but they seem to perform nonetheless. I just read a recent article saying Kovalchuk and Paul Martin will probably be gone after this season. I could really care less about Kovalchuk, but Martin? Say it ain't so, Bucci. What do you think?
Justin Drigon
James Madison University
Paul Martin is going to get a healthy contract offer if he does indeed become an unrestricted free agent. He is 29 years old. But Martin has never hit the 40-point plateau and is a low-PIM defenseman. I know the Devils suppress offensive numbers, but I don't know why Martin would be more than a $4.5 million defenseman, which is what his salary is this season. His cap number is $3.8 million. I guess you could go $30 million over seven years (a breakdown of $5M-$5M-$5M-$5M-$4M-$3M-$3M). That takes Martin to age 36 and a $4.3 million cap number. I don't know why anyone would go any higher than that. The Devils can do that, but maybe he wants to play with the Wild.
Bucci,
I can't agree more that we as Ohioans and hockey fans in general are ready to embrace, nay, full-on-man-hug the Blue Jackets. Since the days of the lowly Cleveland Barons and Ted Stepian, we as Ohioans have wanted to bask in the glow of successful hockey as our neighboring states have. What's not to like? I'll tell you, nine seasons of bad management. Not just picking up bad or over-the-hill players like Samuel Pahlsson.
Michael Clarke
Hi John,
As a slightly tech-savvy Kings fan, let me chime in. I think "cautious optimism" may be the best we can deliver. Having been a fan since the beginning (even seeing a game in the Sports Arena in 1967), I have had too many heartbreaks followed by extended periods of downright ineptitude to overdo the optimism. Having said that, just being in a playoff spot has been enough to fill Staples Center. I think they will finish sixth and give Vancouver a decent run before bowing in the first round.
Tim James
John,
With the new contract extension [given to] Kris Letang, do you see the Penguins having enough cap space to hold on to Sergei Gonchar at the end of this season? What kind of deal would they need to offer him?
Eric
Pittsburgh, Pa.
First off, I wrote this last June:
I would try to extend Letang's contract this summer, as well. Five years with a $3 million cap average.
The two sides settled on four years and $3.5 million for those of you who missed it.
Gonchar turns 36 on April 13. He's been a bit banged up over the past couple of seasons, needing multiple surgeries. This makes the Gonchar signing very difficult considering his age and the Penguins' cap situation, which is annually a challenge because they have two players (Evgeni Malkin and Sidney Crosby) with an $8.7 million cap number. But the Penguins have done well with Malkin and Crosby because they don't overpay players. The only overpaid player they have is Chris Kunitz at $3.7 million. He has 20 goals in 69 games with the Penguins and two playoff goals in his past 43 playoff games in Anaheim and Pittsburgh. He has two years left on his deal, but at least Kunitz is a tough and confrontational player who hits.
If Bill Guerin doesn't want to retire and the Penguins want him back, they could probably get him at $1 million; that saves $1 million there. Trading Jordan Staal will always be an option, but Staal is a big-game player, and you don't trade young, big-game players.
So, what about Gonchar. What is his number? When healthy, Gonchar is certainly a top-shelf rear guard. I said rear guard. Shut up, Beavis! Gonchar won't want a pay cut from his $5.5 million salary. I would think a $6M-$5M-$4M-$2M deal seems about right. That takes Gonchar to age 39. That's $17 million over four years with a $4.25 million cap number.
Bucci,
Who is your favorite NHL team?
Chris Bavaro
I love all 30 teams equally, Chris. I am a father of 30.
John Buccigross' e-mail address -- for questions, comments or crosschecks -- is john.buccigross@espn.com.
Bucci's Fan Photos
Hi John,
Just read your column (first-round matchups falling into place) and suddenly thought, "Have you lost your mind?!" Should the Bruins/Caps meet in the first round, you're predicting a sweep?! As a lifelong Bruins fan, even I think Washington can steal a game or two! Here's a picture of my little boy, Oliver, who is trying to show off his new shoes, whereas I'm focusing on the jacket. Cheers to all my family back in Canada.
Stephen Hass
Newcastle upon Tyne, United Kingdom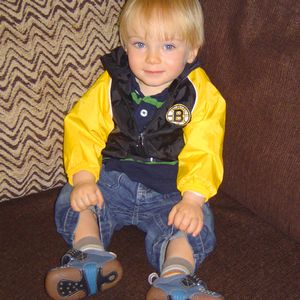 Don't Forget The Column!
For as long as the Bucci Blogumn has existed, you fellow fans have e-mailed. In droves. Our scribe taps into those hockey vibes and gives the latest pulse for all 30 fan bases.
Blogumn