Updated:
November 24, 2010, 2:03 PM ET
No. 4, the next big deal and Minny's outdoor bid

By John Buccigross
ESPN.com
Archive
Bucci,
Sea Bass was played by Cam Neely. How could I not have known this?!?!
Frank Filipo
West Babylon, N.Y.
Dumb and Dumber and Dumberer.
Bucci,
We're at the quarter pole. Who do you take as the first overall, Taylor [Hall] or Tyler [Seguin] or ([Jeff] Skinner) if the draft were held again?
Bob
Darnestown, Md.
Hall and Seguin are exhilarating to watch in the small sample size that we have to go with. Their presence makes the NHL better. There are times Edmonton's Taylor Hall (I love how the No. 4 looks on him; great choice) has Sidney Crosby skating qualities when he cuts to the middle coming down the right side of the offensive zone. As he matures and adds about 10 pounds of muscle, Hall could be a beast working around the net scoring from in close.
Boston's Tyler Seguin is also a great skater and has an unbelievable shot and outstanding hockey sense. He is also playing with much better and more experienced players. Because it is so close right now and because I think they both will be future Olympic players for Canada, I'm hesitant to make a distinction. But if you held a doughnut to my head, I would take Seguin. Maybe the tiebreaker is that Seguin seems to have potential for a little more of a "wow" factor. Seguin will be the Bruins' No. 1 center next season.
John,
You need to comment on what an embarrassment the Hockey Hall of Fame is. I cannot believe they didn't induct Pat Burns this year, knowing full well that his life was on a limited time frame. Look at the people they inducted; not one of them is more worthy than Pat. Who makes these decisions?
Rod Selem
Berlin, Del.
Pat Burns had to take a sabbatical from coaching in 2004 after he was diagnosed with colon cancer. He defeated it only to be stricken with liver cancer a year later. Then, in 2009, Burns was diagnosed with lung cancer. Cancer is a disease that is always on the move, and after the lung cancer diagnosis, Burns accepted his fate.
Was Burns a Hall of Fame coach? Who knows what the metrics are going forward for the past 20-30 years since expansion flowered and the playing field has been equaled. Burns certainly had an excellent résumé -- three Jack Adams Awards and a Stanley Cup with the Devils in 2003 -- and was a consistent winner. He had a Bill Parcells presence about him. Like Parcells, Burns wasn't an innovator. Break out? Chip it off the glass and get it out of the flippin' zone. Burns and Parcells both had methods and beliefs on how to win and implemented those procedures with their personalities.
Burns had a presence and system that produced immediate results. During his first season in Montreal, the Canadiens posted 115 points; his first season in Toronto, his club had 99 points; his first season in Boston, 91 points; and his first season in New Jersey, 108 points and a Cup win.
Halls of fame can be pretentious and overblown. And, as we know, where there is pomposity and an inflated sense of worth, there is no common sense. Halls of fame don't matter; respect and decency and love and kindness and excellence and courage and sympathy do.
The Mighty Bucc! (another reference to the UK comedy show "The Mighty Boosh),
Just wanted to know if you had any inside information on Semin's future? ... He is in red-hot form lately and also an unrestricted free agent at the end of the year. ... He seems to have developed quite a partnership with Ovi and is only 26; it seems to be a no-brainer, the Caps should be pulling out all the stops to keep him.
Justin
The Capitals have salary-cap flexibility going forward, but the only way they will probably sign Alexander Semin is if they can get him to sign a bit of a cap-friendly contract. For some reason, Russian-born players are not signing those long-term, cap-friendly contracts we see around the NHL.
Now, there aren't a lot of elite Russian players in the NHL. There are five right now: Alex Ovechkin, Pavel Datsyuk, Evgeni Malkin, Ilya Kovalchuk and Semin. Now that is a strong five! But there is not a lot of NHL-caliber depth from Russia right now after that.
Montreal's Andrei Markov is a very good player, but not great. Ottawa blueliner Sergei Gonchar can still produce some offense, but age and injury have slowed him down a notch. In net, Sergei Bobrovsky is off to a great start in Philly, but needs more time. Phoenix's Ilya Bryzgalov is a good, solid goaltender. You could argue Nikolai Khabibulin has had about the same career as Mike Richter, but injuries and a bad team (Edmonton) currently have him off the radar.
There is likely a misconception from casual hockey fans, and some engaged ones, that there is a lot of Russian talent in the NHL. There isn't; I think the top five is so strong, it skews the perception.
But back to the contract issue. In 2007, Datsyuk signed a seven-year extension at $6.7 million a season. This was before cap-friendly deals were really in vogue, so perhaps he would have been a candidate for such a deal and seems like the kind of dude who would have signed one. Datsyuk will be 36 when this deal runs out, a well-timed deal for the Red Wings.
Ovechkin could have taken a little less, as Crosby did in Pittsburgh, but he had leverage and used it. He has the largest cap number in the NHL at $9.5 million. Malkin actually could have gone for the moon, but has a similar contract to Crosby. He took a little less in the last year of his deal to have an identical cap number of $8.7 million. Malkin is signed for three more years after this season. It will be interesting to see if he and Crosby will sign cap-friendly, 10-year deals to finish their careers in Pittsburgh, or if each will sign a megadeal, Crosby in Pittsburgh and Malkin somewhere else. And we know all about Kovalchuk's contract in New Jersey. It's a good cap number for the Devils, but it's a huge amount of cash and still looks like a cap-evading contract (no way does he play in New Jersey for every year of the contract).
The cash on these deals is big and up front. Ovechkin has a $9.5 million cap hit. Malkin will make more money over the next three years than Crosby. Kovalchuk signed a $100 million deal with a team that can't fit his style. Gonchar left a perennial Stanley Cup threat in Pittsburgh and signed a three-year contract (at $5.5 million a year) in Ottawa. There's no descending salary scale for the aging Gonchar.
So, if Semin follows suit, he will go for the megadeal. He will be only 27 this summer, and NHL revenues are expected to go up with the advent of a new U.S. television contract. Semin has an 8-10-year deal written all over him. He is big, he can skate and he might have the heaviest wrist shot in the game. Assuming he goes for the moon and doesn't sign a cap-friendly deal like Kane, Toews, Zetterberg and others, Semin could get a deal approaching $100 million.
Vincent Lecavalier is making $10 million this season and will for five more years. Ovechkin is making $9 million a year for three more years before going to $10 million a year. Kovalchuk is making $6 million this season and the next before jumping to at least $11 million a year for five years peaking at $11.8 million at age 34 (he will make $90 million over the first 10 years of the deal).
Why shouldn't Semin get that? He has proved he fits in with a big personality like Ovechkin and, with the right center, should be able to score 40-50 goals per season. A lot of teams would love a guy like that, making it tough for the Capitals to re-sign him.
Mr. Bucci,
I love my Boston Bruins, but I am also a realist. I know their cap situation right now is, well, "iffy." With Tyler Seguin coming into his own and Michael Ryder playing with seemingly more fight and spirit, where does that leave us when Savard and Sturm are healthy? Something's gotta give, right?
Chief Petty Officer Robert Turpin
United States Navy
I am completely bewildered on how the Bruins will fit the combined $7.5 million cap number of Marc Savard and Marco Sturm. Can't wait to see how they do it.
Bucci,
I am a little disappointed at the choices you offered in your poll for the location of the next outdoor game. No Minny love? I've heard you say that MN is one of the greatest hockey states in the nation and even said that the state deserves a second NHL team. But you offer Lambeau Field as an option for an outdoor game? Come on. Wisconsin doesn't even have an NHL team and you offer up the home of one of MN's biggest rivals as a legitimate venue for hockey? TCF Bank Stadium or Target Field would both be great venues for an outdoor game in THE state of hockey. Sure, they aren't the biggest stadiums, but they would be packed to capacity. Guaranteed.
Joe
Minnetonka, Minn.
I would do Blues-Wild at Lambeau Field, but you make a good point with Target Field. I plan to go see Shjon Podein up in Minnesota next June, play in his charity golf/music event and take in a Twins game. That's a good call, Joe. Minnesota needs an outdoor game.
Bucci,
Thank you so much for dropping Eddie Freakin Shore into the mix of a team to save the planet. Eddie Shore holds a very special place in the Western Massachusetts area since he was a player/coach/mentor for the Springfield Kings, which played at The Eastern States Coliseum (now the Big E/, where I learned to skate before they stopped using it as a rink).
Seeing Eddie Shore's name stirred up a lot of emotion with me. My grandparents lived in Springfield during the 1940s and my grandfather grew up [there]. ... Hearing stories from my grandma about him going across the river to watch hockey explains where I got the passion for the game from. Thanks again for your column and for bringing back some nice thoughts about how the game used to be back in the day.
Mike
Bucci,
A few lightning-round questions for the man who represents both the brains and the brawn of ESPN hockey:
1. Who would win in a fight between Joe Kocur in his Red Wings prime and Daniel Carcillo, present day?
2. Who comes down to earth quicker this season: Kris Letang or Derek Roy?
3. Will Steve Yzerman GM the Lightning to the Cup within 3 years?
4. Corollary to Question 3: Why do birds suddenly appear every time Yzerman is near?
5. Does Melrose throw sauce all over the ice in men's league?
6. Better Rangers salad: Del Zotto or King Lundqvist?
Brett Murphy
Boston
1. Joey Kocur would knock Carcillo into the rafters even today.
2. Letang is playing like an All-Star right now. He is tied for third among defensemen in scoring and is a plus-9. Roy is a solid center with a $4 million cap number. I wonder if the Sabres have received calls from other teams, good teams, about Roy. If Buffalo is looking to shake things up, I would think it could get an interesting return on Roy. Just wonderin'.
3. It's plausible for sure. Lecavalier's cap number is the only hindrance.
4. He is serious, committed and enthused. All winners are.
5. Barry Melrose throws sauce only on freshly cooked meat.
6. King Henrik's Caesar salad.
Bucci,
Why hasn't there been more love for Cam Fowler? This kid is going to be something amazing. Being a Ducks fan, I had grown quite accustomed to seeing Scottie Too Hottie playing along that blue line, and this kid Fowler is something special. Have you had a chance to see him play? Thanks!
Luis
Fowler looks awesome right now. He recently switched to No. 4. I love these young players wearing No. 4!
John Buccigross' e-mail address -- for questions, comments or crosschecks -- is john.buccigross@espn.com.
Bucci's fan photos
Hi Bucci,
Thought you might appreciate this. I was filling in at a beer league game in Bridgeport, CT, where Chris Drury played when he was in high school. He happened to be there for a charity skate with disabled kids and was signing autographs at the bench. I was just outside the bench warming up and waiting for the ice to be cleaned. He looked up and saw my jersey and said "Wow, look at that shirt, that's awesome!" That was the highlight of my night! We lost a close game, 3-2, and ordinarily I would have been upset, but I was in great spirits due to my celebrity run in.
Rob Levin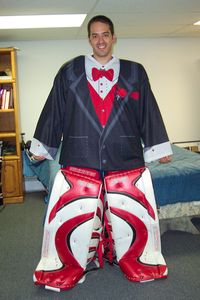 Bucci,
Greetings from Huntsville, Alabama, the self proclaimed "Hockey Capital of the South!" Here's a pic of our youngest termite, Jessi, after her first practice. Enjoy!
Dan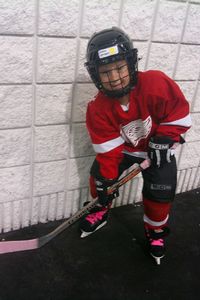 Bucci,
I had to pass this pic along given your (properly placed) affinity for the Great No. 8. My two boys, Cam (2 years old and wearing No. 8, naturally) and Connor (4 years old with the heart of O'Reilly) look like they were ready to jump into action at a Bruins open practice this preseason. The best part is that Big Cam was sitting with the Bruins right behind my Mini-Cam.
Bill Sones
Southborough, Mass.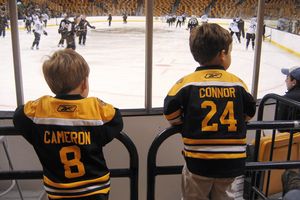 Don't Forget The Column!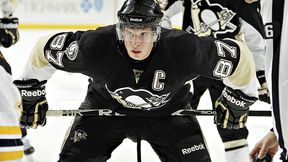 Looking at Sidney Crosby's ice time, Detroit's scoring and other numbers around the NHL for those without the energy or patience to digest these observations.
Story »