Updated:
March 22, 2010, 5:00 PM ET
Sharks falling; Miller focused on playoff run

By Scott Burnside
ESPN.com
Archive
1. A predictable fall?
OK, hands up for anyone who thinks the San Jose Sharks could beat anyone in the Western Conference playoff bracket right now? Joe Thornton, put your hand down. You too, Evgeni Nabokov. Your votes don't count, especially after losing 5-1 to the worst team in the NHL (Edmonton) on Sunday.
The Sharks have lost five straight in regulation, are winless in six and have fallen out of first place in the Pacific Division, relinquishing the top spot to surging Phoenix. If the playoffs began Monday, the Sharks would face the Nashville Predators, a team they have beaten twice in the playoffs since the lockout.
Maybe they'll get their act together in their final 10 games and produce the kind of inspired playoff performance their talent has been foretelling for years. Maybe. But don't bet on it.
[+] Enlarge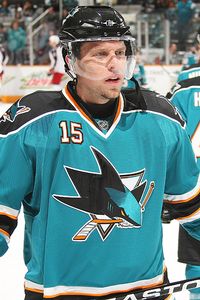 Don Smith/NHLI/Getty ImagesDany Heatley has just one goal in his past six games for the Sharks.
Last season, the Sharks won the Presidents' Trophy as the top team after the regular season. They were on cruise control for most of the last half before stutter-stepping into the playoffs, losing three of their final six and then being handled with surprising ease by the eighth-seeded Anaheim Ducks in the first round.
Watching the Sharks stumble through the last quarter of this season, especially after Thornton, Dany Heatley, Dan Boyle and Patrick Marleau should have been energized by Canada's gold-medal turn at the Olympics, we are reminded of that old playoff adage: There is no switch that conveniently gets turned on come playoff time. If any team should know about that fruitless search for said switch, it's the Sharks. Or not.
2. Sabres' Miller striving for Cup run
We were joking with Buffalo netminder Ryan Miller the other day about the Olympic quote provided by Russian netminder Ilya Bryzgalov -- one of the only quotes provided by the reluctant Russians in Vancouver -- after their loss in the quarterfinals when Bryzgalov suggested Canada had come at them "like gorillas let out of a cage."
We suggested to Miller he was going to have to up the ante on quotes, but he said he wouldn't be providing that kind of gem, at least not until the playoffs.
Which brings us to an interesting question about Miller, who looks to have an inside track on the Vezina Trophy and will likely get some consideration for the Hart Trophy as league MVP: What kind of emotional toll did the Olympics and his stellar silver-medal performance take on him and can he replicate that level of play come April?
"Our goals certainly are not to simply mosey into the playoffs, it's to be a championship team," Miller said. "It just got to the point in the last two seasons where it was just like, 'OK, let's try and make the playoffs.' You can't do that one. It's nice to think of it as a goal, but really, you should be striving to be playing for championship hockey."
Miller said there is a chance to learn something from the U.S. experience at the Olympics.
"We went in with an attitude where we weren't expected to win, but we thought we could and we were hungry and we were motivated, and it should be how this locker room feels in Buffalo," Miller said. "We're not expected to win, but we can and we expect to."
Buffalo coach Lindy Ruff, an assistant on the Canadian team that punctured the Americans' hopes in overtime in the gold-medal game, said he's talked to Miller and hopes he embraces that experience and uses it moving forward this spring in the playoffs.
"I really think it's helpful, but I understand the emotions he went through and the way the tournament went for him," Ruff said. "A guy like Ryan's so competitive, it should be used the other way. Now we've got one other goal, you've got one more chance to accomplish something else, and I've seen that focus, I've heard it from him personally.
"I know it's not easy. He knows it's not easy. He's one of the more focused and more determined individuals you'll ever talk to," Ruff added. "I think he's done a good job of putting most of it behind him. In his case, he's got to embrace what happened. That part-time job is done, and now it's working together for really what we started the year for, and that was to try and be a championship team."
So far, so good. Miller has piled up an impressive 6-2-0 record, including three straight wins, after losing his first post-Olympic start.
3. Canes keep fighting
We have said this before, but it bears repeating: It's pretty much a given Carolina coach Paul Maurice won't draw a single vote for the Jack Adams Award as coach of the year. That's what happens when you've got a guy like Dave Tippett pulling rabbits out of his coaching hat every night in Phoenix. And let's be honest, there's rarely much voting traction for a coach whose team at one point went 14 games without a win and managed to win just three times in 23 games before the season was two months old.
Still, the Hurricanes remain a shining example of a team that never says die even when faced with wholesale personnel turnover. Since Jan. 1, the Canes have reeled off winning streaks of three games, four games and seven games. They have lost three in a row in regulation only once over that period. Even with Sunday's 5-3 loss to Buffalo, Carolina woke up Monday with a 20-11-1 record since January and was still talking about an outside shot at the playoffs.
That likely won't happen (the Canes were in 12th as of Monday morning, eight points out with 10 games to go), but you have to love the job Maurice has done in keeping his squad on task. The Canes' quiet revolution is also a testament to the faith GM Jim Rutherford has in his young players, guys like Brandon Sutter, who has 18 goals in 62 games and has become the team's undisputed second-line center behind Eric Staal. Or rookie defenseman Jamie McBain, who recently scored an overtime winner against Pittsburgh, or Justin Peters, who has filled in admirably with starting netminder Cam Ward on the shelf.
The team has managed to improve its penalty-killing efficiency, is lights-out at home and, perhaps more importantly, has started an evolutionary process months ahead of schedule.
Maurice said there wasn't a secret formula for the turnaround; players were just simply sick of being embarrassed.
"Guys felt responsible and terrible for where we were at," Maurice told ESPN.com. "I think the guys just got sick of feeling bad."
Even when Rutherford and Maurice decided to start introducing young players like Sutter into the mix, veteran players didn't grumble although their ice time dwindled.
"They weren't happy about it, but they didn't tear it apart," Maurice said.
Eventually, players like Scott Walker, Matt Cullen, Niclas Wallin, Aaron Ward and Joe Corvo were all dealt for draft picks or prospects, and the Canes have continued to surprise.
"As painful as this has been, it's the best thing that could happen to our development," Maurice said. "We ended up answering a lot of questions."
If there is a downside, it's that the Canes, who looked early on to be a draft lottery team lock, have won themselves out of contention for the top pick. Still, we figure Maurice et al wouldn't have it any other way.
4. Oh, Joel
Gotta love Joel Quenneville (us Windsor, Ontario, guys have to stick together after all), but he does have a way with hyperbole.
After James Wisniewski crushed Brent Seabrook against the end glass last week, immobilizing the Chicago defenseman and drawing an eight-game suspension, the Blackhawks coach suggested it was the kind of hit that could "kill a guy."
"It's the most dangerous hit in the history of the game. He tried to hurt him," Quenneville told reporters after the game. "If that's not intent, that's as bad a hit as you can ever have in the game."
It made us think of Quenneville's reaction to a roughing penalty handed out to Matt Walker during the Western Conference finals last spring against Detroit. After that Game 4, Quenneville said, "I think we witnessed probably the worst call in the history of sports there."
That bon mot earned Quenneville a $10,000 fine.
If Quenneville keeps this up, he'll be in line to become a sports columnist.
For the record, Anaheim GM Bob Murray was quick to suggest that maybe Quenneville ought to stick to coaching instead of analysis after the Wisniewski hit.
"I played in Chicago for a long time, I lived in the city of Chicago, it used to be a black-and-blue town, it didn't have whiners," Murray said during a conference call after the suspension was handed down. "I strongly suggest Joel worries about his goaltending and stops trying to run the National Hockey League. He should worry about coaching."
Now if only we could get the Ducks and the Hawks to meet in the playoffs. Wouldn't that be a show?
5. Another curious moment
One of the more curious moments for a team defined by the curious and downright bizarre was the decision by Tampa Bay Lightning GM Brian Lawton to summarily dispatch assistant coach Wes Walz during the Olympic break and replace him with his buddy Jim Johnson.
Walz was offered the head-coaching job with the Lightning's AHL affiliate in Norfolk, Va., but declined. Lawton, curiously (did we mention the Lightning are a curious outfit?) did not bother to tell Bolts coach Rick Tocchet he was going to make the move until he'd made the decision. Lawton explained it was designed ostensibly to help the team's struggling penalty-killing unit.
Lawton defiantly insisted to local reporters he would take full responsibility for the move when it came out that Tocchet wasn't particularly pleased with how the staffing change was handled. Well, we hope Lawton has a parachute close at hand, as this move is yet another indication new owner Jeff Vinik needs a new management team.
The Lightning have no hope of making the playoffs now after winning just two of their first 11 games after the Olympics. They have allowed at least one power-play goal in six of those 11 games and are currently the worst team in the NHL.
Scott Burnside covers the NHL for ESPN.com.
What To Watch This Week


1. It's always fun to see what happens when those two wacky kids, Sidney Crosby and Alex Ovechkin, get together. They'll meet again Wednesday in Washington, where the two superstars face off for the third time this season. The Caps won the first two meetings 6-3 and 5-4 (in overtime).
The Caps don't have much to play for; they've got a 16-point lead over Pittsburgh for the top seed in the East and a nine-point lead for the Presidents' Trophy. Still, we're guessing this game has plenty of oomph to it. The two rivals will meet for the fourth and final time in Pittsburgh on April 6 during the final week of the regular season. Anyone who caught last season's second-round classic playoff series between the Pens and Caps will be hoping these games are just a precursor for a rematch this spring.

2. The Atlanta Thrashers are all of a sudden the masters of their own destiny. It seems like just yesterday they were looking like so many weak-kneed Atlanta teams from the past decade. The Thrashers have put a six-game winless streak from earlier this month behind them by winning four in a row, including a weekend sweep of the Philadelphia Flyers.
The Thrashers entertain Boston on Tuesday with a chance to move into eighth place in the East. Later this week, the Ilya Kovalchuk-less Thrashers host Toronto and then have a home-and-home against Carolina. Can you say the future is now? Wonder if anyone in Atlanta knows.

3. The Ottawa Senators are in complete free fall, having won just once in nine post-Olympic games, and this week won't provide any easy answers to their swoon. After another disheartening loss Saturday in Dallas, the Sens are in Montreal to face the red-hot Habs on Monday and host Philadelphia on Tuesday before traveling to Buffalo on Friday. By then, it may not be playoff positioning worrying the Senators, but whether they'll be invited to the playoff dance at all.

4. If the Detroit Red Wings manage to sneak into the playoffs for the 19th straight season, this past weekend may have made the difference.
The Wings tied the Edmonton Oilers on Friday, thanks to a Brian Rafalski marker with 0.2 seconds left, and earned a valuable point in a shootout loss. On Saturday, Detroit beat Vancouver with a Henrik Zetterberg goal with 0.3 seconds left in overtime. The Wings start the week in eighth place, two points up on Calgary with a game in hand. They have a three-game homestand against Pittsburgh, St. Louis and Minnesota (the latter two have eyes on Detroit's playoff spot in the West). The Wings also travel to Nashville on Saturday in what could be a monster game; the Preds are six points up on Detroit but have played two more games.

5. Things have turned a bit sour of late for the Chicago Blackhawks, who have lost four of five and found themselves tied with Phoenix for the overall lead in the West on Monday morning. The Coyotes twice overcame two-goal deficits to beat Chicago in a shootout Saturday, and the two teams will go at it again Tuesday in Chicago. With Cristobal Huet apparently over a bout of the flu that cost him a couple of starts last week, look for the goalie to get another chance to establish himself as "the guy" in Chicago.
Take This To The Bank
There is no tougher position to learn on the go than NHL defenseman, which is why you don't often see blueliners win the Calder Trophy for rookie of the year. Since 1990, only Barret Jackman and Bryan Berard have earned rookie honors from the blue line.
But Buffalo's Tyler Myers will be on the final ballot this year, even if he has had to adjust as the season has gone along.
"I wouldn't use the word struggle. I think his confidence has grown," Sabres coach Lindy Ruff said. "He's tried to do a little bit too much, but that's not a struggle, that's a little bit of pull-back. 'Whoa, you've got to use your teammates and you can't do it all by yourself. You can't get into playing one-on-one because there are a lot of good players.'"
The 6-foot-8 Myers, who leads all rookie defensemen with 41 points and is third overall among all rookies, acknowledged it's been hard not to think about the Calder given how often he is asked about the possible recognition.
"I try to put it in the back of my mind, but you hear a lot of talk about it and it's going to creep up, so I just try and put that aside and focus on what I have to do here with the Sabres," Myers told ESPN.com recently. "When the season and playoffs are over, that's the time I want to take to start thinking about it. It's exciting, but I'm not going to sit and ponder over who's going to win the Calder."
Stock Up, Stock Down
STOCK UP

Lubomir Visnovsky, Anaheim Ducks: If the Ducks do somehow manage to sneak into the playoffs, one of the key ingredients will be the talented Czech defenseman acquired by GM Bob Murray at the trade deadline from Edmonton for Ryan Whitney. Visnovsky has five goals and seven points in the eight games since moving to Anaheim.

Alexander Steen, St. Louis Blues: Whether or not the Blues fall short in their quest for the playoffs, they have seemingly hit on a front-line center moving forward in Steen, whom they acquired last season from Toronto. The big pivot has 14 points in his past nine games and has established a career best with 21 goals and should eclipse his career points total of 45 (he currently has 42).
STOCK DOWN

Brent Sutter, Calgary Flames: We know, you can't complain about Miikka Kiprusoff not getting any rest and then complain when Calgary coach Brent Sutter starts backup Vesa Toskala. But still, you have to wonder about using Toskala on Sunday against Minnesota after the Flames and Kiprusoff had beaten San Jose on Friday night to keep pace with eighth-place Detroit. The Flames don't play back-to-back games until next weekend, and with the playoffs on the line, Toskala got the nod and promptly allowed three goals on 12 shots before being yanked in a 4-3 loss. If the Flames miss by a point or two, that'll be one that haunts Sutter -- and Toskala.

Alexei Kovalev, Ottawa Senators: In case you were wondering just what the enigmatic Kovalev has been up to while the Ottawa Senators flounder their way through the post-Olympic schedule, the short answer is not much. In nine games since having a nice break in February, Kovalev has chipped in zero goals and zero assists. He is minus-10 over that period of time. Ah, yes, money well spent indeed.