Just A Thought
>
---

@ESPN_Burnside: It's not a 5-3 loss to the lowly Edmonton Oilers that hurts the Tampa Bay Lightning most, it's the loss of starting netminder Ben Bishop early in Sunday's game at Rexall Place in Edmonton that has the potential for long-term pain. The Lightning have been an impressive squad since losing star forward Steven Stamkos to a broken tibia on Nov. 11. The team has soldiered on without Stamkos and other top players lost to a parade of injuries since that time, but it's fair to say that the one player they could not afford to lose was Bishop. The big netminder is fourth in GAA and second in save percentage (third and first if you don't count New York Ranger rookie Cam Talbot, who has played in only 14 games) and is tied for the league lead with four shutouts. In short, he's indispensable. No word yet on the severity of Bishop's injury -- he left Sunday's game just 4:18 in with various reports suggesting a right hand/arm injury of some sort -- but a lot of fingers are crossed in Tampa, that is for sure. Backup Anders Lindback took the loss, allowing four goals on 25 shots. Lindback is a miserable 3-8-1 on the season, with an .883 save percentage and 3.21 GAA, and has not won back-to-back games through the first half of the season. Those are not the numbers of a guy who can help his team hold on to a playoff spot. As of Monday morning the Lightning are in second place in the Atlantic Division, one point ahead of Montreal. Bishop's health will say a lot about their ability to hold on to that spot.
---

@CraigCustance: Midway through the third period of a game between the Sharks and the Blackhawks, which could end up being a Western Conference preview, San Jose's Joe Thornton got the puck near the Chicago goal. He whiffed on a shot, gathered himself and, with his usual calm and poise, found Brent Burns with a nifty backhand pass for the game-tying tally. If you're keeping track, Thornton leads the NHL in assists with 43, and this shootout win helped the Sharks keep pace with the Ducks atop the Pacific Division. The scary thing? Thornton is a bit of a long shot to make Team Canada's Olympic roster. If you thought the debate was loud last week when the U.S. named its team, it could become deafening in hockey circles when the rest of the nations make their announcements this week. It's a good bet that much of the noise will surround Thornton.
---

@Real_ESPNLeBrun: Odds are the San Jose Sharks and Chicago Blackhawks wouldn't meet in the Stanley Cup playoffs unless it's the Western Conference finals, but we got a glimpse Sunday of what a tantalizing Western finals it would be in San Jose's 3-2 shootout win over the Blackhawks. It was a back-and-forth affair that featured a load of Olympic talent on both sides. The Sharks' Logan Couture scored in the shootout and had an assist in regulation, giving him give points in his last five games (4G, 1A) as he attempts to cement his spot on the Canadian Olympic team after some offensive struggles in December. Team Canada's brain trust meets Monday in Toronto to make its final roster decisions. Couture deserves to be on the Olympic team, although he's no lock, and it looks as though six or seven All-Star-caliber forwards will be jaw-dropping omissions. But to me, Couture's versatility as a forward who can play wing and center, his special-teams expertise and high hockey IQ makes him a guy I'd want to take to Sochi.
Picture This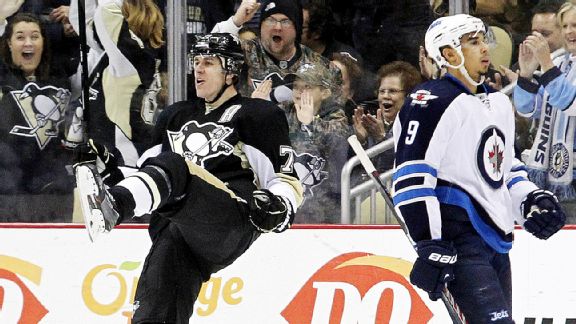 Charles LeClaire/USA TODAY SportsPenguins fans got a kick out of Evgeni Malkin's return Sunday, when he scored two goals.
Top Performers
SUNDAY:

James Neal | Pittsburgh Penguins
2 G, 1 A, 7 SOG, +3
vs WPG | Recap

Anton Khudobin | Carolina Hurricanes
31 SV, 1 GA
vs NSH | Recap

Jussi Jokinen | Pittsburgh Penguins
1 G, 1 A, 8 SOG, +3
vs WPG | Recap

SATURDAY:

Jimmy Howard | Detroit Red Wings
44 SV, 1 GA
vs DAL | Recap

Tuukka Rask | Boston Bruins
36 SV, 1 GA
vs WPG | Recap

Torey Krug | Boston Bruins
2 G, 1 A, 4 SOG, +3
vs WPG | Recap

Quote Me On That
"Any win in here is special. It's a hard place to play. They play fast. They play hard, and any win in this building is huge."
-- Sharks C Joe Thornton on Sunday's shootout win in Chicago
---
"I got the monkey off my back. I saw a couple seconds on the clock, yelled for the puck going to the net and knew I had to shoot right away. It probably fooled him and found a way to go in."
-- Ducks RW Corey Perry on breaking a mini scoring drought with a game-winner against Vancouver.
---
"We're just trying to keep this thing going right now. We're being consistent in our game and playing solid for all 60 minutes."
-- Hurricanes LW Jeff Skinner after the team stretched its winning streak to four games.
Stats Central
SUNDAY:

• Penguins: 12th straight home win; first team in NHL history to win at least 12 straight home games in back-to-back seasons.
• James Neal (PIT): two goals, one assist; six goals, six assists in his last five games.
• Sharks: win snaps four-game losing streak versus Blackhawks; won last four shootouts overall.
• More from ESPN Stats & Information »
Socializing
Hope you @AnaheimDucks fans got your money's worth tonight!! Woo! Side note. @nhl do we get time and a 1/2 for OT? Asking for a friend...

— Dustin Penner (@Dustinpenner25) January 6, 2014