Just A Thought
>

@ESPN_Burnside: Were probably at the stage where we take Sidney Crosby for granted, but Tuesday night in Vancouver we were reminded again why we shouldn't, or perhaps why we have simply come to expect greatness on a regular basis from the Pittsburgh captain. The Pens blew a 2-0 lead and found themselves trailing 4-2 in the late stages of the third period. Crosby helped set up Kris Letang to make it 4-3 at 18:49, then tied the game himself 16 seconds later and scored the only goal in the ensuing shootout. Not a bad night's work for the NHL's runaway scoring leader. Crosby now has 65 points, 11 more than his nearest competition. You know, just in case you forgot how good he is. And for the history buffs, Tuesday's game marked the first time Crosby returned to GM Place since he scored the gold-medal winner in Vancouver almost four years ago (he was injured the last time the Pens were in town).
---

@CraigCustance: They've been going so well for so long that we're starting to take the Anaheim Ducks for granted, but let's take a moment to point out again that something amazing is happening. Anaheim still hasn't lost in regulation at home. Tuesday night's 5-2 win over the Bruins, a team completely capable of ending the streak, improved the Ducks' home record to 18-0-2, with Jonas Hiller staying hot. The Bruins came out on fire in the first with a 16-3 advantage in shots on goal and finished the game with 61.4 percent of the game's even-strength shots, but the Ducks dominated on special teams. The power play that once drove Bruce Boudreau crazy accounted for three of Anaheim's five goals, climbing up to 16.2 percent on the season. This isn't necessarily the way you want to win games over the long haul, but as they have all season the Ducks found a way to earn the two points.
---

@Real_ESPNLeBrun: Well, so much for that Winter Classic euphoria. The Toronto Maple Leafs have since treated their fans to a pair of home bombs, ugly losses to the Rangers and Islanders with the all-too-familiar lackluster Leafs returning to the forefront. It's truly bizarre just how complacent, almost disinterested, the Leafs looked in a 5-3 home loss to the Isles on Tuesday night. "We look at the body of work and I think that we have another level we can play to," coach Randy Carlyle told Toronto reporters after the game. "It's very frustrating right now because were not getting it. We're pushing, pushing, pushing and just trying to find an answer to why we have that sort of malaise about us at times." The Leafs were 14-8-1 after a shootout win over Washington on Nov. 23. They've since gone 7-10-4, a "malaise" as Carlyle puts it, that has been full of inconsistencies. In the meantime, what was once a fairly comfortable hold on a playoff spot is now tenuous at best with Carolina, the Rangers and Ottawa just two points back of the Leafs for the last wild-card spot in the East. Panic among Leafs fans? Pretty close.
---

@KatieStrangESPN: Is anyone really surprised by the way proud veteran Martin St. Louis responded Tuesday after being left off the Canadian Olympic team? St. Louis was among the most notable players passed over when Team Canada (and Tampa Bay Lightning) GM Steve Yzerman announced his 2014 Sochi-bound squad. St. Louis didn't whine or sulk. Instead he went to work, notching a pair of goals to lead the Steven Stamkos-less Bolts to a 4-2 win over the Winnipeg Jets. St. Louis is and always has been a class act and heart-and-soul leader. He could've been a great veteran presence for the Olympic squad, but his 19-goal, 40-point campaign this season was not enough to secure a spot. One cannot imagine the agony of that choice for Yzerman, but credit both men for their ability to handle a difficult situation with total class and professionalism.
Picture This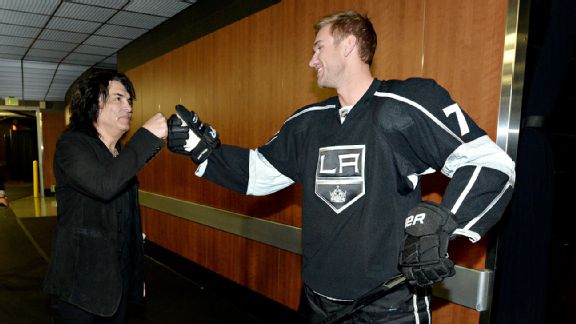 Andrew D. Bernstein/NHLI/Getty ImagesKISS' Paul Stanley hangs out with the Kings' Jeff Carter.
Top Performers
Lauri Korpikoski | Phoenix Coyotes
1 G, 2 A, +3, 4 SOG
vs CGY | Recap

Martin St. Louis | Tampa Bay Lightning
2 G, +1, 6 SOG
at WPG | Recap

Thomas Greiss | Phoenix Coyotes
27 SV, 0 GA
vs CGY | Recap

Quote Me On That
"I mean, yeah, anytime someone takes something away from you, you want to prove them wrong. But you know what? I put that behind me. I just have to move on here. Just play my game. It's a fun game out there. ... I'm not going to stress myself with that."
-- Flyers C Claude Giroux on not making Team Canada
---
"We've proven to ourselves by now that even if we're down or haven't played our best game, we still find a way to win. Every night somebody is making a contribution."
-- Ducks G Jonas Hiller on the win over Boston
Stats Central
• Thomas Vanek (NYI): Assist vs. Toronto extends point streak to 10 games (5 G, 10 A).
• Predators: Beat the Sharks 3-2, improving to 17-0-3 this season when scoring at least three goals.
• Nicklas Grossmann (PHI): Two assists vs. New Jersey; second multi-point game in 427 career games.