Just A Thought
>

@ESPN_Burnside: We recall talking to Carolina GM Jim Rutherford on the eve of training camp about his acquisition of former backup Boston netminder Anton Khudobin. Rutherford talked about how Boston GM Peter Chiarelli really didn't want to let the 27-year-old native of Kazakhstan go, but Chiarelli had no cap room, and that allowed Carolina to sign the free agent to a one-year deal worth $800,000. Rutherford was no doubt thinking about reliable relief for starter Cam Ward, but Khudobin has supplanted Ward as the go-to guy, at least for the moment, and may end up being the key to Carolina earning a playoff berth. Khudobin, who missed more than two months due to an ankle injury, has won four straight since returning to action, including Thursday's 6-1 shellacking of the Toronto Maple Leafs, which was Carolina's fifth straight win overall. Khudobin, who stopped 25 of 26 Toronto shots, has yet to lose this season (he is 6-0) and has yet to allow more than three goals in any one appearance. As of Friday morning, the Canes occupied the final wild-card spot in the Eastern Conference, something that didn't seem likely a month ago.
---

@CraigCustance: When the playoff spots are ultimately decided after this season and the first-round matchups determined, some teams and fans will no doubt lament their lack of success in the shootout as the reason they didn't finish as high as they wanted. It might even spark offseason change to extend the overtime session. The shootout, essentially a coin toss, has become a big factor in determining the tight playoff races. And this makes Brad Boyes an intriguing player in the trade market. He was a steal at $1 million for Dale Tallon this summer and he won another game in the shootout for the Panthers on Thursday night, this time beating his former team in Buffalo 2-1. According to NHL.com, nobody has more than Boyes' 37 career shootout goals, and he also has 12 old-fashioned goals this season. That's a weapon a bubble playoff team that struggles in the shootout like Ottawa, Carolina, New Jersey or Detroit might like to have in its arsenal.
---

@Real_ESPNLeBrun: I can't pretend to know how Tim Murray's hire as Sabres GM will work out in the long run, but I do know everyone you talk to will certainly attest to his eye for talent. Of course, being a GM is more than that, but it's certainly a place to start. Bryan Murray, Tim's uncle and the veteran Ottawa GM who had Tim as his assistant the past seven years, likes to tell the story of how, when the two were in Anaheim together, Tim demanded his uncle trade for a late first-round pick at the 2003 draft because he felt there was a prospect they had to get. Bryan Murray dealt a pair of second-round picks to Dallas and got the 28th overall pick. The Ducks used that pick to draft Corey Perry, who many scouts felt didn't skate well enough to warrant a first-round pick. It's that kind of eye for talent that Sabres president of hockey operations Pat LaFontaine hopes will allow Tim Murray to help turn around the fortune of the Sabres.
---

@KatieStrangESPN: I loved this quote from Dallas Stars head coach Lindy Ruff following Thursday night's 1-0 loss to the New Jersey Devils: "Playing them is like crawling through a barbed-wire fence with a wool jacket on." While the Devils are still struggling for goals with a 26th-ranked offense that manages just 2.31 per game, the defensive-minded squad got yet another terrific outing from goaltender Cory Schneider on Thursday night. Schneider turned away all 26 shots he faced to post his third shutout of the season. Schneider has been particularly unlucky when it comes to support -- the Devils have scored only 34 goals in front of him in 20 games -- and he had little margin for error again Thursday. His numbers are strong (2.02 goals against average, .918 save percentage), yet he has posted only six wins this season. Imagine what the Devils could do if they could actually find the back of the net regularly. Count me as one who thinks Pete DeBoer's squad could make things interesting in the Metropolitan Division down the stretch.
Picture This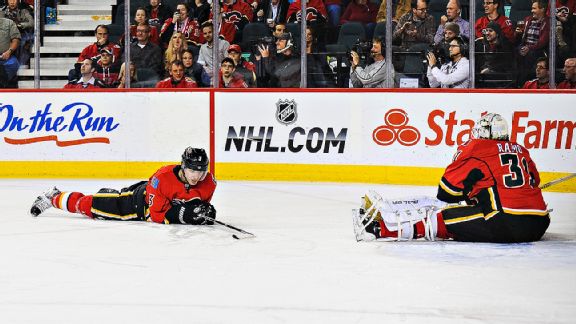 Derek Leung/Getty ImagesLadislav Smid, Karri Ramo and the Flames fell flat against the Blues.
Top Performers
Justin Fontaine | Minnesota Wild
3 G, +3, 4 SOG
at PHX | Recap


Jordan Staal | Carolina Hurricanes
1 G, 3 A, +2, 2 SOG
vs TOR | Recap

Jaroslav Halak | St. Louis Blues
33 SV, 0 GA
at CGY | Recap

Quote Me On That
"It would've been nice if a few posts counted as a goal. If you hit eight posts, maybe you get a goal or something."
-- Brian Campbell
---
"It's just nice to be wanted and to feel like I have a place," Liles said. "It allows me to be confident and play my game."
-- John-Michael Liles on being traded from Toronto to Carolina
Stats Central
• Hurricanes: Fifth straight win (previous four all by one goal); longest win streak in the last four seasons.
• Ryan Getzlaf (ANA): Two goals (22), assist; sixth game with three or more points this season (four all of last season).
• Capitals: snap four-game winless streak; won last five meetings vs. Lightning (2-0-0 this season).
• More from ESPN Stats & Information »