Just A Thought
>

@ESPN_Burnside: Don't look now, but the Tampa Bay Lightning have moved into a tie for first place in the Atlantic Division. Led by another stellar game from netminder Ben Bishop, the Lightning edged the New York Rangers 2-1 on Tuesday night, and that win coupled with the Boston Bruins' 4-3 loss to the Toronto Maple Leafs moved the Lightning even with the B's at 60 points apiece. Bishop had missed the past four games with a wrist injury, but he showed no signs of rust in stopping 33 of 34 Rangers shots as the Lightning earned their 14th road win of the season, tied for most in the Eastern Conference. The Bruins, in the midst of a slight sideways drift just past the midpoint of the season, have a game in hand, but you have to give credit to Jon Cooper's hardy bunch from Tampa, who have more than held their own in the absence of top sniper Steven Stamkos after a grisly leg injury suffered in November. All eyes (at least Canadian eyes) are on Stamkos' potential return for the Sochi Olympics next month, but it's time to start wondering just what kind of damage the Lightning might do when the playoffs start.
---

@CraigCustance: This wasn't a game Ken Hitchcock was especially thrilled with after it was concluded, but a win is a win and the St. Louis Blues got two points for a 2-1 victory over a Phoenix Coyotes team desperate to get back in the win column. The Blues did it because of Jaroslav Halak. The Coyotes outplayed St. Louis, but Halak stood strong, especially on a point-blank David Moss opportunity in the third period. It was only his second start of 2014, but Halak's allowed just one goal this month while facing 54 shots. It makes for some interesting decision-making this week in St. Louis, with huge games looming against the Los Angeles Kings and Anaheim Ducks. Brian Elliott was doing just fine, and by fine I mean breaking franchise records, but Halak's return to health and effectiveness opens the goalie debate back up in St. Louis.
---

@Real_ESPNLeBrun: Well, it was eight months too late and hardly any kind of substitute, but watching the Toronto Maple Leafs hang on for dear life late in the third period Tuesday night in Boston -- and this time actually hanging on for the 4-3 victory -- it was certainly hard not to think of last spring's Game 7 meltdown in Beantown. Was Tuesday night what they needed to erase that memory? Toronto was up 4-2, and while the Bruins made it close and pressed feverishly for the equalizer, the Leafs held on and now have won two in a row after a horrid stretch. Jonathan Bernier, looking very much entrenched as the No. 1 netminder for the Leafs, was outstanding in stopping 38 of 41 shots, including 14 of 15 in the third period. Toronto also got a strong effort from Team USA Olympian James van Riemsdyk, whose 18th goal of the season one minute into the third period stood up as the winner. Aside from Bernier, I'll take van Riemsdyk as Toronto's second-most impressive player this season.
---

@KatieStrangESPN: Can we all just take a second to marvel at the wonder that is Jaromir Jagr? The 41-year-old Devils forward never ceases to amaze and last night's accomplishment -- notching his 695th goal in the Devils 4-1 win against Montreal-- again put his illustrious career in perspective. His first-period marker allowed him to pass Rangers icon Mark Messier for seventh place in the NHL's all-time goals list. And to think he actually uttered this Tuesday morning: "I'm not a goal-scorer. I'm not. At least when I look at myself, I'm a playmaker, so I don't shoot first." Well, his career numbers beg to differ. Jagr is currently pacing the offensively-challenged Devils with 14 goals and 37 points in 47 games this season. And luckily for all of us watching and soaking in his superior skill and colorful personality, he doesn't seem to be interested in hanging up the skates anytime soon.
Picture This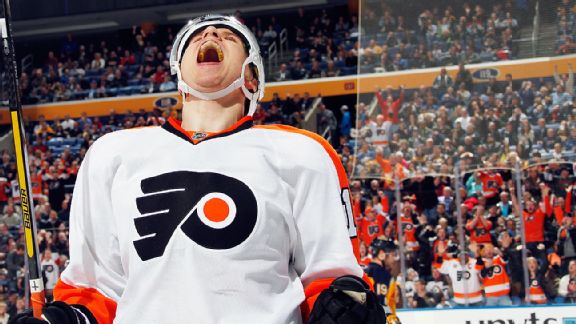 Jen Fuller/Getty ImagesBrayden Schenn couldn't hide his excitement after scoring in the third period to tie the game.
Top Performers
T.J. Oshie | St. Louis Blues
2 G, +1, 2 SOG
vs PHX | Recap

Tyson Barrie | Colorado Avalanche
2 G, +2, 2 SOG
at CHI | Recap

Ryan Garbutt | Dallas Stars
1 G, 2 A, +3, 2 SOG
vs EDM | Recap

Semyon Varlamov | Colorado Avalanche
46 SV, 2 GA
at CHI | Recap

Jonathan Bernier | Toronto Maple Leafs
38 SV, 3 GA
at BOS | Recap

Quote Me On That
"I didn't expect that in somebody else's building, but there's a little history here for me. It's definitely nice of them to do that."
-- Martin Brodeur on getting a standing ovation from Montreal fans
---

"Hopefully, it bleeds some of the demons out of us."
-- Toronto coach Randy Carlyle on first win in Boston since Game 7 collapse
Stats Central
•Lightning: won eight of last 10 road games.
• Bruins: loss snaps six-game home win streak vs. Maple Leafs
• Alex Ovechkin (WAS): Goal (leads NHL with 33 this season); two goals in previous nine games.
• More from ESPN Stats & Information »
Socializing
@tysonbarrie just loves OT! Wow Whatta shot... 2 big wins for a successful roady. Great team effort the last two with a lot of injuries!

— Matt Duchene (@Matt9Duchene) January 15, 2014