Just A Thought
>

@ESPN_Burnside: How about a little love for Pittsburgh Penguins defenseman Matt Niskanen? While partner and Finnish Olympic team member Olli Maatta had a goal and an assist in the win, the sixth straight over the Caps, Niskanen, who has been a steadying influence on the young defender, picked up two assists of his own, those coming on the tying and winning goals in the third period. Niskanen came to Pittsburgh in the James Neal deal in February 2011 and now leads all Pens defenders with 25 points, a total that puts him in the top 20 among all defensemen. His plus-26 -- yes, we know it is a stat whose value is a relative thing -- is tops in the NHL. Not bad for a guy whose status with the Pens at the start of the season was in question, given the team's depth and cap issues.
---

@CraigCustance: Back in 2004, with their first pick and No. 14 overall, the Oilers took a chance on a 6-foot-5 goalie from Saskatchewan in Devan Dubnyk. That same draft, the Nashville Predators grabbed a 6-5 goalie from Finland with the No. 258 overall pick, stealing Pekka Rinne. On Wednesday, in shipping Matt Hendricks to the Oilers, the Predators rescued Dubnyk from the Oilers in a move that could very well make a Rinne-Dubnyk duo one of the NHL's best next season (if Dubnyk decides to stick around). Yes, this season has been a bit of a disaster for Dubnyk, but last season he finished with a .920 save percentage. He's going to a team that actually knows how to play defense in front of him and the Predators have a goalie coach in Mitch Korn who knows who to maximize the talents of his goalies. With the uncertainty surrounding Rinne because of a hip injury, this move will end up looking very wise for GM David Poile.
---

@Real_ESPNLeBrun: Just when you think there's nothing else you can say about the Anaheim Ducks, they go out and crush the Vancouver Canucks 9-1 at Honda Center. Holy smokes, people. According to veteran Ducks PR guru Alex Gilchrist, his team joined the 1967-68 Montreal Canadiens as the only club in NHL history to win 18 of 19 games. (The Habs won 20 of 21 that season.) Any time you're joining a Canadiens record from any of those famous eras, you know you're doing something right. Now comes must-watch TV, the Ducks in Chicago on Friday and then in St. Louis on Saturday. They swept a Chicago-St. Louis visit in early December. Can they do it again? Who would bet against them now?
---

@KatieStrangESPN: Meanwhile, the Vancouver Canucks continue to trend downward as Wednesday night's humiliating defeat was the team's seventh loss in its past eight games. Though coach John Tortorella has tried to repeatedly hammer home the need to be tougher to play against, the message just doesn't seem to take. After a hard-nosed effort against L.A. earlier this week, one that was a morale booster despite the 1-0 shutout loss to the Kings, the Canucks' anemic offense continues to be its Achilles' heel. Following Wednesday night's debacle, the Canucks have been held to one goal or fewer in a whopping 14 of 48 games this season. A usually stingy penalty kill was a culprit, too, against Anaheim. Vancouver surrendered six power-play goals against a Ducks power play that has been atrocious at times this season. Ouch.
Picture This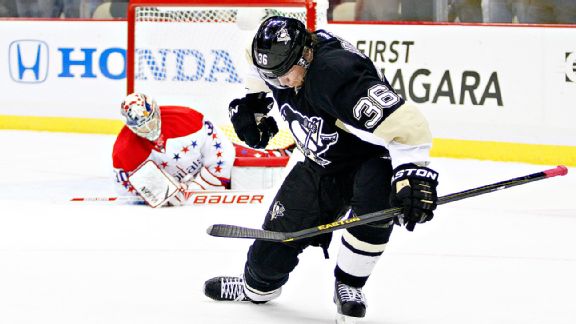 Justin K. Aller/Getty ImagesJussi Jokinen tried out a new dance move after tying the game in the middle of the third.
Top Performers
Corey Perry | Anaheim Ducks
2 G, 2 A, 3 SOG, +2
vs. VAN | Recap

Teemu Selanne | Anaheim Ducks
2 G, 1 A, 5 SOG, 0
vs. VAN | Recap

Olli Maatta | Pittsburgh Penguins
1 G, 1 A, +2, 3 SOG
vs. WSH | Recap

Quote Me On That
"What happened at the end, I haven't really seen before."
-- Ducks winger Teemu Selanne on his team's late seven-minute, two-man advantage
---
"It got away from us."
-- Vancouver captain Henrik Sedin
---
"Personally, I'm not a huge fan of shootouts."
-- Maple Leafs goalie James Reimer
---
"Yeah, we played a pretty good game but figured out a way to lose it tonight. ... We blew it."
-- Capitals coach Adam Oates
Stats Central
• Ducks: 20-0-2 at home (From Elias: sixth team in NHL history to earn a point in at least 22 home games to start a season)
• Ducks: franchise-record 9 goals
• Sidney Crosby (PIT): assist; extends HOME point streak to 17 games (point in 22 of 23 HOME games this season)
• Penguins: won 13 straight HOME games
• Capitals: lost 4 straight ROAD games at Penguins
• More from ESPN Stats & Information »
Socializing
Before the game, Jussi Jokinen told Olli Maatta "it should be time to score a goal." Olli told us after the game: "I listened."

— Pittsburgh Penguins (@penguins) January 16, 2014