Just A Thought
>

@ESPN_Burnside: When the Los Angeles Kings fired blanks again in their 2-0 loss to the Philadelphia Flyers on Saturday, it marked the eighth time in the Kings' last nine games that they failed to come up with a win (1-7-1) and, even worse, the third time in the last five games that they were shut out. The Kings are 1-for-25 on the power play in their last seven games, and unless they can find an answer for their offensive woes, they are going to play themselves right out of the Western Conference playoff picture. Two years ago, Los Angeles GM Dean Lombardi hit a home run by acquiring Jeff Carter from Columbus, and the Kings went on to win the Stanley Cup. Does Lombardi have another such deal in store this season? The Kings host Chicago and resurgent Columbus before the Olympic break, and the clock is definitely ticking in Hollywood.
---

@CraigCustance: The Capitals' 6-5 overtime victory Sunday -- on an Alex Ovechkin goal -- was huge, and it meant they earned three points during a home-and-home against the Red Wings. And looking at the standings, it's not a stretch to suggest that only one of these teams will make the postseason. It puts Washington in better position heading into their final games before the break, but the point collection had better continue before the Olympics begin because Washington's March schedule is absolutely brutal. The Capitals will play the reigning Eastern Conference champion Bruins three times and the Penguins twice, and there's the California swing through Anaheim, Los Angeles and San Jose that has decimated Eastern Conference teams this year. So, yeah, the Caps might want to make sure the winning continues against the Islanders, Jets and Devils this week before Ovechkin takes off to try to win a gold medal on home soil.
---

@KatieStrangESPN: Things continue to look good in Winnipeg under Paul Maurice's stewardship, as Sunday's 2-1 over Montreal at the Bell Centre improved the Jets to 8-2-0 since Maurice took over for Claude Noel. One reason? They have been a lot stingier on defense. Over the last 10 games, the Jets have surrendered just 21 goals. Backup netminder Al Montoya was the MVP of Sunday's affair, making 30 saves against the Habs, who dropped back-to-back games this weekend. Carey Price was also strong in turning away 33 shots, though one ghastly gaffe proved costly and led to Michael Frolik's game winner. The Jets are now four points behind the Vancouver Canucks in the Western Conference playoff picture.
Picture This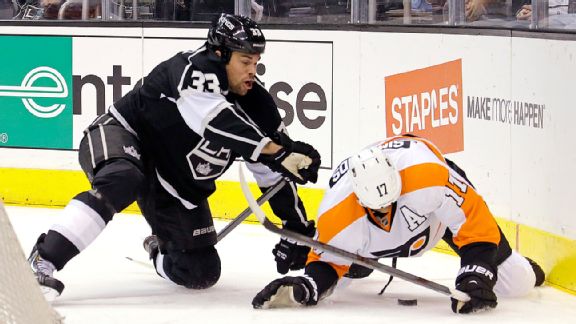 AP Photo/Reed Saxon"You can't have this!" Wayne Simmonds was not about to give up the puck to Willie Mitchell.
Top Performers
Saturday:

Steve Mason | Philadelphia Flyers
35 SV, 0 GA
vs LOS | Recap

Phil Kessel | Toronto Maple Leafs
3 G, 1 A, 5 SOG, +3
vs OTT | Recap

Jamie McGinn | Colorado Avalanche
2 G, 1 A, 6 SOG, +3
vs BUF | Recap

Sunday:

Gustav Nyquist | Detroit Red Wings
3 G, 1 A, 5 SOG, +1
vs WSH | Recap

Al Montoya | Winnipeg Jets
30 SV, 1 GA
vs MON | Recap

Joel Ward | Washington Capitals
2 G, 1 A, 3 SOG
vs DET | Recap

Quote Me On That
"I definitely know I've got a role on this team, and that's obviously to try to chip in as much as I can. But by no means, I'm not trying to be no superhero or Batman. I'm just trying to help the team win."
-- Capitals RW Joel Ward after a win over the Red Wings
---
"We just need that dirty goal. I think we had chances to bury them tonight and couldn't finish them, so we've really got to bear down. It's time to get back on track. It's just two games before the [Olympic] break, so we've got to get ourselves going in the right direction."
-- Kings F Tyler Toffoli after a shutout loss to the Flyers
Stats Central
• Canadiens: 2-5-1 in last 8 games
• Gustav Nyquist (DET): First career hat trick (second career multi-goal game), first hat trick by Red Wings player this season.
• More from ESPN Stats & Information »
Socializing
Congrats to the Seahawks and Regina's own Jon Ryan on the amazing season and Super Bowl victory.

— Tyler Bozak (@Bozie42) February 3, 2014