Just A Thought
>

@ESPN_Burnside: OK, we're long past waiting for the Colorado Avalanche to come back to Earth. Now the better question is just how good this team can be. The Avs won their fourth game in a row Monday night, nipping New Jersey 2-1 in overtime at The Rock in Newark. They have now won 13 of 17, and on Monday it was Jean-Sebastien Giguere getting a rare start and blocking 27 of 28 Devils shots to earn the win. The Avs are just two points back of St. Louis in the Central, although the second-place Blues have a game in hand. More interesting, the Avs are just five back of first-place Chicago with three games in hand. In short, let's not just assume Chicago and St. Louis are going to battle for the top two spots in the division. In fact, the battle to avoid the other two teams sets up a pretty interesting race down the stretch. The question is what Avalanche hockey boss Joe Sakic will do come the trade deadline. Ryan O'Reilly and P.A. Parenteau, who both scored Monday, have had their names bandied about as possible trade bait, and adding some depth on the blue line would be a priority. Interesting times in the Rockies, that's for sure.
---

@CraigCustance: It wasn't a win, but in the world of the Los Angeles Kings, it was an offensive explosion. Their three goals Monday night against Chicago are as as many as they've scored in the past six games combined. It's a goal drought that has raised concerns about the Kings, but it shouldn't. This group has gone through stretches like this before. It's a team that is built and structured to win in the postseason. So if that means playing games in the regular season that don't go particularly well, it's a small price to pay. Could this team use another forward, especially a guy like Thomas Vanek? Absolutely. But nobody will remember this goal drought when the Kings get rolling in the spring.
---

@Real_ESPNLeBrun: A rare sight, indeed, Monday, as all three California clubs dropped home games on the same night, with Anaheim losing to Columbus, San Jose to Philadelphia and Los Angeles a Western Conference finals rematch with Chicago. In fact, the Blackhawks have won all three games against the Kings this season. On the bright side, the Kings scored three goals for only the second time since mid-January. The pressure is on the Kings' front office to make that trade for a scorer, whether it's Matt Moulson, Sam Gagner, Vanek or Mike Cammalleri. They need somebody! Meanwhile, those were big wins by the Blue Jackets and Flyers, both clubs moving to 62 points in the Eastern Conference standings. The Jackets sit third in the Metro and the Flyers just outside the last wild-card spot, tied with Detroit on points but sitting just out because the Wings have played fewer games. Not too many teams have left Anaheim or San Jose with road wins this season, so remember those two points for Columbus and Philadelphia if they end up making the difference this season.
---

@KatieStrangESPN: An interesting plea from Canucks coach John Tortorella on Monday night after his team's 2-0 shutout loss to Detroit. Tortorella, finally back after his 15-day suspension, was blunt after the blanking, telling reporters, "We need to change the complexion of our hockey club. Either with our play or with different hockey people." Tortorella called his team "slow" and said the lack of speed worried him. Take that as a not-so-subtle request for Canucks GM Mike Gillis to retool the roster. Granted, the Canucks have dropped four straight games, but it's not often you see a coach go public with his desire for change. Welcome back, Torts.
Picture This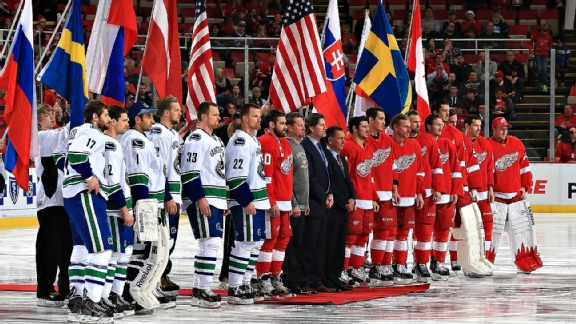 Dave Reginek/Getty ImagesThe line between teammate and opponent will get blurred when a number of NHL players travel to Sochi to compete for their country.
Top Performers
Justin Abdelkader | Detroit Red Wings
2 G, +1, 3 SOG
vs VAN | Recap

Patrick Kane | Chicago Blackhawks
2 G, 1 A, 6 SOG
vs LOS | Recap

Ilya Bryzgalov | Edmonton Oilers
42 SV, 2 GA
at BUF | Recap

Quote Me On That
"When you don't score, you sometimes try to pick corners and be a little too cute. I was able to find one tonight. It was a good feeling."
-- Penguins LW James Neal on his game winner against Ottawa
---
"Tonight, energywise I think, was our best night in a while. We've got to just keep plugging along. I know it's a broken record, but we're not going to get out of it by doing anything different. There's definitely frustration. If you're not frustrated in this room, there's something wrong with you."
-- Kings RW Dustin Brown after a loss to the Blackhawks
Stats Central
• Penguins: 23-4-0 at home this season, best in Eastern Conference.
• Ducks: 4-5-0 following eight-game win streak.
• Kings: 5-14-2 in last 21 games (started season 25-8-4).
• More from ESPN Stats & Information »