Just A Thought
>

@ESPN_Burnside: Lots of interesting Olympic subplots as the NHL heads into its Olympic break. While Canadian fans anticipated and then heard Martin St. Louis will replace Steven Stamkos, there was Ryan Miller trying to reinforce for U.S. head coach Dan Bylsma that he deserves a shot at defending the U.S. goal when the team assembles there Monday. The Pens dumped Buffalo 5-1, but it hardly Miller's fault as he stopped 29 of 34 shots. There were sparkling performances from other Olympians: Jonathan Toews and Marian Hossa combining to lead Chicago to a big road win over Anaheim a few days before they'll swap Chicago jerseys for those of Canada and Slovakia, respectively. Valeri Nichushkin, a bit of a surprise addition to the Russian roster, tied the Dallas Stars' game against San Jose in the third period en route to an all-important point. But is there a more intriguing pre-Olympic matchup than Thursday's face-off between Vancouver netminder Roberto Luongo and Montreal's Carey Price? The feeling is Price will be the guy in Sochi, but both Vancouver and Montreal have struggled of late, so who knows how Thursday's performances will factor into the final goaltending decision for Canada?
---

@CraigCustance: For as much as we like to analyze the Penguins, breaking down their need for another forward or two (or perhaps an entirely new third line), the ideal role for Kris Letang and whether or not GM Ray Shero should bring in goalie insurance, let's take a moment to realize something crazy. The Pens now have 17-point lead on the next-best Metropolitan Division team (New York). That's 17 points. In steamrolling the Sabres on Wednesday night, Pittsburgh sent the reminder that you can have flaws, but when you have two of the best players in the world in Sidney Crosby and Evgeni Malkin healthy and playing well, those flaws can be minimized during the regular season. Nobody is throwing a parade for a win over the Sabres in February, but the Penguins' consistency in stockpiling points and doing it in a convincing fashion -- a plus-49 goal differential -- is impressive.
---

@Real_ESPNLeBrun: Of note in Anaheim's 2-0 loss to Chicago on Wednesday was that Chicago killed all five of the Ducks' power-play chances and has now killed 32 of their last 33 penalties over the past 10 games. The Hawks have actually struggled on the PK for most of the season, but the recent stretch has moved them up to 22nd overall. Still a ways to go to get to last season's final regular-season PK mark of third overall in the NHL. Whether it's coincidence or not, Michael Frolik was a key penalty killer for the Blackhawks last season and his departure for salary-cap reasons last summer to Winnipeg perhaps has had an impact in that area.
---

@KatieStrangESPN: One team likely relieved about the upcoming Olympic break? The Anaheim Ducks. For as dominant as they have been this season, the Ducks have been stumbling in the past week. Anaheim's loss to the Blackhawks was their third straight regulation loss. It was also the second time in three games the Ducks were blanked, as their offense struggled against Corey Crawford and a stingy Blackhawks defense corps. The Ducks had an abundance of chances, outshooting the Hawks by a fair margin in the first period, but couldn't break through. Credit also goes to a stingy Blackhawks penalty-killing unit, which snuffed out 39 seconds of 5-on-3 time for Anaheim and stymied the Ducks on five power-plays in total. Granted, the Ducks won't have too much time for rest and recovery during the break -- they will send seven players to Sochi -- but they might find any sort of chance to reset button a welcome one.
Picture This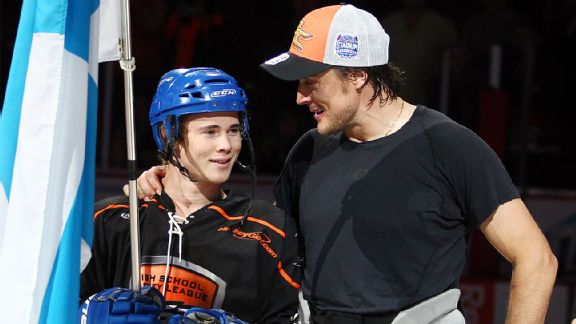 Debora Robinson/NHLI/Getty ImagesTeemu Selanne and his son Leevi were all smiles while celebrating dad's inclusion on Team Finland.
Top Performers
Corey Crawford | Chicago Blackhawks
29 SV, 0 GA
vs ANA | Recap

Evgeni Malkin | Pittsburgh Penguins
1 G, 1 A, 5 SOG, +2
vs BUF| Recap

Marian Hossa | Chicago Blackhawks
1 G, 1 A, 2 SOG, +2
vs ANA | Recap

Quote Me On That
"The last handful of games on this trip, we've got back to the way we need to play. That's a tough team to do that to, and we have to feel good about what we were able to accomplish."
-- Blackhawks F Jonathan Toews on a win over Anaheim
---
"I'm a big part of the group that the scoring's kind of vanished from. I got one tonight, but the numbers in the past games still aren't where they need to be. It's something we're working on, the group of guys that need to pick it up. We will. We're confident players and we'll get there."
-- Sharks F Tommy Wingels on the win over Dallas
Stats Central
• Blackhawks: Improve to 27-1-6 when scoring first.
• Sharks: Last 3 wins have each been in OT or SO.
• Stars: Lost 8 straight games that were tied at the end of regulation.
• More from ESPN Stats & Information »