Just A Thought
>

@ESPN_Burnside: Who knows exactly what the Canadian lineup will end up looking like by the time this tournament -- or at least Canada's place in it -- comes to a close in the next 10 days. But it's clear from watching Canada play Norway that it's a major challenge for head coach Mike Babcock to get all his players enough ice time. All we know heading into Friday night's game against Austria (Sochi time, of course) is that P.K. Subban and Matt Duchene will get a shot. And if everyone has the same attitude that Duchene does, things will likely turn out all right for the defending Olympic champs.
"It's one of those things, hopefully I get to play, I get in the lineup, even if it's the 13th spot. I just look at past guys that have been in that position. I think Jonathan Toews started as that last Olympics and ended up being maybe the best forward on the team by the end," Duchene said after Canada's surprisingly difficult 3-1 opening-game win over Norway. "You can't let it limit you if that's where you end up. You've just got to keep working hard, you've got to be a good teammate to your guys. You can't whine or complain; you've just got to work hard. I'm the youngest guy on the team -- I'm probably the least experienced in terms of some of the big international play. I'm going to do whatever I can to help the team, whether it's on the ice or in the stands."
---

@Real_ESPNLeBrun: The Olympics can't end soon enough for the Detroit Red Wings. Watching Pavel Datsyuk labor somewhat through his opening game with Russia on Thursday, you could see the Wings star is clearly not 100 percent as he plays through a suspected knee injury. And the hits just kept on coming with news that Swedish star Henrik Zetterberg missed practice and was day to day with a herniated disc.
"He has a problem with a disk hernia that we have been familiar with for some months ago, and he has had treatment in the U.S.," Sweden's team doctor Bjorn Waldenberg told reporters Thursday. "But he started here without any symptoms, and I think now the symptoms that he has is according to the disc problem."
I've never heard of a day to day herniated disc. I suspect Zetterberg's Olympics are very much in jeopardy, and Sweden is already without Henrik Sedin and Johan Franzen.
Still lots of talent on the Swedish squad, but these are tough knocks to overcome.
---

@KatieStrangESPN: What a disappointing Olympic opener for the Slovakian team Thursday, demolished in a 7-1 rout by the Americans. Though not among the favorites in these 2014 Games, the Slovak team was at least considered by some a dark-horse medal contender. They didn't look like it Thursday after getting absolutely destroyed by the U.S. team. It would be easy to blame goaltenders Jaroslav Halak and Peter Budaj, but Slovak's shoddy defensive effort was the real culprit. Regardless of how big and dominant Zdeno Chara is on the back end of any team, he needs help and got none Thursday. Hard not to wonder if having Lubomir Visnovsky on the blue line would've helped the cause, but with or without the veteran defenseman, the Slovaks looked totally outclassed.
Picture This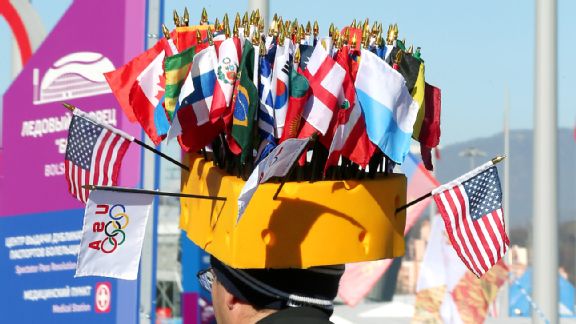 Bruce Bennett/Getty ImagesThis fan shows there is no reason to pick just one nation to cheer for in Sochi.
Top Performers
Mikael Granlund | Finland
2 G, 1 A, +2, 6 SOG
vs AUS | Recap

Michael Grabner | Austria
3 G, +1, 4 SOG
vs FIN | Recap

Evgeni Malkin | Russia
1 G, 2 A, +2, 5 SOG
vs SLO | Recap

Paul Stastny | USA
2 G, +2, 3 SOG
vs SVK | Recap

Standings
GROUP A
| Team | Record | Points |
| --- | --- | --- |
| United States | 1-0-0-0 | 3 |
| Russia | 1-0-0-0 | 3 |
| Slovenia | 0-0-0-1 | 0 |
| Slovakia | 0-0-0-1 | 0 |
GROUP B
| Team | Record | Points |
| --- | --- | --- |
| Finland | 1-0-0-0 | 3 |
| Canada | 1-0-0-0 | 3 |
| Austria | 0-0-0-1 | 0 |
| Norway | 0-0-0-1 | 0 |
GROUP C
| Team | Record | Points |
| --- | --- | --- |
| Sweden | 1-0-0-0 | 3 |
| Switzerland | 1-0-0-0 | 3 |
| Latvia | 0-0-0-1 | 0 |
| Czech Republic | 0-0-0-1 | 0 |
Record: Wins-OT Wins-OT Losses-Losses