Just A Thought
>

@CraigCustance: It's as frightening a moment as there can be in sports. The game between the Dallas Stars and Columbus Blue Jackets was shut down because a life -- the life of forward Rich Peverley -- was on the line. As we watched Monday night, some of us on cellphones hundreds of miles away, the shocked expressions from the fans attending the game were haunting. As Pierre LeBrun will point out below, having an alert and heroic medical staff on hand, armed with a defibrillator, was absolutely critical. Still, you can't help but wonder if most rinks across North America have the same life-saving equipment available. What happened to Peverley, an elite and highly conditioned athlete, can happen to anyone from a youth league to a beer league. Maybe this moment can help spark a conversation to make sure rinks everywhere are equally well-equipped.
---

@Real_ESPNLeBrun: One of the legacies of Jiri Fischer's near-tragic cardiac event in Detroit back in 2005 is that the NHL mandated defibrillators in every NHL rink, and that doctors be positioned closer to team benches in the event of another such scare. That was evident Monday night in Dallas as medical staffers were incredibly quick in getting to Peverley, who collapsed on the Stars' bench because of a cardiac event. He was treated with a defibrillator, and you wonder what might have happened were it not for the presence of the machine and the quickness of medical staff on hand. We don't have to wonder now. Peverley, who missed all of the preseason because of an irregular heartbeat that had been detected at the start of camp, is in stable condition. The first star on this night? The NHL's protocol for such events.
---

@KatieStrangESPN: And to further Pierre's point, good on the NHL for doing the right thing and postponing the game after Monday's harrowing events. Members of both teams appeared absolutely stricken in the wake of Peverley's collapse; to carry on as if nothing had happened would've seemed flip. Times like these also show how tight-knit the NHL community actually is, with messages of support and outpourings of well wishes extended toward the Dallas Stars and Peverley's family during what had to be an incredibly frightening and difficult time.
---

@ESPN_Burnside: While NHL players around the league were keeping one eye on the dramatic situation unfolding in Dallas, there were games of import unfolding in other locales. One of them was in Tampa, where two teams a little bit sideways collided. In the end, the Phoenix Coyotes earned two vital points in a 4-3 shootout win over the Tampa Bay Lightning. The win moved Phoenix to within a point of Dallas for the last wild-card spot in the Western Conference. Meanwhile, the Bolts are winless in five straight and have just two wins in their past 10 outings, falling from Atlantic Division challengers to one of the two wild-card spots in the Eastern Conference. Even more sobering is that the return of scoring star Steven Stamkos from a broken leg has not had the rejuvenating effect one might have expected. Stamkos is pointless in three games since his return, and, with the emotional trade of captain Martin St. Louis to the New York Rangers at the trade deadline, it's clear the Lightning are still struggling to regain their balance.
Picture This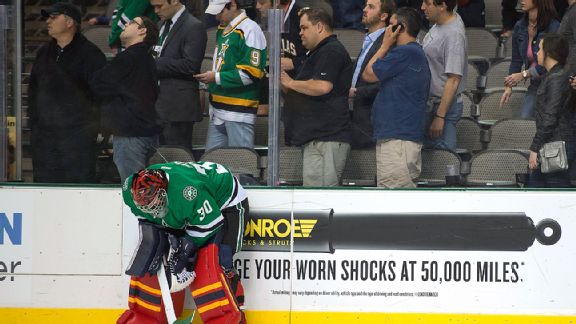 Jerome Miron/USA TODAY SportsStars goalie Tim Thomas was alone with his thoughts as Rich Peverley was treated on the Stars' bench.
Top Performers
Jonathan Bernier | Toronto Maple Leafs
43 SV, 1 GA
vs ANA | Recap

Phil Kessel | Toronto Maple Leafs
1 G, 2 A, 6 SOG, +1
vs ANA | Recap

Ondrej Palat | Tampa Bay Lightning
2 G, 1 A, 6 SOG, +2
vs PHO | Recap

Quote Me On That
"When [Peverley] dropped, it was red alert. Don't worry about the game. It was about getting the doctors. As soon as he came off the ice, I started screaming into the crowd for a doctor. The players don't want to play, and I don't want to coach the team right now."
-- Stars coach Lindy Ruff on his team's mindset Monday night
---
"We're right in the hunt. We're in the thick of things, too, and every point matters right now. So I think you see a desperation from guys on the ice, lying down, blocking shots."
-- Coyotes G Mike Smith after a win over the Lightning
---
"We're all pretty exhausted. I felt like I was back in high school playing hockey, but those games are fun to win."
-- Avalanche F Matt Duchene on an overtime win against the Jets
Stats Central
• Penguins: Won three of the past four games after a three-game winless streak.
• Ducks: Third straight loss (0-1-2); 3-4-2 in past nine games overall.
• Kings: Eight-game win streak is longest active in NHL.
• More from ESPN Stats & Information »
Socializing
Hope all is well with Rich Peverly. Doesn't matter who you cheer for, let's all think about him and his family at this time.

— Gabriel Landeskog (@GabeLandeskog92) March 11, 2014