Just A Thought
ideo1>

@ESPN_Burnside: It was a painful visit to Gotham all around for the Phoenix Coyotes on Monday night. The Coyotes, trying to grind their way into the second and final wild-card spot in the Western Conference, could not hold leads of 2-0 and 3-2 against the New York Rangers, and ended up losing in overtime 4-3. What's worse, starting goalie Mike Smith, the catalyst in Phoenix's jump back into the playoff race after an up-and-down start to the season, was injured. He had to leave the game after Rangers forward Derick Brassard fell on top of him midway through the third period, with the Coyotes up 3-2. The Canadian Olympian could be seen favoring his right leg as he made his way off the ice. No update was given on Smith's condition, but there's no time for lamentations for Phoenix, which plays in Pittsburgh Tuesday night. Thomas Greiss allowed two goals on nine shots in relief of Smith, but the single point earned in the overtime loss kept the Coyotes one point ahead of Dallas, which squeaked by Winnipeg 2-1 Monday night. The Stars have a game in hand.
---

@CraigCustance: It's amazing how the playoff scenario can change in a hurry, and Monday night could end up being a turning point in the Western Conference wild-card race. As Scott points out, when Smith was injured, the Coyotes lost the one player they can least afford to lose. If he's gone for any considerable amount of time, Scott's Stanley Cup pick is cooked. And on the same night, Dallas goalie Kari Lehtonen turned in his second consecutive strong performance, easing concerns about a recent concussion that kept him out of the lineup. Goalies and concussions can be a tricky combination, as we saw when Ryan Miller returned from a concussion in the 2011-12 season; it was weeks before he regained his form with the Sabres. In his past two starts, Lehtonen has stopped 58 of 60 shots, good for a save percentage of .967. The Coyotes are clinging to the final wild-card spot in the West, but Monday night's turn of events suggests they may not last for long.
---

@Real_ESPNLeBrun: I began my blog Monday morning by saying that if there's any team fit to end Boston's 12-game winning streak, it has to be Montreal. After all, entering the game, the Canadiens had won five of seven meetings since the lockout ended. Make it six wins in eight games, after the Canadiens pulled off a gutsy 2-1 shootout win in Beantown, with backup goalie Peter Budaj, no less. The Habs were down two forwards early as both Dale Weise and Travis Moen left the game just a few shifts into the opening period, leaving Montreal with a 10-forward bench the rest of the way. And they looked gassed in the third period as the Bruins tied the game 1-1 on Patrice Bergeron's terrific deflection. Alex Galchenyuk ended the night with the only goal either team would get in the shootout, and Montreal ended Boston's magical run just two days after the Canadiens' emotional win in Toronto. These are heady days for the Habs, indeed.
---

@KatieStrangESPN: It has been a particularly disheartening week for the hockey Twitterverse -- first with Leafs fans directing their ire toward maligned goaltender James Reimer's wife, April, then with the galling criticism of Andrew Ladd's choice to miss Winnipeg's game against the Dallas Stars on Monday in order to be with his wife and newborn. Honestly? To those harping on the fact that Ladd's wife actually gave birth on Sunday, not Monday, I have a crazy scenario for you to entertain: Maybe Ladd wanted to be home for more than just the birth of his daughter. Maybe he also wanted to be home to support his wife. I'm having a hard time finding fault with that. These venomous attacks are so sad. Athletes are lionized because of their extraordinary skills and unique abilities, but they are human beings, too. They have families and personal lives and deal with situations we really know nothing about. Let's remember that.
Picture This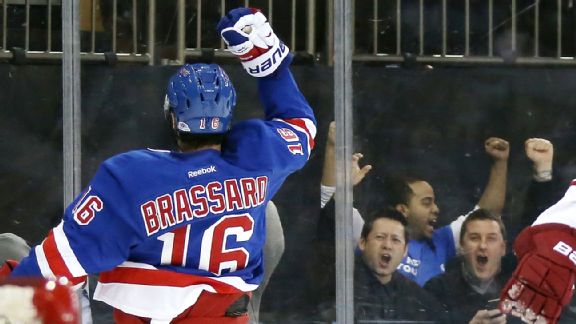 Bruce Bennett/Getty ImagesAtta boy! Rangers fans were as excited as Derick Brassard was after he scored in the second period.
Top Performers
Ryan McDonagh | New York Rangers
1 G, 2 A, +3, 3 SOG
vs. PHX | Recap
Erik Karlsson | Ottawa Senators
1 G, 2 A, +3, 4 SOG
at TB | Recap
Karri Ramo | Calgary Flames
33 SV, 1 GA
vs. SJ | Recap
Quote Me On That
"Tough, of course, to see Mike [Smith] go down. [Thomas] Greiss came in and was great. That's an unbelievably tough position to be in."
-- Coyotes captain Shane Doan on the loss of the team's starting goalie
---
"I thought in the third we kind of sat back a little bit and played prevent D. When the situation tightens these last 11 games, you're going to see more of that."
-- Stars F Ray Whitney on the win over the Jets
Stats Central
• Bruins: Loss snaps 12-game winning streak, their longest since 1970-71.
• Rangers: Fourth straight win moves them into second place in Metropolitan Division.
• Canadiens: Third straight road win; 5-1-0 in past six games overall.
• More from ESPN Stats & Information »