Just A Thought
>

@ESPN_Burnside: We're already looking forward to the first-round matchup between the Philadelphia Flyers and the New York Rangers, with the longtime rivals still battling for home-ice advantage in that series. The Flyers picked up a point in their shootout loss to Boston on Sunday, while the Rangers blanked the hapless Edmonton Oilers 5-0. What's impressive about the Rangers is their surprisingly balanced attack. They have eight players with 15 goals or more, and defenseman Ryan McDonagh has 14. What remains shocking is that while Martin St. Louis is one of those players -- he has 29 goals -- he has yet to score since joining the Rangers at the deadline. The two-time NHL scoring champ has three lonely assists in 14 games since the trade, and it's not like he's not getting his opportunities. On Sunday he had 5:09 of power-play time against the Oilers but was held pointless.
---

@CraigCustance: Just as the playoff races are starting to shape up, things are getting clearer for those voting for NHL awards, and Patrice Bergeron is doing his part to win his second Selke Trophy as the best two-way forward in the game. Bergeron scored in Sunday's 4-3 win over the Flyers, wrapping up an incredible month for both him and the Bruins. Bergeron finished March with 11 goals in 17 games, notable for a Selke contender because the best way to prevent goals is to spend time in the offensive zone. The potential for another 30-goal season is even more impressive considering he starts 45.8 percent of his even-strength shifts in the defensive zone. Guys like Anze Kopitar and David Backes are in the discussion, but it's going to be hard not to pencil in Bergeron at No. 1 in the Selke ballot.
---

@Real_ESPNLeBrun: Already missing Patrick Kane, the slumping Chicago Blackhawks got what looks like the ultimate scare Sunday when captain Jonathan Toews, the engine that drives the Blackhawks, left the game against the Penguins clutching his left arm after a taking a big hit from Brooks Orpik. Head coach Joel Quenneville eased the tension a little after the game by saying it's a day-to-day injury and that he didn't think it was that serious, but we'll see later Monday if an update on the timeline for the injury turns this scare into a nightmare. The stars are suddenly just not aligning for the defending champs, who have done such a nice job overall of fighting the Cup hangover all season long. They're playing some of their worst hockey of the season lately, though, having fallen behind Colorado for second place in their division, and in the race for home ice between the two teams in a potential first-round matchup. Now they have Kane and Toews both out. Mercy, this is a brutal script playing out right now in Chicago.
---

@KatieStrangESPN: With UMass Lowell's exit from the NCAA hockey tournament following Sunday's loss to Boston College, expect the sweepstakes for Swedish defenseman Christian Folin to begin. The 6-3, 210-pound Folin is regarded by many as the top college free agent in this year's class, with the size, shot and mobility that could help him excel at the NHL level. As colleague Craig Custance noted in his college free-agent preview earlier this month, Folin has drawn comparisons to former Western Michigan standout Danny DeKeyser, who signed with Detroit last March. Both Boston and Philadelphia have reportedly shown keen interest in Folin, though you can expect the line to be much longer than just two teams when Folin decides he's ready to start listening to offers.
Picture This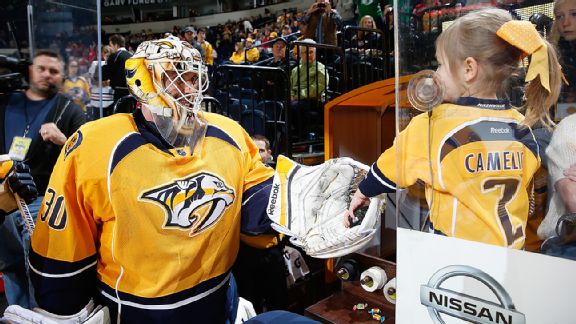 John Russell/NHLI/Getty ImagesThanks, dude! Carter Hutton made a new friend during warm-ups on Sunday.
Top Performers
Sunday

Tuukka Rask | Boston Bruins
49 SV, 3 GA
vs PHI | Recap

Cam Talbot | New York Rangers
26 SV, 0 GA
vs EDM | Recap

Mats Zuccarello | New York Rangers
2 G, 1 A, 3 SOG, +2
vs EDM | Recap

Saturday

Semyon Varlamov | Colorado Avalanche
47 SV, 2 GA
vs SAN | Recap

Carey Price | Montreal Canadiens
36 SV, 1 GA
vs FLA | Recap


Mats Zuccarello | Montreal Canadiens
2 G, 1 A, 5 SOG, +3
vs FLA | Recap

Quote Me On That
"Just being smart, playing the system and not forcing plays. Every time we take what's there, we have success."
-- Bruins F Patrice Bergeron after the win over the Flyers
---
"We tightened it up, and moving forward, we have to play that way because the points are so big. We have played a good defensive game over the past few weeks, and that is what is going to lead to our offense and help us win."
-- Rangers F Derek Stepan after the win over the Oilers
Stats Central
Sunday • Rangers: Won six of seven overall.
• Blackhawks: Lost three straight games and four of past five.
• Bruins: 15-0-1 in past 16 games.
Saturday
• Maple Leafs: Lost eight straight for first time since Oct.-Nov. 2010; four or more GA in six of the eight losses.
• Avalanche: Clinch a playoff berth for first time since 2009-10.
• Avalanche: Win gives them 100 points; first 100-point season since 2003-04.
• More from ESPN Stats & Information »