Just A Thought
>

@ESPN_Burnside: So, how large is that final game of the regular season looming in Glendale, Ariz., between the Dallas Stars and the Phoenix Coyotes? As the Stars continued their charge to the postseason with a another big road win, this time over Washington, the Coyotes were stubbing their toe at home against Winnipeg, dropping a 3-2 decision in a shootout. That loss follows their blown lead at home on Saturday against Minnesota that resulted in a 3-1 loss, and now the Coyotes and Stars are tied in the standings, with the Stars owning a game in hand. The Coyotes, still without star netminder Mike Smith, will need to regroup in a hurry as they play in Los Angeles on Wednesday.
---

@CraigCustance: Watching New Jersey Devils goaltender Cory Schneider make save after save in the shootout with the Buffalo Sabres on Tuesday night, you started to think this game might be the Devils' shootout breakthrough. When Jaromir Jagr scored his first shootout goal of the season, it almost seemed like destiny. But then, just like that, it ended. Ville Leino beat Schneider and Mike Sislo couldn't answer, and the Devils dropped to 0-11 in shootout games. Forget for a moment that the Devils shouldn't have allowed the Sabres to take the game that far in the first place, and let that number sink in: 0-11. On a night when Toronto ended its losing streak and Columbus managed another point, a shootout loss to the worst team in the league might end up being what ends New Jersey's playoff hopes.
---

@Real_ESPNLeBrun: A win! A win! Yes, the bleeding finally stopped Tuesday night at Air Canada Centre, as the Toronto Maple Leafs edged the visiting Calgary Flames 3-2 to snap an eight-game losing streak that had severely damaged the Leafs' playoff chances. Now up to 82 points, their first two points in the standings since a March 13 win at Los Angeles, the Leafs are one point behind Columbus and two behind Detroit for the two wild-card spots in the East. However, each of those teams has a pair of games in hand on the Maple Leafs AND owns the ROW tiebreaker (regulation plus overtime wins) over them, so a tall task remains, especially with the mighty Boston Bruins visiting Thursday night. But, finally, a win. "I don't want to get too far ahead of ourselves because we didn't paint a Mona Lisa here tonight," Leafs coach Randy Carlyle told my Toronto media colleagues afterward. "It's been a long time. It's been too long. It's a much better feeling than what we've been able to enjoy here over the last while, that's for sure." The Washington Capitals, meanwhile, got pasted 5-0 at home by Dallas and fell a point behind Toronto, albeit with a game in hand on the Maple Leafs. It's the Red Wings and Blue Jackets that the Caps are chasing, and right now I don't like Washington's chances. The Caps looked flat in a playoff-like game Tuesday night. League goal-scoring leader Alex Ovechkin went pointless again, his third straight game and the fifth in his last six in which he hasn't scored a point. Ovechkin was minus-2 in Tuesday's loss to put his season tally to minus-36 for the season. Ouch. Elsewhere, Montreal Canadiens defenseman Douglas Murray has no prior history of supplemental discipline, but he will likely be disciplined for his elbow to the head of Tampa's Mike Kostka on Tuesday night. Murray has a phone hearing with the NHL's Player Safety Department on Thursday at 11 a.m. ET. Murray is a clean player, plays the game hard, and isn't known for crossing the line. That will be duly noted by the NHL's player safety folks when they decide how many games to give Murray.
---

@KatieStrangESPN: Rangers coach Alain Vigneault offered no update after his team's 3-1 win over the Vancouver Canucks about the status of stud defenseman Ryan McDonagh, who went down in pain after getting nailed into the boards by Alex Burrows with less than a minute remaining in a game that was already well out of reach for Vancouver. McDonagh seemed to be favoring his left arm as he left the ice, so count on it being a tense few days for Rangers fans until more is known about his status. Though a team spokesperson told reporters the injury was "not serious," McDonagh was seen with his arm in a sling after the game. It's hard to imagine a tougher loss for the team, already without top-six forward Chris Kreider, with the exception of losing goaltender Henrik Lundqvist. McDonagh leads the team with 24:49 in ice time per game and has played so well as of late that his name has been thrown into Norris Trophy consideration.
Picture This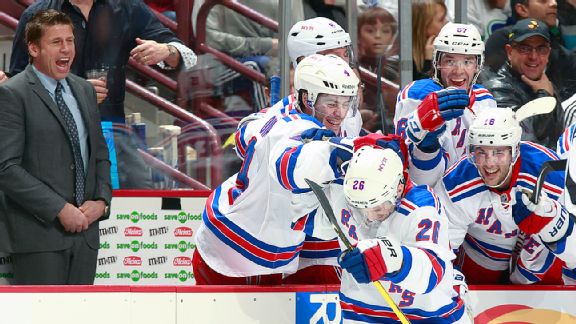 Jeff Vinnick/NHLI/Getty ImagesWay to go, little man! Martin St. Louis' teammates were happy to see his first goal with the Rangers.
Top Performers
Kari Lehtonen | Dallas Stars
35 SV, 0 GA
vs WAS| Recap

Taylor Hall | Edmonton Oilers
1 G, 3 A, 10 SOG, +1
vs SAN | Recap

NAME | St. Louis Blues
31 SV, 0 GA
vs PHI | Recap

Quote Me On That
"It feels like a lot of weight lifted off of our team. We can feel good about ourselves because we won this game."
-- Maple Leafs captain Dion Phaneuf on the win over the Flames
---
"We really can't be worried about them. They're a good team, they're going to win games. We have to do our part and win games."
-- Coyotes D Keith Yandle on fighting the Stars for a playoff spot
Stats Central
• Rangers: Club-record 25th road win of season; won seven of eight overall.
• Blue Jackets: 2-3-1 in last six overall; currently second wild card in Eastern Conference.
• Stars: Won three straight, 5-1-0 in last six overall; currently second wild card in Western Conference.
• More from ESPN Stats & Information »