Just A Thought
ideo1>

@ESPN_Burnside: As the final week of the regular season begins, we've circled Wednesday's tilt between the Sharks and Ducks in Anaheim as must-see hockey. Both teams have flirted with running away with the all-important Pacific Division crown, but each has failed to seize the moment. The Ducks are the latest to squander that opportunity after losing two in a row, including Sunday's disappointing 4-2 loss to lowly Edmonton. That followed a 5-2 loss on Friday to Nashville that saw starter Jonas Hiller give up four goals on 17 shots. With rookie Frederik Andersen hurt in Friday's loss, Hiller was back in net Sunday and allowed three goals on 27 shots. He has given up 11 goals in his past three appearances -- not exactly playoff-caliber goaltending. The Ducks still lead the Sharks by one point and have a game in hand, which they'll use up Monday in Vancouver. Everyone knows winning the Pacific is key, because the team that ends up in second place will face the surging Los Angeles Kings in the first round.
---

@CraigCustance: The Dallas Stars were so close to making it a successful road trip. All they had to do was beat a bad Florida Panthers team to complete what would have been a 4-1 trip that would have put some distance between them and the Coyotes in the Western Conference wild-card race. It's never easy for the Stars this time of year, though. They blew a two-goal lead and lost 3-2 to the Panthers on Sunday, making it likely that the final game of the season between the Stars and the Coyotes will have a postseason berth riding on it. You can't pin it on Tyler Seguin, though. Seguin remains on fire, with a goal and assist Sunday, giving him a goal in four consecutive games. He has a real chance at finishing second to Sidney Crosby in the points race, and Seguin, just 22 years old, likely will finish in the top 10 in goal scoring.
---

@Real_ESPNLeBrun: The Columbus Blue Jackets dispatched the New York Islanders 4-0 Sunday, easing the pain of Friday night's loss to Chicago in which the Blackhawks scored with 3.9 seconds left to win in regulation. Thankfully for the Jackets, the Toronto Maple Leafs were unable to take advantage of that gift, dropping a 4-2 decision at home to the woeful Winnipeg Jets. Sunday's win puts the Jackets three points ahead of both New Jersey and Toronto and pretty much in control of the second Eastern Conference wild-card berth as the final week of the regular season beckons. Columbus hosts Phoenix on Tuesday night before finishing the regular season on the road with games Wednesday at Dallas (where the Blue Jackets will start with a 1-0 lead in the resumption of the game postponed by Rich Peverly's cardiac incident on the bench), then Friday at Tampa Bay and Saturday at Florida. The Devils host Calgary on Monday night, followed by games Thursday at Ottawa and then home dates Friday versus the Isles and Sunday afternoon against Boston. The Leafs are on the road to finish off their miserable stretch, at Tampa on Tuesday, at Florida on Thursday and at rival Ottawa to wrap things up Saturday night. I don't see the Jackets opening a window for either team, meaning we should see Columbus in the playoffs for only the second time in team history.
Picture This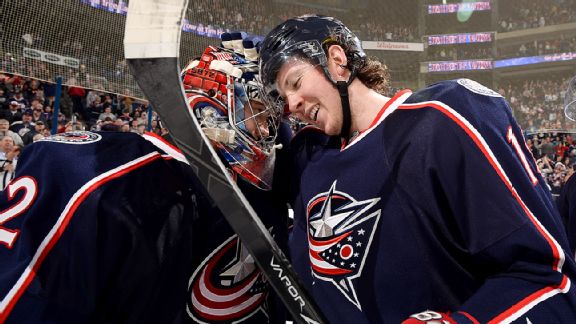 Jamie Sabau/Getty ImagesI love you, man! Ryan Johansen was pleased with Sergei Bobrovsky's effort against the Islanders.
Top Performers
Sunday

Sergei Bobrovsky | Columbus Blue Jackets
31 SV, 0 GA
vs. NYI | Recap
Marc-Andre Fleury | Pittsburgh Penguins
39 SV, 2 GA
vs. COL | Recap
Taylor Hall | Edmonton Oilers
1 G, 2 A, 3 SOG, +2
vs. ANA| Recap
Saturday

Carter Hutton | Nashville Predators
35 SV, 0 GA
vs. SAN | Recap

Loui Eriksson | Boston Bruins
4 A, 7 SOG, +3
vs. PHI | Recap
Semyon Varlamov | Colorado Avalanche
31 SV, 0 GA
vs. STL | Recap
Quote Me On That
"We're struggling finding ways to win hockey games right now. We let our emotions get the best of us a little bit there for a while, and I thought that was a little bit counterproductive, and that's our responsibility, me and [Corey Perry]."
-- Ducks captain Ryan Getzlaf after the loss to the Oilers
---
"Tough points to lose, it wasn't a good game for us. No excuses, even though it was back to back. We expect better."
-- Stars F Tyler Seguin after the loss to the Panthers
Stats Central
Sunday
• Ducks: Second straight loss (both in regulation) after going 5-0-1 in previous 6 games.
• Flyers: First win in past five games.
• Blackhawks: Three straight wins; two points behind Avalanche (107-105) for second in Central Division.
• More from ESPN Stats & Info »
Saturday
• Bruins: League-leading 30th home victory of the season.
• Avalanche: Win 50th game of the season for second time in franchise history.
• Canadiens: 10-2-0 in past 12 games.