Just A Thought
>

@Buccigross: Matt Moulson wasted little time in his Buffalo Sabres debut, scoring two goals. What's lost in the Thomas Vanek trade is that Moulson is a free agent next July. If I'm his agent, the contract conversation starts at five years, $25 million. For Buffalo to have him skip free agency and sign now, it's six years, $30 million. Durable, productive and he went to Cornell. #wickedsmahhht
---

@ESPN_Burnside: On opposite sides of the hockey world geographically, a tale of two franchises whose immediate histories are inexorably linked. In Vancouver, the Canucks won their fourth in a row, edging Washington 3-2 with two third-period goals, including another by rejuvenated former Frank J. Selke winner Ryan Kesler, now playing the wing instead of center. Kesler now has eight on the season for the 9-4-1 Canucks, who are thriving under new head coach John Tortorella, who has made news not just for the team's success but for his seemingly mellower ways. Meanwhile, across the continent, Tortorella's former team, the New York Rangers, returned home after a grueling nine-game road trip to start the season, thanks to ongoing construction at Madison Square Garden. Unfortunately for Tortorella's replacement, Alain Vigneault, fired last offseason by the Canucks, it was more of the same as the Rangers came up empty on five power-play attempts and were shut out by the Montreal Canadiens 2-0. Even though they were facing the Habs' backup netminder, Peter Budaj, the injury-riddled Rangers could not find the back of the net and were shut out for the third time this season, and rank dead last in goals per game. An indictment of Vigneault's coaching? No. But certainly a far cry from the start the Rangers were hoping for with the much-publicized coaching swap.
---

@CraigCustance: I guess I still don't know what a distinct kicking motion is because it sure looked like Alex Galchenyuk directed Montreal's second goal in with his skate against the Rangers, a goal the Situation Room allowed to stand after checking the replay. Maybe there's a difference between distinct kicking motion and directing a goal in; maybe there shouldn't be. It's hard to guess Galchenyuk's intent or whether his skate was strategically placed to aid in scoring the goal, but the vagueness of the rule doesn't help either. There has to be a better solution.
---

@Real_ESPNLeBrun: The big play on the opening goal for Montreal in New York last night was made by Michael Bournival, who took a big hit inside the Rangers zone to release Tomas Plekanec alone in on Henrik Lundqvist, and the Habs center didn't miss. It was yet another bright play by the 21-year-old Bournival, who was the surprise story of training camp and who continues to step up every time head coach Michel Therrien gives him an opportunity. Injuries to the likes of Daniel Briere and Brandon Prust have opened the door for Bournival, and he's made the most of it, now with six points (2-4) in nine games on the season. He was acquired from Colorado by former Habs GM Pierre Gauthier in November 2010 in exchange for defenseman Ryan O'Byrne. Not too shabby.
---

@KatieStrangESPN: Matt Moulson has had to prove himself every step of the way. He was cut from a local junior team growing up and broke into the league as a ninth-round draft pick. After three years toiling in the minors, Moulson's first 30-goal season elicited doubt he could do it again. When he did it again, skeptics said it was because he was playing with John Tavares. Two years later and people are still saying the same thing. Moulson knows that doubt has followed him to Buffalo, and in chatting with him Sunday night after the trade, he seemed to embrace that challenge of, once again, proving people wrong, He's a player who thrives while skating with a chip on his shoulder and his Sabres debut was a good example. Moulson tallied two goals in his first game for Buffalo. Your move, Thomas Vanek.
Picture This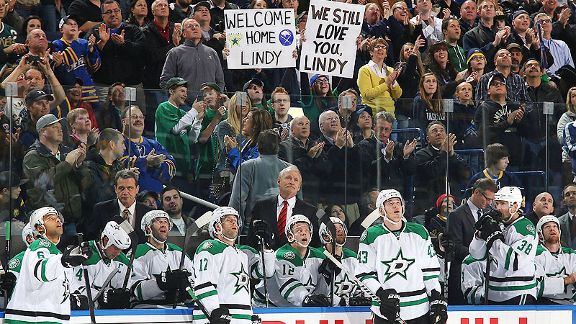 Sean Rudyk/NHLI via Getty ImagesLindy Ruff and his players watch a tribute to the former Sabres coach at First Niagara Center.
Top Performers
Matt Moulson | Buffalo Sabres
2 G, 4 SOG, +1
vs DAL | Recap


Jayson Megna | Pittsburgh Penguins
1 G, 1 A, 4 SOG, +2
at CAR | Recap

Corey Crawford | Chicago Blackhawks
29 SV, 1 GA
at MIN | Recap
Quote Me On That
"Well, we couldn't just give it to him. We had to make sure he earned it."
-- Stars' Tyler Seguin on Lindy Ruff winning in return to Buffalo
---

"Shot it right off my shin pad. Not how I dreamed it up, but I'll take them any way I can get them."
-- Pens rookie Jayson Megna on scoring first NHL goal when Sidney Crosby's shot deflected off his leg
---
"If that's not a kick, I don't know what a kick is. Seriously, there needs to be some sort of consistency in the calls."
-- Henrik Lundqvist questioning Alex Galchenyuk's goal
Stats Central
• Matt Moulson (BUF) is tied for third in goals by players in a Sabres uniform this season.
• Sabres remain winless at home this season (0-7-1).
• Sidney Crosby (PIT): 1 goal, 2 assists over past 4 games.
• More from ESPN Stats & Information »