Just A Thought
ideo1>
---

@ESPN_Burnside: Did anyone else watch Pittsburgh Penguins goalie Marc-Andre Fleury make that last, lunging save to thwart David Krejci's attempt at tying Wednesday's game and think back to Game 7 of the 2009 Stanley Cup finals in Detroit, and Fleury's last-second stop on Nicklas Lidstrom to seal a Stanley Cup championship for the Pens? Anyone? Wednesday's 3-2 victory in their first meeting with the Bruins since being swept by them in last spring's Eastern Conference finals was a terrific tilt. Hard-hitting, great goaltending, it had it all, and it might well have been the most dynamic game in the first month of the season. The result, though -- while no doubt satisfying on some levels for the Penguins, who were limited to just two goals in the playoffs against Boston -- reinforces that in many ways, none of it matters. Fleury was a bystander in the conference finals, having been replaced in the first round by Tomas Vokoun. And as good as he was Wednesday and has been throughout the first month of the season -- Fleury is 9-2 with a 1.81 GAA and .927 save percentage -- all of this is really just a long dress rehearsal for the playoffs, when he will be called on to make those saves when the stakes are at their highest.
---

@CraigCustance: The Sharks' impressive start has legitimized the belief that this could be the best team general manager Doug Wilson has assembled in San Jose. They're fast, they're deep and they have a Stanley Cup-winning goalie. But Wednesday night's loss to the Kings is a reminder that the path to a Western Conference title might still go through Los Angeles. The Kings won in overtime in another tight game that reminded us just how good last season's playoff series was between these teams. The Kings continue to dominate the Sharks in Los Angeles, a trend that's going to have to change if the Sharks want to break through this spring.
---

@Real_ESPNLeBrun: Marc-Edouard Vlasic scored his third goal of the season Wednesday night for his Sharks in the overtime loss in Los Angeles (which was a fantastic game, by the way) and while his game is not about offense, it's another reminder of his rising Olympic stock. He has really opened some eyes on Team Canada's management staff. With the left side of the defense wide open after Duncan Keith and Jay Bouwmeester, Canada is looking at several options, and Vlasic has pushed himself above the fray with his solid play. He plays a quiet, steady, mistake-free game, which is exactly what Team Canada might look for on a team that will have a bevy of explosive, high-end offensive defensemen, especially on the right side. If Team Canada was naming its team today, Vlasic would be on it.
---

@KatieStrangESPN: Is any team more vexing to the advanced stat community than the Toronto Maple Leafs? Despite being consistently outshot, the Leafs keep racking up wins to remain atop the Eastern Conference. Wednesday night, it was a 4-2 win against the Calgary Flames at the Scotiabank Saddledome in which Jonathan Bernier delivered a superb 41-save performance. At 10-4-0 and with wins in their past three, the Leafs have received quality goaltending of late; on Tuesday night, James Reimer turned away 43 shots in a 4-0 win over the Edmonton Oilers 4-0. Outshot in all but three games this season (Wednesday night they were almost doubled up), the Leafs are 29th in Corsi with 43 percent and 29th in Fenwick at 41.4 percent. Those shot-differential statistics are tend to be pretty predictive, but right now, they are throwing everyone for a loop. That is, everyone but Randy Carlyle. The old-school coach hasn't seemed to buy into the value of such statistics and right now, it's hard to prove him wrong.
Picture This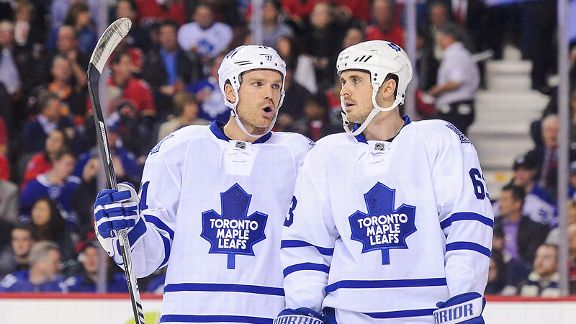 Derek Leung/Getty ImagesDavid Clarkson and Dave Bolland compare notes during the game against the Flames.
Top Performers
Anze Kopitar | Los Angeles Kings
1 G, 1 A 4 SOG
vs OTT | Recap

Patrice Bergeron | Boston Bruins
1 G, 1 A 5 SOG, +1
at PIT | Recap

Jonathan Bernier | Toronto Maple Leafs
41 SV, 2 GA
vs CGY | Recap
Quote Me On That
"It's just so frustrating right now. I thought we played a pretty good game from the top on down but that was one heck of a performance from [goalie Jonathan] Bernier. We were going to the net hard, we were creating secondary rebound chances and it was just one of those nights where things aren't going to go in."
-- Flames' Joe Colborne on losing to the Leafs
---

"That was Evgeni's best game, I think, of the year. ... I thought he was exceptional."
-- Penguins coach Dan Bylsma on Malkin