Just A Thought
>
---

@CraigCustance: What a stretch of road games it's been for the Stars. An emotional return to Buffalo for Lindy Ruff at the end of October. A return to Ottawa for Sergei Gonchar. Tyler Seguin's dissected and analyzed swing through Boston. And, on Thursday night, Jim Nill, who learned how to be an NHL general manager with the Red Wings, brought his group through Detroit for the first time. The best part for the Stars? They won every one of those games. This group has been assembled from all over, but they're coming together nicely. We don't know what it means for the long-term success of the Stars this season, but we do know the Oilers better be prepared for the Shawn Horcoff reunion next week.
---

@Real_ESPNLeBrun: John Tortorella's Vancouver Canucks picked up another win Thursday night, a 4-2 decision in San Jose, handing the Sharks only their second regulation loss of the season. Of note, Mike Santorelli and Chris Higgins scored goals, as Vancouver's second line, which also includes Alex Burrows, continued to have an impact since being put together by Tortorella. If the Canucks can continue to get second-line offense behind the Sedin twins, it really changes the picture for this team. We saw in 2010-11, when Ryan Kesler's second line was on fire, what the Canucks can do when there's protection for the twins. Santorelli continues to be an amazing story. Signed to a two-way deal on July 6, which pays him $550,000 in the NHL and $250,000 in the AHL, he's the best bargain pickup of the offseason, with 12 points (5 goals, 7 assists) in 18 games while being used in all kinds of different roles by Tortorella.
---

@KatieStrangESPN: Let me preface by saying that I like Claude Giroux a lot and have always found him to be incredibly accessible, open and friendly with the media. So I was surprised when he declined to speak with reporters Friday night after the Flyers' 3-0 shutout loss to New Jersey. Now, I am not in the camp that believes a team captain is required to speak after the game every night, but Giroux's not making himself available, after a reported players-only meeting, was a mistake. It's not just that he left teammates to answer for the Flyers' latest debilitating defeat, it's the fact that he spurned one of a captain's most important duties as a leader. A captain has to be the guy to speak up when the team is mired in the type of disarray that we are now seeing in Philadelphia, as undesirable as that task might be. Giroux is a guy who cares, so it's only natural to assume that his season-long goalless drought and the team's failures are weighing on him as captain. He's still young and growing into this role, after all. But by virtue of his position, he must be accountable, when he comes up short and when the team does, as well.
Picture This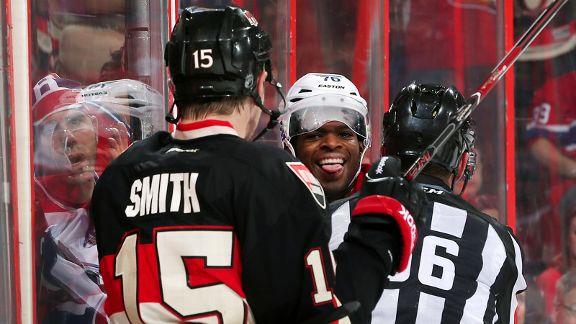 Andre Ringuette/NHLI/Getty ImagesMontreal's P.K. Subban is clearly not taking Ottawa's Zack Smith seriously.
Top Performers
Steven Stamkos | Tampa Bay Lightning
2 G, +2, 5 SOG
vs EDM | Recap

Carl Hagelin | New York Rangers
2 G, +1, 3 SOG
at CBJ | Recap

Bobby Ryan | Ottawa Senators
1 G, 2 A, +3, 2 SOG
vs MTL | Recap

Martin Brodeur | New Jersey Devils
22 SV, 0 GA
at PHI | Recap

Ben Bishop | Tampa Bay Lightning
38 SV, 2 GA
at EDM | Recap

Quote Me On That
"It's embarrassing. I can't remember the last time we won. There are no positives right now."
-- Panthers' Shawn Matthias
---
"There's really nothing left to say. It's flat-out embarrassing for us, our fans, for the organization. Thank God for [goalie Sergei Bobrovsky]. It could have been 10-1 before we had an opportunity to come [out for] the third period."
-- Jackets' Brandon Dubinsky on loss to Rangers
---
"Having him back there as a defenseman always makes me feel safe."
-- Kings' Drew Doughty on goalie Jonathan Quick
Stats Central
• Wild: scored 2 or fewer goals in 6 of 7 road games (2-3-2)
• Panthers: 0-3-4 in last 7 games; 1-for-20 on power play in that span
• Rangers: have allowed 2 or fewer goals in 9 straight games (6-3-0)
• Alex Ovechkin (WSH): 13th goal of season; 4 goals, assist in past 3 home games
• Blues: 5-1-0 in last 6 games (won last 2)
• More from ESPN Stats & Information »