Just A Thought
ideo1>
---

@ESPN_Burnside: Another night, another loss for the woeful Edmonton Oilers. The Oilers shuffled off defenseman Ladislav Smid to Calgary and signed netminder Ilya Bryzgalov to a one-year deal, but despite those cosmetic changes, they continue to lose, dropping a 5-4 decision Sunday to Chicago. Only a startling turnaround will see the 4-13-2 Oilers claw their way back into the playoff picture in the NHL's toughest division, the Pacific. Rookie GM Craig MacTavish, in spite of promising bold moves, has fiddled while his team has essentially burned itself to the ground.
---

@CraigCustance: With their fourth straight loss Sunday night, the Islanders seem to be perilously close to taking a step back from last season. Following their first playoff appearance in six years -- a surprisingly competitive quarterfinal series against the heavily favored Pittsburgh Penguins -- the Islanders have been unable to harness that forward progression this season. The middling Isles dropped to 12th place in the Eastern Conference with a 6-9-3 record after Sunday night's 4-2 loss to Montreal. Goaltending is still an issue, the team's defense is suspect and the team's maturity in handling tough situations remains in question. GM Garth Snow tried shaking things up last month, trading heart-and-soul forward Matt Moulson. That move hasn't yielded the desired effect. One has to wonder: If things continue at this rate, is coach Jack Capuano's job safe?
---

@Real_ESPNLeBrun: Quite the weekend for the Winnipeg Jets, who crushed Nashville 5-0 on Friday night before coming back to beat San Jose 5-4 in a shootout Sunday evening. Those are two huge wins for a team that has had trouble finding consistency. Andrew Ladd tied the game late and then scored the shootout winner, another character performance by the Jets captain, a guy I'd have on my team any day. At 8-9-2, the Jets need to get on a bigger roll to keep pace with a Central Division that's getting away from them: Colorado, Chicago, St. Louis and Minnesota are all off to monster starts. Doesn't get any easier for the Jets, who play Tuesday in Detroit.
---

@KatieStrangESPN: On the surface, it looks like another San Jose Sharks collapse, just like the one we saw last season. After winning eight of their first nine games, the Sharks are now winless in their last five with Sunday night's 5-4 shootout loss to the Jets becoming the latest. It doesn't look good, but we're willing to give the Sharks a pass -- for now. Three of those losses have come in a shootout, which is essentially a coin toss. The other was a loss to the Kings in overtime. Compare it to last season, when their early losses included blowouts at the hands of the Blackhawks and Blue Jackets, and there's no comparison. If you're going to take a dip after a hot start, at least get some points in the process, something the Sharks are doing. That's the difference this season.
Picture This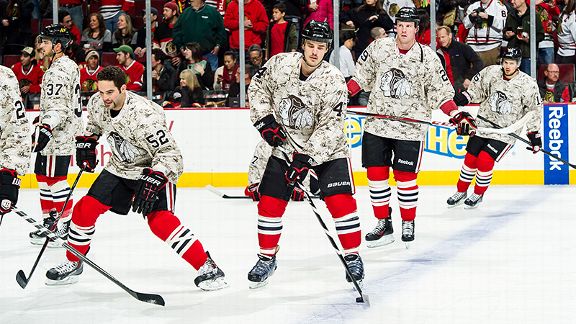 Bill Smith/NHLI/Getty ImagesThe Blackhawks paid tribute to veterans during their game on Sunday night.
Top Performers
SUNDAY

Frederik Andersen | Anaheim Ducks
35 SV, 1 GA
vs VAN | Recap

Seymon Varlamov | Colorado Avalanche
33 SV, 1 GA
vs WAS | Recap

Alex Galchenyuk | Montreal Canadiens
1 G, 2 A, 6 SOG
vs NYI | Recap

SATURDAY

Tyler Toffoli | Los Angeles Kings
2 G, 1 A, 4 SOG
vs VAN | Recap

Tuukka Rask | Boston Bruins
33 SV, 1 GA
vs TOR | Recap

Mike Richards | Los Angeles Kings
1 G, 2 A, 4 SOG
vs VAN | Recap

Quote Me On That
"Who knows, I might have had 1,900 points if I hadn't played in Russia for those 3 1/2 years"
-- Devils' Jaromir Jagr on hitting 1,700 points
---
"We're playing like we're a .500 hockey team and not a 14-2 team. That's the key. You stay grounded and you stay humble and hungry."
-- Avs' Matt Duchene on his team's quick start
Stats Central
SUNDAY
• Ducks: 9-0-0 at home -- only team in NHL yet to suffer a loss at home (either regulation, OT or shootout)
• Avalanche: improved to 14-2-0; most wins after 16 games in franchise history (began as Quebec Nordiques in WHA in 1972)
• Blackhawks: 6-0-1 in last 7 games (won last 3)
• Rangers: 6-1-0 in last 7 games (won last 3)
• Islanders: on 4-game losing streak (outscored 16-6 during streak)
SATURDAY
• Claude Giroux (PHI): goal in third period (first goal in last 22 games dating back to last season)
• Capitals: lose in shootout for first time since March 22, 2012, at Flyers (had won 9 straight shootout games prior to Saturday)
• Wild: 4-0-1 in last 5 games
• Senators: have earned standings points in each of their last 5 games (3-0-2)
• Blue Jackets: snap 5-game losing streak (first win since Oct. 25 vs. Maple Leafs)
• More from ESPN Stats & Information »