Just A Thought
>

@ESPN_Burnside: We were struck by the Dallas Stars' 3-0 victory over Edmonton on Wednesday, not by the outcome -- Hey, who doesn't shut out the Oilers these days? -- but by the ending of the game. With the Stars leading 1-0 late in regulation and the Oilers pressing furiously for a tying marker, there was Tyler Seguin on the ice intercepting a pass and snapping the puck the length of the ice from one knee and into the empty Oilers net for a key insurance goal. That's right, Tyler Seguin on the ice in the final minute of a one-goal game. How often did that happen when he was a Boston Bruin? A good guess would be "never." Seguin led all forwards for either team with 22:20 in ice time. The former No. 2 draft pick, who was sent away by the Bruins in large part because they didn't think he was going to be the kind of player they projected him to be, leads the Stars in goals and points, and the Stars are in the hunt in the Central with a 4-1-1 record in their past six. Go figure.
---

@CraigCustance: It was another win for the Wild on Wednesday night, a team that's coming together nicely in the first quarter of the season. But you wonder if these early-season wins come with a high price. Ryan Suter skated 36 minutes in this one, the third consecutive game in which he's played at least 35 minutes. Mike Yeo is leaning on him and, in February, so will Dan Bylsma and Team USA. Then comes a playoff stretch drive during which the games will be even harder. The Wild are proving to be a playoff team, you just wonder if their best defenseman will be completely gassed when the postseason gets here.
Picture This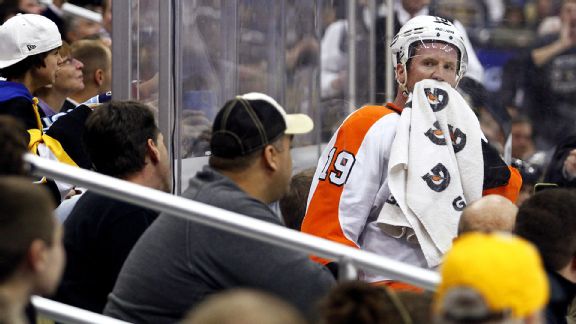 Justin K. Aller/Getty ImagesScott Hartnell keeps his lonely eyes on fans at Consol Energy Center. Just in case.
Top Performers
Brayden Schenn | Philadelphia Flyers
1 G, +1, 2 SOG
vs PIT | Recap

Zach Parise | Minnesota Wild
1 G, +1, 6 SOG
vs TOR | Recap

Ray Emery | Philadelphia Flyers
30 SV, 1 GA
vs PIT | Recap

Kari Lehtonen | Dallas Stars
22 SV, 0 GA
vs EDM | Recap

Quote Me On That

"He made initial contact with the shoulder and the kid had his head down, he didn't have his arms up, he ran into the player, Granlund snapped his head back and obviously, the referee saw it differently, and obviously, with a five-minute match penalty, it'll be reviewed."
-- Toronto coach Randy Carlyle on Nazem Kadri's hit on Mikael Granlund
Stats Central
• Flyers: have won 3 straight for 1st time this season; 4-1-1 in past 6 games (3-9-0 in 1st 12 games this season)
• Sidney Crosby (PIT): Goal (9) (had gone 7 straight games without a goal)
• Flyers: 6-1-1 in Pittsburgh the past 4 seasons
• Wild: 5-0-1 in last 6 games; won 4 straight home games
• Maple Leafs: lost 3 straight road games
• More from ESPN Stats & Information »