Just A Thought
>
---

@ESPN_Burnside: On a night when a couple of big-time matchups turned out to be big-time busts (Tampa crushed Anaheim 5-1 while St. Louis whipped Colorado 7-3), the Phoenix Coyotes and Chicago Blackhawks delivered the goods in a 5-4 thriller. The Coyotes fought back from 2-0 and 3-2 deficits and actually led 4-3 before Brandon Pirri tied the game early in the third period for the defending Cup champs. Mike Smith was incredible in goal for the Coyotes, facing 52 Chicago shots and four more in the shootout before Chicago prevailed on Pirri's shot in the fourth round.
---

@CraigCustance: When the new CBA was settled, including the wrinkle that allowed teams to retain salary in trades, we envisioned deals in which the Maple Leafs or Flyers would keep money in order to ship a player to a small-market team that couldn't afford the price. Thursday night's Kris Versteeg trade between Chicago and Florida is an interesting example of the inverse. New ownership in Florida was willing to pay half of Kris Versteeg's salary in order to make the deal happen and add young players to their already deep prospect pool. That's a promising sign for Panthers fans. Now the question becomes: Would they do the same for Brian Campbell? Great player, big ticket. If Florida is willing to pitch in on some of that salary, he'd be a great addition for contenders looking to strengthen their blue line.
---

@KatieStrangESPN: Some intriguing choices in Buffalo over the last week with ownership's decision to tap into Sabres' fans nostalgia and bring in Pat LaFontaine and Ted Nolan after firing Darcy Regier and Ron Rolston. Back behind an NHL bench for the first time in five-plus years, Nolan is already making things interesting with his new squad: He announced that hulking enforcer John Scott will play when the Sabres square off against the Maple Leafs on Friday night. You have to wonder if the Leafs will be looking for retribution against Scott, who went after their star player, Phil Kessel, during the preseason. One thing is for sure: David Clarkson can't be the sacrificial lamb this time around. After serving a 10-game suspension for the melee that ensued from the Scott-Kessel fiasco, Clarkson has yet to score his first goal for the Leafs since inking a seven-year, $36.75 million contract over the summer.
Picture This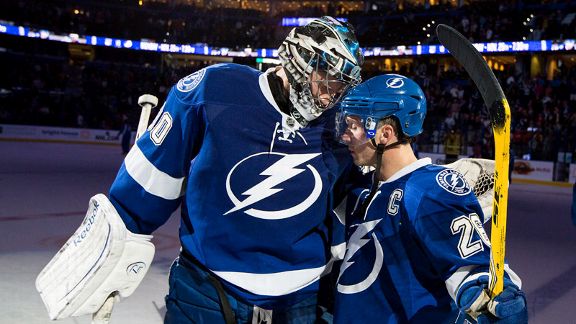 Scott Audette/NHLI/Getty ImagesBen Bishop and Martin St. Louis are trying to figure out if two heads are better than one. The Lightning's win was their second straight without Steven Stamkos.
Top Performers

Tyler Seguin | Dallas Stars
4 G, 1 A, +3, 6 SOG
at CGY | Recap

Jamie Benn | Dallas Stars
1 G, 5 A, +3, 3 SOG
at CGY | Recap

Valtteri Filppula | Tampa Bay Lightning
2 G, 1 A, 2 SOG
vs ANA | Recap

Mike Smith | Phoenix Coyotes
48 SV, 4 GA
at CHI | Recap

Quote Me On That
"It's my first overtime goal that I ever scored and it ends up being a big one."
-- Milan Lucic, who leads the Bruins with eight goals
---
"There was a point where Tyler and I started laughing at each other. You definitely don't want to embarrass the other team, but it's just one of those nights where everything was clicking."
-- Stars' Jamie Benn, on his and Tyler Seguin's multipoint night against the Flames
Stats Central
• Stars: 5-1-0 in past 6 games
• Blackhawks: 4 straight wins, 7-0-1 in last 8 games, scoring 5 or more goals 6 times
• Alexander Steen (STL): 2 goals, giving him NHL-leading 16 (extends point streak to 12 games)
• Lightning: 2-2 on power play; 0-19 in last 6 games
• More from ESPN Stats & Information »