Just A Thought
>

@ESPN_Burnside: No Jonathan Quick? Apparently no problem for the Los Angeles Kings. Riding the hot hand of backup netminder Ben Scrivens with Quick nursing a groin injury, the Kings have won three straight with Scrivens pitching back-to-back shutouts and allowing just two goals in the other game as the Kings are keeping pace in the ultracompetitive Pacific Division. The Kings are also getting timely scoring from youngsters such as Tyler Toffoli, who scored the only goal in Sunday's 1-0 win over the New York Rangers at Madison Square Garden, his fourth after being called up from Manchester of the American Hockey League.
---

@CraigCustance: That's how you do a Western Canadian road trip. The Stars wrapped up their three-game swing through Edmonton, Calgary and Vancouver with a 2-1 win over the Canucks on Sunday to earn their sixth win in seven games. Dallas outscored those three Canadian teams 12-4 to remain in the playoff discussion in the impossible West. They have 24 points, which isn't good enough for a playoff spot but equals the total of the Pittsburgh Penguins. You certainly don't crown a team for beating the Oilers and Flames, but the Stars continue to prove that, if Kari Lehtonen is in the lineup, they can hang with anybody.
---

@KatieStrangESPN: Things are about to get a lot more interesting in Edmonton. The downtrodden Oilers, in 29th with an abysmal 5-15-2 record, on Sunday recalled goaltender Ilya Bryzgalov from the American Hockey League. Bryzgalov, who was bought out this summer by Philadelphia, inked a one-year, $2 million deal with Edmonton last week and might make his first start against the Columbus Blue Jackets and former Flyers teammate Sergei Bobrovsky on Tuesday. Bryzgalov recently led the Oilers' minor league club, the Oklahoma City Barons, to a 4-1 win over the Abbotsford Heat on Sunday as a tune-up before his promotion. Will Bryzgalov be an upgrade over Devan Dubnyk? Only one thing is for sure when it comes to the colorful netminder and his stay in Edmonton: It won't be boring.
Picture This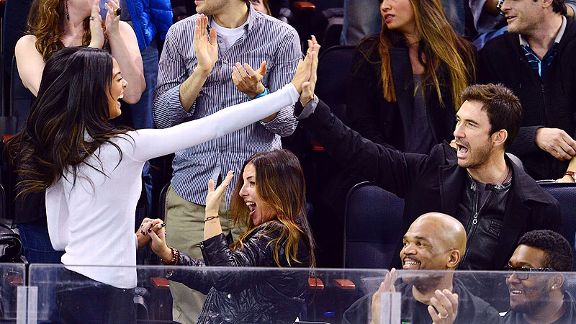 James Devaney/WireImage/Getty ImagesThe stars came out to Madison Square Garden to watch the Kings and Rangers face off.
Top Performers
SATURDAY:

Jaromir Jagr | New Jersey Devils
2 G, +4, 3 SOG
vs PIT | Recap

Marek Mazanec | Nashville Predators
39 SV, 2 GA
vs CHI | Recap

SUNDAY:

Patrick Sharp | Chicago Blackhawks
2 G, 1 A, +3, 4 SOG
vs SJ | Recap

Braden Holtby | Washington Capitals
46 SV, 1 GA
vs STL | Recap

Quote Me On That
"It's a bad call. It's a made-up call. If it's a 50-50 call, then I buy it. If it's a 40-60, I buy it. Even a 20-80 (call) ... tough to take."
-- Henrik Sedin on his goal being called off for incidental contact with the goalie
---
"It's only three games. I wouldn't look too much into it. The guys play well in front of me. I'm just trying to go out and give the team a chance."
-- Ben Scrivens on his strong play for the Kings
---
"He didn't even shoot it and I was already celebrating because I know it is going in."
-- Blues' Roman Polak on Alexander Steen's game-winning goal
Stats Central
• The Rangers accomplished a truly rare feat over the weekend, posting a 1-0 victory at Montreal and losing by the same score to the Kings at Madison Square Garden. Only one other team in NHL history won and lost (or lost and won) by a 1-0 score on consecutive days.
• Blackhawks have won eight of their past 10 games
• Kari Lehtonen has a 26-13-6 career record in the 45 games in which he's faced 40 or more shots on goal, with the wins evenly divided between his two NHL teams (Atlanta 13, Dallas 13).
• More from ESPN Stats & Information »