Just A Thought
ideo1>

@ESPN_Burnside: All those who didn't have James Neal on their Canadian Olympic roster as of last week, hands up. OK, my hand is up. Not so sure now, as the versatile winger is on fire with 13 points in his last seven games. He has six multipoint games over that period, including a goal and an assist in Saturday's 5-1 win over Florida. While much of the Penguins' Canadian Olympic discussion has focused on whether Sidney Crosby sidekick Chris Kunitz will make the team, Neal is making a case for himself after the start of his season was slowed by injury. Not surprisingly, as Neal has taken off, so too has linemate Evgeni Malkin. Or is it that Malkin took off and helped jump-start Neal's season? A moot point really, as Malkin, who had a goal and three assists in the Florida game, is now nipping at Crosby's heels at the top of the NHL scoring ladder. Shades of Mario Lemieux and Jaromir Jagr, perhaps?
---

@CraigCustance: Until being crashed into by Ryan Garbutt, who was a one-man wrecking crew for the Stars on Sunday night, the Ilya Bryzgalov experiment had gone about as well as the Oilers could have hoped. He has a .939 save percentage and a shutout, and has settled down a goalie situation in Edmonton that was threatening to sabotage the season. But perhaps his biggest contribution was helping straighten out the game of Devan Dubnyk. On Nov. 8, the day the Oilers announced a verbal agreement with Bryzgalov, Dubnyk had a save percentage of .878. Sunday night, he stopped 15 of 16 shots in relief of Bryzgalov in leading the Oilers to a 3-2 shootout win. Since losing to the Sharks on Nov. 15, Dubnyk has stopped 101 of 109 shots, good for a .927 save percentage. If Bryzgalov is out any length of time because of the injury, the Oilers are suddenly in good hands.
---

@KatieStrangESPN: After surrendering two power-play goals to the Rangers on Saturday afternoon, a performance coach John Tortorella called "God awful" -- Vancouver's league-leading penalty kill got back on track the next day as the Canucks blanked Carolina on all six attempts Sunday. The vaunted unit killed off 5:33 straight in the second period, including 27 seconds of 5-on-3 time as the inspired specialty teams effort led Vancouver to a 3-2 win against the Hurricanes. The win was a critical one for the Canucks, who entered Sunday's match with only two wins in the previous 10 games. If the Canucks want to stay within striking distance in the ultracompetitive Western Conference (they are currently ninth with 33 points), a strong PK should help. The Canucks have yielded only 11 man-up markers all season. Now if only their power play could follow suit: Vancouver is 26th with a measly 13.7 percent success rate.
Picture This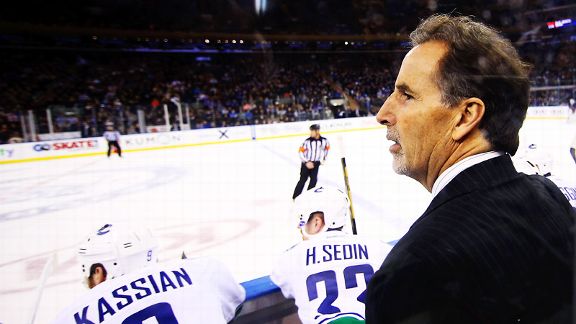 Al Bello/Getty ImagesHey, John Tortorella, back at MSG, huh? What are you going to do about it?
Top Performers
SATURDAY:

Jeff Zatkoff | Pittsburgh Penguins
39 SV, 1 GA
vs. FLA | Recap
Evgeni Malkin | Pittsburgh Penguins
1 G, 3 A, +3, 1 SOG
vs. FLA | Recap

Max Pacioretty | Montreal Canadiens
2 G, 1 A, +2, 10 SOG
vs. TOR | Recap
Chris Kreider | New York Rangers
3 G, 0 A, +3, 6 SOG
vs. VAN | Recap
SUNDAY:

Ryan Kesler | Vancouver Canucks
2 G, 0 A, +1, 5 SOG
vs. CAR | Recap
Drew Miller | Detroit Red Wings
2 G, 0 A, +1, 3 SOG
vs. OTT | Recap
Stats Central
SATURDAY
• Flyers: 5-2-0 in last 7 games (won last 2)
• Blackhawks: finish 7-game road trip at 6-1-0 (won last 6); lead NHL in road wins (11)
• Canadiens: 5-0-1 in last 6 games overall; 5-1-2 in last 8 home games (won last 3)
• Maple Leafs: 0-3-3 in last 6 games
• Penguins: won 3 straight games; 6-1-1 in last 8 games
• Bruins: 10-2-1 in last 13 games overall (won last 2); 8-0-1 in last 9 home games
• Islanders: 0-5-1 in last 6 games
SUNDAY
• Ryan Garbutt (DAL): 2 goals; 1st career multigoal game
• Red Wings: won 4 straight
• Ryan Kesler (VAN): 2 goals (12); 3rd multigoal game of season
• More from ESPN Stats & Information »
Quote Me On That
"How do you feel you deserve to be cheered on like that after all you do is play hockey? It's kind of surreal at times to have that feeling. But it's a mutual feeling. I definitely respect this city, this team, as well. I thought once the puck dropped, the crowd also did the right thing by cheering on their team."
-- Red Wings' Daniel Alfredsson on his return to Ottawa
---
"We greased one out."
-- Oilers' David Perron, after his team won after being outshot 45-32 by the Stars
---
"No hard feelings."
-- Rangers' Chris Kreider, after scoring a hat trick, on his relationship with former coach John Tortorella
---
"If you get 40 shots a game, you'd think that you'd try to keep things close."
-- Panthers' Scottie Upshall after his team's 5-1 loss to the Penguins