Just A Thought
>

@ESPN_Burnside: When the two best teams in the Eastern Conference hook up, you'd expect a little drama, and that's what the Boston Bruins and the visiting Pittsburgh Penguins delivered Monday night, with Sidney Crosby scoring with 0.3 seconds left in regulation to tie the game at 3-3 in another rematch of last season's Eastern Conference finalists. But it was Boston rookie defenseman Torey Krug, whom we wrote about a week ago, who ended the game with a blast just 34 seconds into overtime. The win extended the Bruins' lead in the conference to three points over Pittsburgh and Tampa as they have rolled to 8-1-1 in their last 10. What continues to impress with the Bruins is the ways in which they can beat you. On Monday it was Loui Eriksson with a goal and two assists to end a bit of a dry spell; another relative newcomer, Carl Soderberg, had a pair of assists; and another youngster, Reilly Smith, picked up his fifth of the season. In a word: impressive.
---

@CraigCustance: Before the season began, Columbus coach Todd Richards was asked which of his players he saw as being one of the biggest keys to a successful season. Without hesitation, he mentioned Ryan Johansen. Richards wanted an expanded role from Johansen, but he also wanted the additional ice time to be earned. With the injuries mounting in Columbus, Johansen is responding offensively. His two-goal effort against the Maple Leafs gave him a team-leading eight on the season; he trails only James Wisniewski for the team points lead. Nobody on the team has taken more faceoffs than Johansen, and he's at 52.6 percent, up from last season. It's that kind of growth from young players that will make the rebuild under GM Jarmo Kekalainen successful.
---

@Real_ESPNLeBrun: One would have thought that losing Jonathan Quick until at least Christmas would have been a disaster for the Los Angeles Kings, but the 2012 Stanley Cup champions continue to show great resolve, coming from behind to beat the Canucks in Vancouver on Tuesday night. Mike Richards scored late in the third period and Anze Kopitar scored in overtime as the Kings improved to 5-0-2 since the shootout loss in Buffalo in which Quick was injured late. Ben Scrivens continues to surprise, the backup largely a throw-in in the summer trade that sent Jonathan Bernier to Toronto. If the Kings hold on to a playoff spot, and it certainly appears they will at this point, they will look back at this period as a major turning point in their season.
---

@KatieStrangESPN: In the aftermath of an ugly 5-0 loss to the Tampa Bay Lightning, Rangers coach Alain Vigneault was wise to preemptively shut down any stirrings of a goaltending controversy. Though Vigneault yanked Henrik Lundqvist on Monday night after surrendering four goals on 22 shots, he made sure to stress in his postgame news conference that the loss had "nothing to do" with the former Vezina Trophy winner. Though Cam Talbot has been terrific behind Lundqvist since his promotion to the backup -- the 26-year-old entered Monday's match coming off two straight shutouts -- it was not Lundqvist's fault that the team's meager offense was stifled for the fifth time this season. In what Vigneault called a "lovefest" for Martin St. Louis in the veteran's 1,000th game, the Rangers were reckless with the puck all over the ice in allowing both St. Louis and Teddy Purcell to notch two goals apiece as they dismantled the Blueshirts. The Rangers have some shortcomings to deal with as they try to move on from a middling 12-12-0 record, but goaltending isn't one of them.
Picture This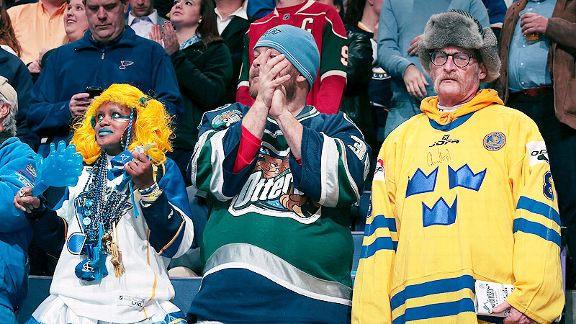 Mark Buckner/NHLI/Getty ImagesFans in St. Louis watched Jaroslav Halak and the Blues shut out the Wild.
Quote Me On That
"The first two were kind of bad bounces or weird plays, and then the rest were good plays, good shots. I don't really have much to say. Don't really have much to offer. It just wasn't my night."
-- James Reimer on six goals he allowed
---
"It's been such a long road and there's been so many downs -- a few ups, but mostly downs. It's been tough, really."
-- Sean Bergenheim on coming back from injury
Stats Central
• Blackhawks: 3rd straight win, lead NHL with 38 points
• Blues: 6th straight win vs Wild; 4th straight win overall (allowed 4 goals combined in games)
• Alexander Steen (STL): 2 goals (19); 4th multigoal game this season (0 last season, 3 combined in previous 3 seasons)
• Bruins: 4-0-1 in last 5 games, 7-0-2 in last 9 home games
• James Neal (PIT): 2 goals; back-to-back multigoal games; 4 straight games with multiple points
• Blue Jackets: biggest shutout win in team history
• Sergei Bobrovsky (CBJ): 18 saves; 5th career shutout (1st this season); fewest saves needed in shutout
• More from ESPN Stats & Information »