Just A Thought
ideo1>

@ESPN_Burnside: As Pierre noted below, that was a nice tribute to Jarome Iginla in Calgary. Meanwhile down in San Jose, kudos to the Sharks for their classy acknowledgment of longtime Sharks netminder Evgeni Nabokov in his first return to the Shark Tank. Nabokov left San Jose after the 2009-10 season, played in Russia and then returned to the NHL with the New York Islanders. And while he -- and the Sharks -- were never able to quite get over the playoff hump, he remains a central figure in the team's history. Nabokov is preparing to return from injury and didn't dress for the Islanders' 3-2 shootout win, a victory that ended a 10-game winless streak, but during the first television timeout there was a short video tribute to Nabokov and then the camera caught him in his suit and the fans responded with a standing ovation. Tuesday morning, Nabokov had joked that maybe former teammate Joe Thornton would accuse him of having the "Shark flu" because he wasn't playing but he became genuinely choked up talking about the memories he had with the Sharks. "I don't know where to start, but it was a lot of good memories," he said after a long pause to consider the question. Tuesday will no doubt number among those memories as well.
---

@CraigCustance: If Sidney Crosby had stayed healthy last season, he would have won the Hart Trophy. That's not up for debate. But he didn't, Alex Ovechkin did and Ovechkin's furious goal-scoring pace down the stretch earned him the hardware. This season, it's looking as though we could have a legitimate race between the two megastars from start to finish. Crosby is the front-runner for Hart right now but Tuesday night's four-goal effort from Ovechkin gives him 26 goals in 29 games. There's a real chance he makes a run at 50 in 50. There's a real chance that the Capitals aren't even close to a playoff team without him, even more ammunition for his case as MVP. Here's hoping we get a chance to see Crosby and Ovechkin see this through down to the wire.
---

@Real_ESPNLeBrun: It was a touching pregame ceremony indeed for Jarome Iginla in Calgary on Tuesday night, but more compelling to me was the third-star moment, when Iginla did the victory lap not once, but twice around the ice at the urging of Bruins captain Zdeno Chara and other Bruins teammates. Iginla was the face of the Flames for so long, during some tough years but also during some pretty competitive years under Darryl Sutter, when the team fell just short of the ultimate prize in 2004. It was a moment with his Bruins teammates that to me showed how ingrained Iginla has become with that team despite the animosity seemingly created last spring when Iginla refused a trade to Boston and instead forced a move to Pittsburgh, only to skip the Steel City after the season for the B's as a free agent. So odd, in many ways. But that third-star moment Tuesday night to me just showed how beloved Iggy is already in the Bruins' room. That tells you all you need to know about the player himself.
---

@KatieStrangESPN: Sometimes it takes the most unlikely of candidates to break through a tough spell and that was exactly the case for the Nashville Predators Tuesday night. Mired in a five-game losing streak, the Preds' grinding fourth line trio of Paul Gaustad, Matt Hendricks and Rich Clune combined for 3 goals to knock off the New York Rangers 4-1 at Madison Square Garden. Gaustad finished the night with a goal and two assists, Hendricks and Clune with a goal and an assist each. The best play of the night? Hendricks' beautiful sauce pass to spring Clune for the game's first goal of the game. Nashville now returns to Music City for a three-game homestand. They'll host the Dallas Stars before the dominant San Jose Sharks and Chicago Blackhawks come into town, so it will be another trying stretch, but it appears the Predators are getting back to basics and relying on the type of blue-collar work ethic that head coach Barry Trotz likes to see.
Picture This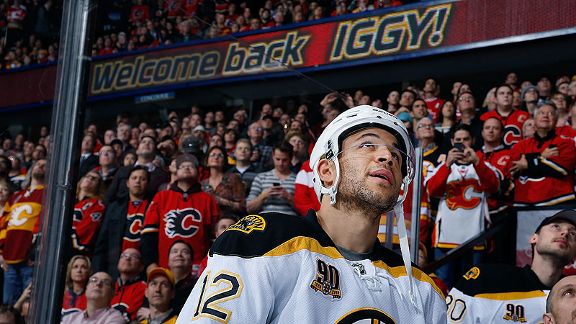 Gerry Thomas/NHL/Getty ImagesJarome Iginla received a warm welcome from the fans in Calgary.
Top Performers
Alex Ovechkin | Washington Capitals
4 G, 6 SOG
vs TB | Recap

Martin Jones | Los Angeles Kings
31 SV, 0 GA
at MTL | Recap

Quote Me On That
"I think everyone is going to sleep a little easier tonight. We stopped the bleeding, but we have to move forward, ride the high on the plane, but refocus fast."
-- Rich Clune on Preds ending five-game skid
---

"He didn't even have to work for his goals. He didn't move on the first one, he didn't move on the last two at all. If you're going to let that guy take shots, well, this is sometimes going to happen. That's the disappointing part."
-- Lightning coach Jon Cooper on Alex Ovechkin
Stats Central
• Cam Atkinson (CBJ): 2 goals (9), 2 assists (1st career 4-point game)
• Capitals: won 3 straight and 5 of last 6 games
• Bruins: 5-1-0 in last 6 games (won last 3)
• Blackhawks: 17-0-3 when scoring first this season
• Avalanche: 6-7-0 in last 13 games after starting season 14-2-0
• Alexander Steen (STL): goal (21) in 2nd period (1st goal since November 27)
• Kings: 1st shutout win when scoring 6 or more goals since March 8, 2010 (won 6-0 vs Blue Jackets)
• Canadiens: 1st regulation loss in last 11 games (9-1-1)
• Red Wings: lost 8 straight games that went to OT or shootout
• Rangers: winless in last 4 home games (0-3-1); 1-6-1 in last 8 home games
• Predators: snap 5-game winless streak (0-4-1 in stretch, scored 7 goals in 5 games combined)
• Sabres: only 2nd win in last 10 games (2-7-1); 4 of 7 wins this season have come in shootouts
• More from ESPN Stats & Information »