Just A Thought
>

@ESPN_Burnside: During last week's SportsNation chat, I was asked whether the fact that the Los Angeles Kings haven't missed a beat since losing Jonathan Quick to a groin injury meant that Quick, the former playoff MVP and Vezina Trophy finalist, was overrated. Don't think that at all. But after Martin Jones recorded his third shutout of the season on Tuesday night, blanking the Edmonton Oilers 3-0 to improve his record to 6-0, it's worth noting just how impressive the Kings have been without their ace netminder, who is expected to rejoin the team shortly after Christmas. Jones and Ben Scrivens have combined for six shutouts and are a combined 13-3-4, and far from scrambling to stay in the playoff picture without Quick, the Kings have won seven of eight and are now in second place in the league's toughest division, the Pacific, a testament to the organizational work done by GM Dean Lombardi, his scouting staff and goaltending coach Bill Ranford.
---

@CraigCustance: Below, you'll read a perfectly reasonable and fair and probably accurate note from Pierre about how the road to the Stanley Cup goes through Chicago. But why not through Anaheim? The Ducks won again Tuesday night. They're keeping pace with the Blackhawks again. They rarely lose at home and have a center in Ryan Getzlaf who should be getting more Hart Trophy consideration than he is. He's in absolute beast mode this season. Duncan Keith is definitely the Norris front-runner, but the Ducks have a great skating defenseman of their own in Cam Fowler, who has made serious strides defensively. Don't sleep on the Ducks.
---

@Real_ESPNLeBrun: Not sure if it's because we've all become so used to them winning -- twice being Stanley Cup champions since 2010 -- but has a first-place team ever gone without less fanfare than the Chicago Blackhawks? A 3-1 win over Nashville pushed their league-best record to 25-7-5, the reigning Cup champs laughing in the face of the so-called Cup hangover that beset other former champions over the past decade. Rookie netminder Antti Raanta, 24, improved to 7-1-1 for the Hawks, and while he's been impressive, don't you think Santa could be in net and the Hawks would still keep on winning? Just saying. The Western Conference is a beast, and the likes of L.A., Anaheim, San Jose, St. Louis and Vancouver, among others, will have a mighty say in whether the Hawks can become the first repeat champions since the 1997-98 Red Wings. As one Eastern Conference GM recently told me, "The road still goes through Chicago, no matter what anyone says." True that.
---

@KatieStrangESPN: You know things are going badly for the Islanders when it's Frans Nielsen who coughs the puck up in a game-changing error that ultimately cost the team in a 3-2 shootout loss to the Tampa Bay Lightning on Tuesday night. The Dane, one of the team's steadiest players and irrefutably its best two-way forward, gave the puck away in his own zone with less than three minutes to play as Valtteri Filppula and the Bolts rallied from a 2-0 deficit to knock off the bumbling Isles at Nassau Coliseum. Although it was Nielsen's blunder that hurt Tuesday night, the team's current slide has been a collective effort, as the club has recorded only one win in its past 14 games. Hard to imagine things getting worse on the island.
Picture This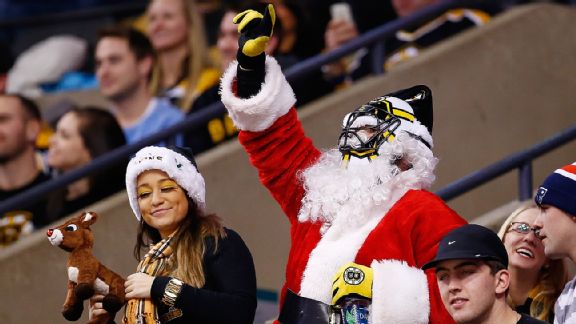 Jared Wickerham/Getty ImagesWho knew Santa Claus was a goalie?
Top Performers
Valtteri Filppula | Tampa Bay Lightning
2 G, +1, 4 SOG
at NYI | Recap


Max Pacioretty | Montreal Canadiens
2 G, 1 A, 6 SOG, +1
vs PHO | Recap

Martin Jones | Los Angeles Kings
24 SV, 0 GA
at EDM | Recap

Ray Whitney | Dallas Stars
2 G, +1, 3 SOG
vs COL | Recap

Scott Clemmensen | Florida Panthers
28 SV, 1 GA
at TOR | Recap

Quote Me On That
"Last week for myself, it felt a little bit different. This was more business."
-- Jarome Iginla on his second game against the Flames
---
"I love playing for him and a lot of guys go through the wall for him. That's what you want from your coach, a leader like that. He's probably one of the best in that position."
-- Matt Moulson on interim coach Ted Nolan
Stats Central
• Dwight King (LA): Goal (9); had 9 goals in previous 3 seasons combined
• Kings: 7-1-0 in past 8 overall
• Blackhawks: NHL-leading 55 points (2 ahead of Ducks)
• Patrick Kane (CHI): Goal; 20-plus goals in each of 7 NHL seasons
• Sharks 3-0-0 vs. Blues this season (outscored them 16-7)
• Bruins: won 6 straight home games
• Canadiens: won 9 straight games vs. Coyotes
• Flyers: won 7 straight home games (outscored opponents 27-11)
• Ducks: won 6 straight games
• Red Wings: 0-4-2 in past 6 games (scored 7 total goals)
• More from ESPN Stats & Information »