Just A Thought

@ESPN_Burnside: Watching the incomparable Martin Brodeur roll up victory number 679 on Wednesday night against the Ottawa Senators, we wondered how the rest of the season would play out for the greatest goaltender of all time. The 5-2 victory moved the Devils into a tie with the Philadelphia Flyers, New York Rangers and Senators, with all four just one point behind third-place Carolina in the Metropolitan Division. So, on the one hand, the playoffs are very much a possibility for the Devils. On the other hand, the Devils, like those other clubs (throw Columbus in the mix, too, just two points back), are a sub-.500 hockey club and often look like a team in the middle of rebuilding. So what to do with the 41-year-old Brodeur? It's clear the path of succession is in place with Cory Schneider playing well after being acquired from Vancouver at the draft last June. And it's hard to believe the Brodeur/Schneider isn't anything more than a one-year thing. Many assume Brodeur will retire, but either way it's not a viable option to keep both netminders moving forward. Would Brodeur want a shot at another Stanley Cup with a contender looking for veteran assistance at the trade deadline? What about Chicago? Or the Pittsburgh Penguins, even though they are a division rival? If the Blues could find a taker for Brian Elliott, how about a trip to St. Louis for the postseason? "I'm not even thinking about a trade, and it would have to be (general manager Lou) Lamoriello coming to me and asking about it," Brodeur told my colleague Pierre LeBrun in November. "I would never go to him and ask for a trade at the end of the season." He did not, however, rule out waiving his no-trade clause. And watching Brodeur turn aside 23 of 25 Ottawa shots Wednesday suggests interesting times ahead for both the all-world netminder and his team.
---

@CraigCustance: While we're talking about legends playing in New Jersey, how about some love for Jaromir Jagr? Last night, Jagr scored his 693rd career goal to move into eighth place on the all-time list and, perhaps more impressively, pass Gordie Howe for the most game-winning goals in NHL history. He's putting himself in company with not just with Hall of Famers, but all-timers. I would say we all need to take a moment to enjoy what we have in Jagr as the 41-year-old winds down his career, though he's made it clear he's not leaving until he absolutely has to. And the way he's producing now for Pete DeBoer, with 29 points in 35 games, that might not be anytime soon.
---

@Real_ESPNLeBrun: Nice job by St. Louis Blues GM Doug Armstrong to lock up left wing Alexander Steen before the calendar got even remotely close to spring or summer. Eligible for unrestricted free agency July 1, the 29-year-old Steen on Wednesday signed a three-year extension worth $5.8 million per season. On one hand, it's a healthy raise from the $3.36 million he's making this year. But then again, he's third in the NHL with 22 goals in 33 games, so I'd say it's maybe a nice little bargain. Realistically, it might be just about right. When you consider that Steen's previous career high was 24 goals in 68 games in 2009-10, this was a unique situation when trying to figure out compensation. Would he have gotten more on the open market? Well, of course. Probably something north of $6.5 million per year given a rising salary cap and weak free-agent crop, but he's happy where he is on a contending team. Steen made the right decision.
---

@KatieStrangESPN: Glad you boys brought up that Devils-Senators game, because we may very well look back on it as a tipping point for a struggling Ottawa club that has seemingly surrendered its "plucky" reputation from last year. The Sens were one of the best underdog stories of a lockout-shortened 2013 season, battling through what should've been a crippling rash of injuries to stay afloat. This year? The Senators are on the outside looking in after Wednesday's 5-2 loss to the Devils. What's more concerning than the team's spot in the standings -- the Sens currently reside in 12th place in the East with a 14-16-6 record -- is the disturbing trend of subpar efforts. Senators GM Bryan Murray took last night's defeat as an opportunity to hold a closed-door meeting with the club to remind the team of expectations. Murray made it clear that the team's work ethic and will was lacking in what one player described as "not friendly." Good for Murray for reinforcing that message. Expect things to get even more uncomfortable if the Sens continue this way
Picture This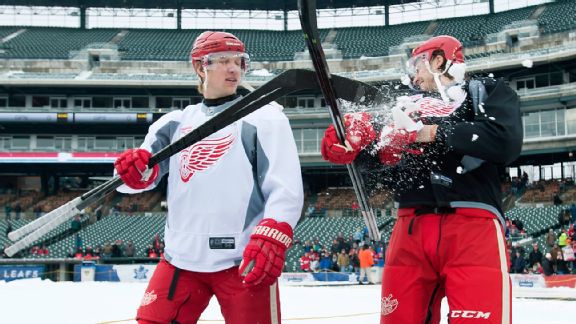 AP Photo/Detroit News/David GuralnickJustin Abdelkader, left, and Brendan Smith get some practice in outside at Comerica Park.
Top Performers
Brandon Sutter | Pittsburgh Penguins
1 G, +1, 2 SOG, SO winner
at NYR | Recap

Eric Gelinas | New Jersey Devils
1 G, 1 A, +3, 2 SOG
vs OTT | Recap

Quote Me On That
"We gave up a short-handed goal. Your power play is supposed to gain momentum for you. We gave up another pretty quick. It's tough to come back on the road, especially against a team like New Jersey."
-- Jason Spezza