Just A Thought
>

@ESPN_Burnside: Seeing is believing, and there the Philadelphia Flyers are, a train wreck when the season began but nestled into third place in the Metropolitan Division on Friday morning. Thanks to a most improbable comeback win Thursday night -- five goals in the third period to erase a 3-0 deficit and earn a 5-4 victory over the Columbus Blue Jackets -- the Flyers are a playoff team, at least for the moment after leapfrogging the idle Carolina Hurricanes into third place. Go figure. The Flyers were led in the comeback by captain Claude Giroux, who had two goals and two assists, including the game winner on a terrific sharp-angled backhand with less than two minutes remaining. Giroux is certainly hoping Team Canada executive director Steve Yzerman got a good look at this contest, and Flyers fans will relish, if only for a moment, the fact that their team has elbowed its way into the thick of the playoff race in the Eastern Conference.
---

@CraigCustance: It's not easy for a defenseman to win the Calder Trophy as the NHL's rookie of the year. Just ask the Minnesota Wild's Jonas Brodin, who wasn't even a finalist last season. However, what Olli Maatta and the Pittsburgh Penguins are doing right now, a six-game winning streak with a defensive group decimated by injury, is the kind of thing that sticks in the memories of voters who turn in Calder ballots after the season. Maatta has been unbelievable and the Penguins won again Thursday night, 5-2 over Brodin and the Wild. Maatta had a goal and an assist, and was a plus-3. He skated 21:46 and continues to establish himself as one of the game's best young defensemen. The Calder race is shaping up to be even tougher than last season. Nathan MacKinnon is cutting into Tomas Hertl's early rookie scoring lead, Valeri Nichushkin of the Dallas Stars is charging back into the picture, and even the Tampa Bay Lightning's Tyler Johnson deserves mention for his efforts while Steven Stamkos is out. But considering Maatta's age and position, it's hard to top the effort he is turning in right now.
---

@KatieStrangESPN: The Detroit Red Wings finally snapped their six-game skid with a 3-2 overtime victory Thursday night against the Calgary Flames at Joe Louis Arena, and they have a couple of savvy veterans to thank. Despite an injury-riddled lineup that is missing six forwards, the Wings finally recorded another win as Daniel Alfredsson scored twice, including the game winner on the power play in overtime, and Pavel Datsyuk assisted on all three Detroit goals. The win also proved that the Red Wings can win in extra minutes. Detroit entered Thursday night's game riding a puzzling streak in which they had failed to secure the extra point in any game this season that had gone beyond regulation. Before Datsyuk and Alfredsson connected for Thursday's deciding goal 63 seconds into OT, the Wings had suffered six overtime losses and three shootout losses this season.
Picture This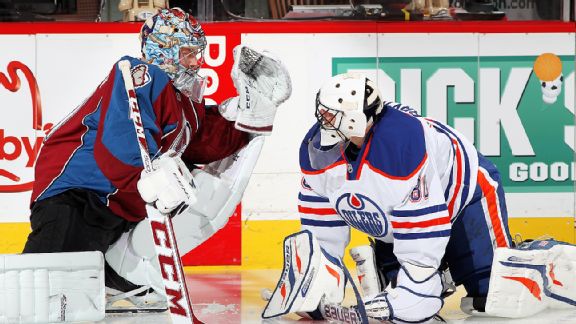 Michael Martin/NHLI/Getty ImagesWhat do you think Semyon Varlamov and Ilya Bryzgalov were talking about on Thursday night?
Quote Me On That
"It was a pretty good day."
-- Alexander Steen on scoring two goals after signing a three-year extension
---
"I know for him it was a big game. It's the one he circled on the calendar. He played awesome."
-- Alex Killorn on Anders Lindback getting a win against his old team
Stats Central
• Claude Giroux scored his 99th and 100th career goals against Columbus, and his fourth game winner this season.
• The Flyers scored five goals in the third period for the first time since March 2010.
• Sidney Crosby had two assists Thursday night, and has at least one point in 18 of 19 home games this season.
• More from ESPN Stats & Information »
Socializing
@ESPN_NHL So how does Omark feel about this? Yay finally off this bad team! Oh wait.....

— Maybe, Maybe not! (@maybe_maybenot) December 20, 2013