Just A Thought
>

@ESPN_Burnside: It's becoming harder with each passing day to imagine a Canadian Olympic team without Claude Giroux on it. The skilled Flyers forward had a goal and an assist in Philadelphia's 4-3 shootout win in Vancouver on Monday night. The win moved the Flyers, who had a brutal start to the season, to three points behind Washington for second place in the Metropolitan Division with a game in hand. Giroux, who would have been a long shot to make the Canadian team through the first month of the season, is in the midst of a nine-game point streak with 17 points during that time. At one point we imagined that Giroux's best chance of making the Canadian squad would be if Steven Stamkos wasn't able to play, given that both are right-handed shots. Now Giroux is making a strong case for inclusion regardless of how quickly Stamkos recovers from a broken tibia.
---

@CraigCustance: When many of the league's scouts and general managers gathered last year in Toronto for the draft combine, there was a buzz surrounding free-agent Finnish goalie Antti Raanta. He was deciding on where to sign, with several teams very interested in where he ended up. The Minnesota Wild were one of the teams very much in the mix, but Raanta ultimately picked the Blackhawks. The decision could end up making a difference in the Central Division race this season. The Wild aren't getting much help behind Josh Harding, while Raanta has been a lifesaver for the Blackhawks during Corey Crawford's recovery. On Monday night, Raanta shut out the Kings for his 10th win of the season, improving his save percentage to .913. It's another of many understated moves by GM Stan Bowman that continue to work out.
---

@Real_ESPNLeBrun: One assumes Toronto's Jonathan Bernier is in line for a fourth consecutive start here on New Year's Day in the Winter Classic. You can only assume, though, because Maple Leafs head coach Randy Carlyle never confirms his starter. Still, given that Bernier has been in net for two straight wins as well as a gem of a performance in a shootout loss to the Rangers before the holiday break, I can't imagine James Reimer would get the nod Wednesday at Michigan Stadium. All of which is interesting given that the Bernier-Reimer battle in net has dominated the Toronto media since the first day of training camp. Reimer responded extremely well after last summer's trade for Bernier, working even harder at his craft and putting up solid numbers while defending his net from the newcomer. But it's clear now that Carlyle is beginning to shift Bernier's way, and you wonder if the starts will continue to be divided equally in the second half of the season. Will Bernier emerge as a more traditional No. 1 goalie? Either way, the Winter Classic assignment, given its significance on the national stage, might be construed as Carlyle's tipping his hand at the player he might favor come playoff time. And it's going to be crushing for the guy not starting Wednesday.
---

@KatieStrangESPN: If Jimmy Howard is indeed selected as one of three goaltenders for the U.S. Olympic team on Wednesday, as a recent report in the Detroit Free Press suggests, here's hoping he looks better in Sochi than he did Monday night. In his first game in almost three weeks, Howard looked shaky in the Wings' 6-4 loss to Nashville. The 29-year-old gave up two goals on the first five shots he faced and surrendered five overall as the Wings fell in their final game before the 2014 Winter Classic. Granted, Howard would be the third-string netminder for Team USA, behind Jonathan Quick and Ryan Miller, but you have to wonder how Ben Bishop would feel if he were passed over in favor of Howard.
Picture This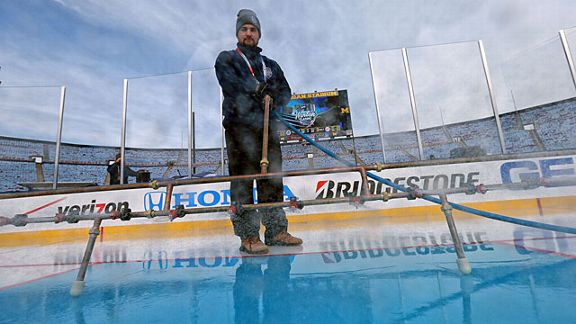 Dave Sandford/NHLI via Getty ImagesThe Winter Classic ice is getting plenty of attention as the puck drop approaches.
Top Performers
Colin Wilson | Nashville Predators
2 G, 1 A, 6 SOG, +2
vs. DET | Recap

Antti Raanta | Chicago Blackhawks
26 SV, 0 GA
vs. LOS | Recap

Mike Fisher | Nashville Predators
1 G, 2 A, 2 SOG, +2
vs. DET | Recap

Quote Me On That
"We found a way to shut it down and get that next one when we needed it. That's the sign of a good team, playing against a good team like that, we can win one in the third there."
-- Predators forward Mike Fisher on the win over Detroit
---
"We battled all night. We made some mistakes, but it's what happened after that. We battled hard, we back checked hard, we found ways to keep guys from getting to the net. That's the difference in the game."
-- Senators goalie Craig Anderson after beating the Capitals
---
"Same story as the start of the year. He kept us in the games, and now to kind of get a win for him, it's huge."
-- Flyers center Claude Giroux on goalie Steve Mason