Hockey is a blood sport. It is played with a searing emotion most people can't empathize with unless they have played and lived the sport. Hockey is mostly difficult and frustrating. Which is why there is such an explosion of excitement whenever someone scores. Just about every goal is well-earned in some way. In this game, nothing comes cheap.
I have never felt a similar rage in any point of my life that compares with the rage I have felt while playing hockey. There are obstacles and sticks and a series of failings that makes it tough to keep going forward. Kind of like life, sometimes.
In those exasperating moments, I could choke a barrel full of newborn kitties while a choir played over the PA system. There is only one activity that can compare to the general indignation one feels while playing hockey and that is watching your son or daughter play hockey. If you've taken part in this activity, you know what I mean.
Bob McKenzie knows what we mean. McKenzie is Canada's Peter Gammons, breaking stories and getting the inside scoop on trades and other breaking news for Canada's version of ESPN, TSN. (ESPN has a small stake in the company and TSN has a "SportsCenter" show that's spelled "SportsCentre.") Bob is also a hockey dad and has recently written a book about it: "Hockey Dad: True Confessions from a (Crazy) Hockey Parent."
The book is truly a no-holds-barred look at McKenzie's reaction to everything we hockey parents experience and feel as hockey parents. I started his book at home on a Saturday afternoon. My son had a game at night and I got him to the rink 45 minutes early. I passed the time by reading more of Bob's book in my car in the parking lot. Later that night, after crawling under the covers to go to bed and read, I finished the book. Read all 288 pages in one day. The only other book I can recall reading in one day was Mitch Albom's "Tuesdays with Morrie." I read those 224 pages in one session while in bed.
I thought it would be beneficial to some of you to let you know about the book and ask Bob some questions on the topic. Understand that what we call youth hockey in America is called "minor hockey" in Canada.
Question from Bucci: What was your motivation for writing the book?
Answer from McKenzie: Money? Just kidding. Anyone who has written a book knows it's never for the money. I suppose part of it was perhaps trying to provide a public service of sorts for other hockey parents. You know, do as I say, not as I did. Maybe it was a confessional of sorts, a required cathartic exercise to cleanse my soul.
But I think what it really came down to was that I'd never seen a book on this subject -- maybe that should have been a reason to not to do it -- and I felt that my story, and that of my kids, really covered the broad spectrum of what minor hockey can be.
My son Shawn played A, AA and AAA and was forced to quit competitive hockey at age 14 because of concussion-related issues. My other son, Mike, played AAA from start to finish and overcame some on-ice challenges to get drafted into the OHL and subsequently got an NCAA scholarship and a chance to play the game at a high level.
Between them, and how I handled their respective situations, I thought it would be an all-encompassing look at taking two boys through the minor hockey system from start to finish. I thought it might resonate with a lot of people. I figured there were enough stories to entertain, amuse or irritate people. And I hope this doesn't sound creepy or anything, but long after I'm gone, I like the fact that my kids can pick up the book and recollect what Dear Old Dad was all about because, if nothing else, this book is a really honest look at me and my beliefs, not so much in hockey as in life.
[Note from Bucci: That was the most touching aspect of the book to me -- McKenzie's love and adoration of his own father and his attempt to instill similar values in his own children.]
Q: If you had to do it all again, what would you change about your parental hockey style and strategy?
A: I'm not sure I could change it if I wanted to, and I still find myself fighting this even now, but I wish I could just be less intense and all-encompassing about it. It's just a game, I know that; but if the "hockey" part of my life, or my kids' life, isn't going well for one reason or another, I allow it to affect me more than it should.
But the way I look at it, my weakness with regard to my kids' hockey is my strength in my business. The same over-exuberance and intensity and ultra-competitiveness I have in regard to the kids' hockey is precisely what has driven me to do my job and be relatively successful in my field. So I try not to beat up myself too much, but I do make an effort now to allow for more balance. It's a work in progress.
And with the benefit of hindsight, there were a few specific instances I would handle differently because I saw the way I handled them didn't work. But I'm in the twilight years of my Hockey Dad life and, as usual, the lessons I learned came a little too late to make an appreciable difference now. Maybe I'll be a Not So Crazy Hockey Grandpa one day, but I'm afraid the train has left the station on the Hockey Dad part of it.
[Note from Bucci: There is no question I have learned lessons for the second time around as a hockey dad. My 17-year-old son, Brett, is playing prep school hockey this winter, and the world-famous Jackson is a 10-year-old Squirt. One thing I can say is I've never cared what letter was next to the team name. Mite A, Squirt B, Pee Wee C, whatever. And I've never sought out "elite" travel programs that have higher costs and more travel, especially for prepubescent kids.
I have only wished and hoped for two things for my boys as they play hockey: 1) They take a regular shift and play in all situations; and 2) they play at their local rink. I understand No. 1 dissipates as players age, but before high school and on most teams, everyone should play in all areas as long as they play with passion and love.]
Q: What is your opinion of youth or minor hockey? How it is coached and administered, and how it has changed throughout the years?
A: I think you have to be really careful with generalizations. I mean, some guys will say minor hockey is a cesspool and everything is wrong with it. And someone else might say it's a utopian paradise. The truth is, it's obviously somewhere in between and everyone's experiences are different.
Minor hockey is no different than the NHL in that every person involved always has all the answers to make it better. Hockey is a game like no other for that. Hockey people are so critical. "There's too much fighting." "There's not enough fighting." "No red line is the best ever." "Put the red line back in." It's endless. What I do know is that the zero tolerance on restraining fouls and taking out the red line in minor hockey was a terrific move.
When I coached my kids from the late 1990s and just into the new millennium, I could devise a system to neutralize skill and speed, and that wasn't right. Now, the emphasis really is on speed and skill, and that's why you see great young kids like Steven Stamkos and Matt Duchene and others coming into the NHL. So I think the game now is light years ahead of where it was just 10 years ago.
Are there flaws in the system? Oh, sure, there are. It's probably too organized and too professional in so many ways and there are too many examples of Men Behaving Badly (mea culpa); but at the end of the day, it's still, for the most part, if approached properly, just a wonderful lifestyle to raise your kids. My theory on the good and bad parts of minor hockey is that the people who misbehave and make minor hockey a negative experience would do that regardless of whether it's minor hockey or some other sport or activity.
The system isn't the problem; the number of dumb people who do dumb things while in the system is the problem. I'm not saying there aren't politics or injustices perpetrated by those who run minor hockey at various levels, but what aspect of life doesn't have those? As flawed as it may be, my kids and my family were largely enriched by the experience and the relationships.
[Note from Bucci: I have noticed a marked improvement in parental behavior over my 10 years in Connecticut rinks. I don't know if it's cyclical or evolution. What always kept me grounded while immersed in this annual seven-month odyssey is my primary motivation for my boys playing hockey: exercise, fitness and health. A month into his bantam years, Brett wanted to quit. No real reason. I wouldn't let him because it was early in the season and he owed it to his coaches and teammates and I knew he would change his mind, which he did. Now, if he was miserable, I would have relented, but it never got to that. I primarily demanded he kept playing for the exercise and the human contact one gets at the rink. It is a very human place in a world getting less human.]
Q: How has the response from the book been in Canada?
A: I think it's been mostly positive. The reviews have been good and anyone who has read the book has told me how much they have enjoyed it, although maybe they were just being nice. All I know is that I've never been more proud of any work that I've ever done.
Q: From a general standpoint, youth to NHL, how would you compare hockey in the United States and Canada?
A: Oh, boy, I've got to be really careful on generalizations with this one or I could get myself in a lot of trouble. As far as youth hockey is concerned, I always seemed to notice how much better a lot of the American players skate than the Canadian kids. Maybe that's because my son Mike had some struggles with skating. And just to fuel stereotypes that will get me into trouble, I sort of sensed that Canadian kids read the game better than Americans in terms of hockey sense, but I realize this is a sweeping generalization that probably isn't actually valid. That said, if you talk to NHL scouts, Canadian or American, who watch, say, the USHL, they will tell you the kids are going a million miles an hour and the scouts kind of wish they would slow things down just a little and think the game a little more. The USHL is great hockey and a terrific feeder system to college, but there seems to be a lot of hockey now where the kids are playing like their hair is on fire.
At the risk of getting myself into more trouble than I already am, again with a generalization, I would say, from my own experiences, there was one big difference between Canadian and American youth systems. It seemed to me, and this is just my opinion, that the U.S. minor hockey system seemed to accentuate the individual and the Canadian minor hockey system was more likely to emphasize the team.
Right off the top of my head, I can think of exceptions to both of these stereotypes, but I always sensed some validity to it. Maybe I'm jaundiced by the celebration of the individual in American team sports -- the star quarterback or star pitcher, for example. In Canada, I've always felt minor hockey tries to beat the individuality out of a star player and make it about the team.
Hey, I realize there are prima-donna kids on both sides of the border and there are American hockey teams who have the right values. But I just think the Canadian star kid gets pressured into thinking team and the American star kid is more likely to be celebrated as an individual. At least that was how I saw it. And please understand this is a bit of a criticism of both systems. I think there are times when Canadian hockey should make more allowances for the individual and there are times when there should be less of a star system in the U.S. Whether it's Canada or the U.S., it's about finding the right balance.
[Note from Bucci: I think Bob is, for the most part, on point here with the celebration of the individual and why the NHL doesn't share the popularity of other sports in the States. No one stands above the team in professional hockey and, if anything, NHL superstars attempt to blend in instead of standing out. To me, that is beautiful. At the youth level in the U.S., I have seen very little team-building and, for sure, a focus on one top line and two defensemen. In a lot of cases (not all), the right pass is not demanded and the lower half of the roster feels little worth to the team. They get short-shifted, taken off the ice for power plays and never get to kill a penalty. And they're 10!]
Q: Anything you would like to add to hockey parents reading this?
A: Well, I'm certainly not one to preach. I'm 53 years old and I'm still trying to figure this hockey parent stuff out. But the biggest thing for me, and I suppose it's the moral of the story in the book, is that if your kid is healthy and able to go back out and give it another shot, having a bad game or whatever isn't such a bad thing. My experiences with Shawn taught me that. And yet, if Mike is going through a rough patch in hockey, I still allow it to affect me more than it should. But I snap out of it quicker when I think of my experiences with Shawn. It's probably lame to just say "have fun," but at its very core, that's what it supposed to be all about. So have fun and try to enjoy even the bad times; because, chances are, the bad times really aren't all that bad.
John Buccigross' e-mail address -- for questions, comments or crosschecks -- is john.buccigross@espn.com.
Bucci's Power 5
Losing Sergei Gonchar (broken wrist) for a month is a big loss. He turns 36 in April and is clearly motivated to keep his level of play high so he can get one more good multiyear contract. His power-play presence is huge, one of the best in the NHL. He will be missed, but the Penguins remain in the top spot.
Since last week's Power 5, the Hawks have lost to the Canucks and beaten the lowly Predators and Wild. Not exactly a traditional way to move up in the very important world Power Rankings, but the Hawks are banged up and finding a way to be in first place. And how about Patrick Sharp? A classic late-bloomer sprouting in his late 20s.
Pretty balanced scoring, but still have question marks on defense and how it complements the offense. Alex Ovechkin's final offensive numbers? Let's try 70-62-132. If he scores 70 goals, he will get it because that's how he rolls, y'all.
Very balanced scoring to go with that outstanding defense. The signing of Jay Bouwmeester looks as is it has motivated Dion Phaneuf the way Britney Spears motivated Lindsay Lohan. I still think the Flames are playing Miikka Kiprusoff too much. Perhaps they are trying to get the points early and attempting to get a cushion before they pace him. But a fresh goalie is more important than home ice in the playoffs.
I'm sticking with the Sharks in the Power 5. Their brutal schedule continues. They just got back from an East swing on Sunday and have to fly back to the East Coast on Saturday. And how about this three-games-in-four-nights stretch? Columbus, Detroit and Pittsburgh. At least the Sharks can skateboard to those cities compared to their normal travel.
Shot of the Week
It's back. You know how it works: We present an NHL photo, and Bucci provides a caption. E-mail him your suggestions (include your name and hometown/state), and we will use the best ones and provide a new photo the following week.
LAST WEEK: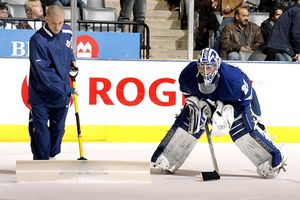 Maple Leafs goalies can only dream such a shovel will become legal by this weekend. (Getty Images)
Your captions:
"You're the new goalie coach? Man, Burke must of extended himself on that Kessel deal!
Nate Stulc (Champlin, Minn.)
"Hey, Joey ... can you move? I need to get all the pucks out of the net. The refs are all out."
John Larson
"Hey, look ... someone in a Leafs uniform who's NOT getting booed."
Chris Ford (Iqaluit, NU)
"Hey, you think if we switched jobs for the third period, anyone would notice?"
John Walz (Chicago)
THIS WEEK: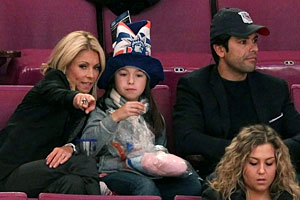 "I'm gonna get that Orr guy to punch Regis in the mouth." (Getty Images)
Tuesday Poll
(Sponsored by Ken the Otter)