John,
Question: When and why did the NHL start strapping down the water bottles on goals? I now feel a bit ripped off when someone roofs one into the upper mesh and the water bottle stays snugly attached to the net. There's no longer the "symphonic" emphasis if player can't send the water bottle flying.
Please use your massive influence and rally whatever troops you may have to reverse this horrible directive by the NHL.
Tim Fukui
West Chester, Pa.
I loved, and am already longing for, the capricious nature of the now imprisoned net-dwelling, once-free-from-shackle NHL water bottle. I adored how the unchained beverage beacon would sometimes hop off the top of the net during action and playfully slide along the ice, safe and secure in its indestructible plastic-ness as the game busily continued around it. If our children were made of NHL water-bottle technology, we would let them roam in a playscape of rusty hedge clippers and rabid wolverines while we read Men's Health, whistling a Death Cab For Cutie song (probably "Your New Twin-Sized Bed").
I am even more sentimental to the image you paint, Tim. With the speed of the puck, we often miss it entering the net and must wait for the yelp of the play-by-play dude. The popping of the bottle was a kind of punctuation mark that confirmed our anticipations, a fireworks display without the severed hand.
I understand the NHL doesn't want the water bottle on the ice during play or to have it impede the overhead camera shot in reviewing goals, but some things are just too important to arbitrarily eradicate and fetter like a prisoner.
Bucci,
You owe us a hockey fact.
Shaun Peterson
Yes, I gave out a baby name last week and didn't provide the internationally mandated hockey fact, as negotiated in the Treaty of Van Massenhoven and signed in October 1998.
Hockey fact: Mike Green had 18 power-play goals last season. The most power-play goals Bobby Orr had in a season was 16. Then, Orr had three seasons where he posted 11 power-play goals; every other season, he was in the single digits. How is this possible? He's Bobby Orr!
Bucci,
What's wrong with the Bruins so far this year?
Justin H. Westborough, Mass.
Well, that's not a tough one, Justin.
They got rid of their best scorer, Phil Kessel, for nothing, in the short term. Kessel made his debut Tuesday night in Toronto and instantly became the Leafs' most exciting and dangerous forward. Toronto lost to Tampa Bay in overtime, but Kessel was electrifying. To cut an elite goal scorer from your team and not replace him would weaken any team. Trading Kessel also weakened the Bruins' team speed, which was already an issue.
The Bruins then traded Chuck Kobasew for (again) nothing in the present. Kobasew was really effective for the Bruins. He was a confrontational player who scored 20 goals and fought. He was hard to play against, he loved playing in Boston and it showed. Kessel and Kobasew combined for 57 goals last season, and the Bruins got only future assets for them. It might work out down the road, but it has weakened them for this season.
Then, Marc Savard and Milan Lucic got hurt. So, no Kessel, Savard and Lucic, and the power play stinks. Even when Savard and Lucic return, the Bruins will struggle a bit to score goals.
Also, Tim Thomas needs to bring more emotion to his game and start playing and acting like a player who is still trying to prove himself and not like one who got a long-term, $5 million-a-year contract. His life is probably changing from that first gigantic paycheck. He should settle in as the season progresses.
All that being said, I think the Bruins can get healthy, regroup, and actually win the Northeast Division, which is the weakest in hockey with no elite teams. Buffalo will be the biggest challenge, and the Bruins have to be careful the Sabres don't build too big of a lead.
The Bruins aren't as good as last season and won't win the Stanley Cup with their current roster, but I expect they will be better as the season goes on and make the playoffs.
Bucci,
Longtime reader, first-time writer here.
I know you and other readers have talked about the KHL in recent weeks, but I just don't understand how the league attracts ANYONE at all. I lived in Moscow two winters ago and attended about 10 games between CSKA and Spartak in Moscow.
I just don't understand how the KHL has fans and some players in the NHL convinced it is a real threat. The quality of hockey was consistently poor, and when I got to see Alexei Yashin play, he either has lost it or just played down to the level of everyone else. Every game was the same: no puck control, horribly slow skating, poor goaltending, etc. Even in Moscow, the arenas are small, no bigger than Mariucci in Minneapolis, and some of the games from other parts of the country I would catch on TV looked like high school rinks.
Crowds ranged from essentially no one (I went to one game that probably had about 120 fans in attendance) to maybe 5,000 at best, and tickets were only $6-7 for the cheapest and maybe $20 for just above the glass at the red line (these seats were easily available when you walked up to the arena 15 minutes before the game). Also, it was extremely difficult to buy merchandise like jerseys, so I guess just don't understand how they are generating even close to enough revenue to be able to pay some players million-dollar contracts.
Erik
Minnetonka, Minn.
Hi John,
I had a strange dream last night and I feel like you are the person I need to tell it to. I dreamed that the club hockey team at my alma mater, Calvin College in Grand Rapids, Mich., (on which I played one season) hired Joel Quenneville as head coach. He took me to a Red Wings-Flames game, the final score of which was Calgary 10-8. He talked to me about strategies for winning faceoffs. I sat in awe of the Q-Stache the whole game. Anyway, what do you make of my dream?
Eric
Pittsburgh
You shouldn't eat chicken pot pie before going to bed.
Bucci,
Bob McKenzie's take on the difference between youth hockey in Canada and the U.S. is dead on. I have played the game in the U.S. for 21 years now, and I just spent some time in Europe playing, and I can say that the U.S. teams I played on always seemed to have more skilled players in terms of speed and stick-handling and shooting. I attribute this mostly to available ice time. Coaches in the U.S. seem to only focus on development on individual skills instead of developing a player's "hockey sense" and ability to play his position because he only has so much ice time available to him.
I'm sure if you watch your son at practice, you will see the coach probably work on skating for about three-fourths of the practice, then move on to a breakout drill, then the PP and PK. Canadian players seem to also be skilled and play the game so much better. It was apparent in the teams I played over in Europe, as well. I am now just a men's league hockey player, but it was very apparent even with us "over-the-hill" players.
JD
Long Island
John,
I just read your column about Bob McKenzie's new book. It reminded me about another book for hockey parents by Penguins coach Dan Bylsma, "So Your Son Wants To Play In The NHL", a book they wrote with his dad. Not sure if you've read this one, but I think it would be another book worth mentioning to all the hockey parents out there.
Cathy
Cincinnati
John,
Really enjoyed the Bob McKenzie piece this week. As a novice hockey dad (my son is 7 and starting his third season), I struggled with the decision to hold him back in a learn-to-play program for a second year this year instead of moving him up to Mites. My emotions told me he'd be happier maintaining the friendships he made on his team last year. Watching him play and skate told me he really needed another year of basics in a cross-ice program before moving up to a full-sheet game, especially with his skating.
It's no fun to be the kid who is stuck in the defensive zone while the rest of your teammates are skating up ice. A bigger concern was would he look out of place with a group of younger kids.
Long story short, after discussing the issue with him, he's back in the LTP Cross-Ice program, and in the month since the kids got back on the ice, I'm feeling more and more comfortable with the decision to keep him back. He's not the biggest kid on the ice, doesn't look out of place and what's happening is exactly what I'd hoped for. He's becoming a much more confidant skater, putting the finishing touches on the skills he learned last year. The development is clear in four short weeks, and despite the fact that a lot of the drills are repetitive to what he learned last year, he's not at all bored and he's still having fun.
I think that's a parent's real role in youth sports, to be an advocate for his/her child and act in the athlete's best interest. Even at the LTP/Mite level, coaches are trying to coordinate 12 or 15 kids. It's a parent's role to understand their child, work with their child and help them to succeed. No doubt that my son will be a better player, a more confident player, a more aware player because of the decision we made together.
Jonathan Fox
That is awesome, Jonathan. Good parenting is the secret of taking this planet to the next level. It's so simple. Children are delicate and perpetually inexperienced as they tumble through life. We forget this. They are rookies every six months. Simmer on the expectations and pour on the compassion and structure.
Our job is to teach them what we teach our young centers to do: slow the game down, seek time and space, be patient, be fast but don't rush, and know your game and strengths.
I've always believed our friends and kids really need only three things from us: our money (provide goods, services and Skittles), our hands (physically helping them lift heavy things; the more manual labor, the deeper the bond) and our affection (to keep them, and us, human).
Hey Mr. Buccigross,
I know it's early in the season, but what do you think of the Minnesota Wild? Do you think they have any shot at the playoffs?
Tim Williamson
The Wild are experiencing some growing pains with their new coach and new player, Martin Havlat. Havlat has been terrible, acting like he doesn't even want to be in Minnesota.
Todd Richards is trying to implement a new system, while new players, perhaps not capable of carrying out his system, are trying to mesh with him and some new players. That is a recipe for a slow start; so slow, they might dig a hole so big that they might not be able to climb out. The eighth spot in the West appears to be wide open. Any team in the West can get hot in the second half and claim that eighth spot.
John,
I just need to comment as a Caps fan. It's amazing that three of the top four names you mentioned without a Cup have spent significant time in Washington. You could make an argument to add Dale Hunter to the list with over 1000 points, as well.
Mark
Pa. through Clinton, Md.
Dale Hunter, who owns and coaches the OHL's London Knights, will be an NHL coach. Maybe soon. This is Hunter's seventh season as London's coach. The Knights won the 2005 Memorial Cup. He currently coaches his son, Tucker, and nephew, Garett. The Knights play in John Labatt Centre, which is owned and operated by Global Spectrum, a subsidiary company of Comcast-Spectacor, which owns the Flyers, Sixers, Wachovia Center and the old Spectrum. I'm guessing they also own many houses and some fine wines.
Dear Mr. Buccigross,
When will you show some early love for the Avs? Yes, the season is young, but they have started out of the gates on fire with one of the youngest teams in the league. Here are some facts:
• Tied for most points in the NHL with Pittsburgh (No. 1 in your Power 5) as of Oct. 27

• 2-0 against the Stanley Cup-runner up Red Wings.
• 1-0 against San Jose (No. 5 in your Power 5).
• First place in the Northwest Division by three points over Calgary (No. 4 in your Power 5).
Throw some puck love the Avs' way, brother!
Matt
Phoenix, Ariz.
The Avs and I are still dating. I'm not ready to make a commitment.
Bucci,
The Gordie Howe hat trick: 1 goal, 1 assist and a fight.
The Marian Gaborik hat trick: 1 goal, 1 assist and an injury.
Chris Kusatsu
John,
I thought I'd give you an update on the Falla clan. I was up in the Boston area a couple of weeks ago. I missed seeing Brian, Kim and Colin, the baby, but they are all doing well. I did see Barb (Jack's wife) when I was up there. I stopped by for dinner with her, Tracey and Tracey's kids. They are doing well. The anniversary of Jack's death was a little tough on them all, but they are doing pretty well.
Alas, there will be no rink this year -- first time in 27 years, I think. I think the rink will live again in future years, but not this year.
They are all doing well, and Jack's death is not a taboo subject. In fact, we all got laughing over a comment Brian made. Jack had requested that his ashes be spread on the rink, on the beach at Onset, where the family used to vacation each summer, on Martha's Vineyard, where Jack and Barb often went for day or weekend excursions, and in Quebec, probably into the canal. I divided the ashes into four jars last year, and they have been spread at three of the four locations with just Quebec to go. As Brian said, "Jack is more trouble dead than he was when he was alive." We all had a big laugh over that, including Barb, so they are good.
That said, I miss him still. I don't have that person to e-mail or talk to in person like I once had, and there is a void there. I am used to it now, but that doesn't mean I like it. Hope all is well with you.
Doc Kelly
John Buccigross' e-mail address -- for questions, comments or crosschecks -- is john.buccigross@espn.com.
BUCCI'S FAN PHOTOS
Hey, John!
Greetings from a very snowy Denver, Colorado! I am awfully darn proud to say that this world has gained one more tiny Red Wings fan! Our baby boy, Connor Jeremiah Heino, arrived on Aug. 31, 2009! We recently had the opportunity to go to a friend's house to watch Connor's first Wings-Avs game. A losing effort, but a milestone for the Wings' future staple on the blue line!
Dustin
Denver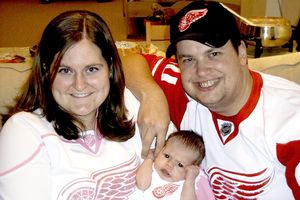 John,
Attached is a picture of my family with the Cup! The Penguins allowed their season-tickets holders to come down and get a picture taken, which I thought was very classy of them. My son, Brody, is five weeks old in the picture. It was his first trip out in public!
Marc Boban
Pittsburgh, Pa.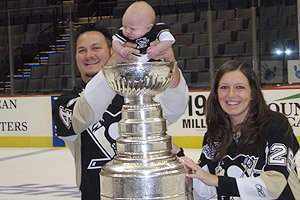 Bucci,
What do you think of my buddy and I dressing up as Phil Pritchard and Craig Campbell, better known as the Keepers of the Stanley Cup, for Halloween? Also, should we bust out the suits and the Cup for the Winter Classic at Fenway, or will this curse our B's? The last thing they need is bad luck with their lack of scoring.
Ryan
Boston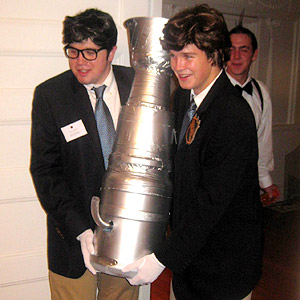 DON'T FORGET THE COLUMN ...
It started with Jacques Plante. It remains the most unique piece of equipment in team sports. It's the goalie mask, and Bucci pays tribute with a look at 30 current hockey lids. Column
VIDEO OF THE WEEK
(PRESENTED BY MOZZARELLA STICKS)