Here are 44 things about 83 (or so) people and things:
1. I'm in a really good mood as I begin to construct this blogumn. I just had a tuna sandwich from Panera Bread after playing nine holes of golf on Nov. 29 in Connecticut. Win. Win. And win. I'm a big tuna dude, and you can't do better than Panera tuna. I also love bacon. Ever have a peanut butter, jelly and bacon sandwich? Do it. Today.
2. Saw an amazing stat while watching the Avalanche-Wild game Saturday night on the Altitude (Avalanche) network: During the 2008 Thanksgiving holiday weekend, 14 of the 16 teams that were in a playoff position went on to play in the postseason, and all eight teams in the Eastern Conference that made the playoffs last season were in the top eight at that point.
I see that as an anomaly, and it won't happen this season. But it does show how difficult it is to make up ground with the presence of three-point games. Pay less attention to how many points out of the eighth spot your team is right now and pay more attention to how many teams your club has to hop over. That's what makes it difficult to get out of an early-season hole. It's like Bubba Watson shooting 74-73 and being tied for 53rd after two rounds of a PGA event. That's a lot of golfers to jump over in two days.
3. Let's do one Chris Berman nickname from each NHL team. These are much more entertaining if one employs an exaggerated Berman impression as one says them.
4. Capitals: "Oil Can" Boyd Gordon
5. Canucks: Christian "It's Too Cold, Dude, Turn The" Ehrhoff
6. Maple Leafs: Jeff Finger "Eleven"
7. Lightning: Lukas Krajicek "Please"
8. Blues: Brad Boyes "II Men"
9. Sharks: Evgeni "Turn Your Head And" Nabokov
10. Penguins: Mark Eaton "Park"
11. Coyotes: Robert Lang "Chung Tonight"
12. Flyers: Blair "Place Your" Betts
13. Senators: Filip "Havana" Kuba
14. Rangers: Wade Redden "The Face"
15. Islanders: Brendan Witt "Or Witt Out You"
16. Devils: Patrik Elias "Kosh B'Gosh"
17. Predators: Marcel Goc "Milk?"
18. Canadiens: Mike "Fried" Cammalleri
19. Wild: Antti "Inflammatory" Miettinen
20. Kings: Davis Drewiske "Sour"
21. Panthers: Kamil Kreps "And Bloods"
22. Oilers: Gilbert "Créme" Brule
23. Red Wings: Niklas "Mr. Gorbachev, Tear Down This" Kronwall.
24. Stars: Mark "10,000" Fistric
25. Blue Jackets: Jared "Meineke Car Care" Boll
26. Avalanche: T.J. Galiardi "Mojito Cocktail"
27. Blackhawks: Patrick "Big Daddy" Kane
28. Hurricanes: Brandon Sutter "Butter Peanut Butter Sandwich Cookie"
29. Flames: Fredrik "Who Throws A" Sjostrom (I mean, really)
30. Sabres: Thomas Vanek "At The Disco"
31. Bruins: David Krejci "Breaky Heart"
32. Thrashers: Pavel "Funky Cold" Kubina
33. Ducks: Sheldon Brookbank "Of America"
34. Four thoughts about last week's column on Brendan Burke.
35. About 97.47 percent of the massive e-mail reaction I received was "positive." I think that number was probably lower in the comment section. I received only one e-mail that would be considered hate e-mail. I received my first e-mail from an NHL owner as a result of the story. I received e-mails from gay on-ice officials from Juniors and NHL front-office folk (none of whom would go on the record about their sexual orientation), but no players.
36. I wrote the column in the second person because that was the only way I believed I could tell the story without editorializing. I met Brendan in March 2008, three months after he came out to his family but before he did so at Miami University. He didn't tell me then, either. I was impressed by Brendan. I've met Brian Burke just once (for 10 minutes), but have always been amused and entertained by his media acumen. I was stymied for weeks until writing in the second person dawned on me. That freed me. I didn't want to write a social editorial, I wanted to tell a story about a hockey family. I'm not very bright. I'm a third-line grinder in every respect except I can still name every member of The Cars and know all the words to just about every Men at Work song. I also enjoy Ne-Yo. I also hit 7- and 8-irons at a generally high level. And I bake fish well. But not much else.
37. The column was not a political statement, as some believed it to be. I wrote it because it had ingredients that interest me: hockey, family, Ohio, parenting, youth, Irish people, Italian people, college hockey, Canada, social issues, friendship, siblings who are close, eloquence, camaraderie, togetherness, love and how people react to different issues. And those who said the issue is "so 1993" or "what's the big deal?" are either being disingenuous or not paying attention to what is going on politically and socially in the United States. The issue has never been bigger.
38. I guessed the reaction would be huge in Canada because (a) Canadians like hockey and cover it better and more passionately than any country on Earth, and love and hate the Leafs in large numbers; and (b) Brian Burke is the best sound bite and most media-savvy person in hockey among players and administrators. For this, he is revered by the Canadian hockey media that generally deals with low-key GMs and players. His persona has been created a bit by him and a bit by the media. Burke has little impact in the States because hockey doesn't' receive daily television coverage here. U.S. sports has Ron Artest and T.O. and Chad Johnson and the Steinbrenners and Mark Cuban, etc. Canada and the NHL have Brian Burke, and that's just about it. In a strange way, Burke is a lot like Charles Barkley here in the U.S. -- people want his to hear his opinions on things because they are spoken with honesty and flair.
39. Check out Matt Duchene's goal against the Lightning on Monday night. Sick. One of the best goals of the year. He is a huge talent who will only get better. He has that Sidney Crosby-Zach Parise game that is so fun to watch because they play the game so fast and play it around the net. Colorado is set up to be good for a long time. The Avs do need to identify some high-end defensemen. They also have two T.J.s on their team (Galiardi and Hensick) That must be an NHL record.
40. It's time for Alex Ovechkin to be suspended after his knee-on-knee hit on Tim Gleason on Monday night. I actually thought his hit on Buffalo's Patrick Kaleta was legal; but after Georges Laraque received a five-game suspension for a knee-on-knee hit on Niklas Kronwall, Ovechkin will have to receive some discipline or the NHL will look silly. I don't think Ovechkin's hits are done with malicious intent, and he plays so fast that it will be difficult to adjust his body to avoid leg-on-leg contact in the future. Still, No. 8 is good enough of an athlete to figure out when to go and when to veer off. And it's only good for the longevity of his career. The Capitals should be interested in that considering they owe him over $100 million in guaranteed salary barring a future buyout or five-year lockout.
41. The top-5 assists leaders before Tuesday's games: 1. Joe Thornton; 2. Brad Richards; 3. Ryan Getzlaf; 4. Martin St. Louis; 5. Tomas Kaberle.
42. I've always wondered why NHL players are allowed to smash sticks against goalposts and crossbars in anger after goals. In lieu of Keith Ballard's unfortunate near-decapitation of his own goalie, Tomas Vokoun on Monday night, the NHL needs to immediately implement a five-minute major and 10-minute misconduct for such behavior in the future. And maybe no cell phone or dating women in BMWs for a month. It's an emotional game, but this was a situation that could have been catastrophic for Vokoun, Ballard and the NHL.
43. The Thrashers are absolutely for real. You must understand that right now. They are well-coached, getting good goaltending, have a dynamic defense and score goals. But I would make my best offer to Ilya Kovalchuk now. He turns 27 in April. Eight years at $8 million a year seems about right, and if you want to throw three of those smaller numbers at the end of the deal to get the cap number down, fine. If Kovy doesn't take a deal like that, he obviously wants to play somewhere else, which is his right. I would then entertain other offers. If that's the case, I would demand a top-three forward, a top-six forward and a No. 1 draft pick, or I would keep him and ride him into the playoffs and maybe a playoff round win (which might change Kovalchuk's mind). But that's a big gamble to take if Atlanta is offering a juicy package.
44. If I could replicate a feeling in perpetuity, it would be how I feel while listening to the first 27 seconds of The Hold Steady's "Stuck Between Stations."
John Buccigross' e-mail address -- for questions, comments or crosschecks -- is john.buccigross@espn.com.
Bucci's Power 5
Now that they are just about completely healthy again, you see how complete they are. As we said, Sidney Crosby will win the scoring title and probably the Hart Trophy. Evgeni Malkin is the most complete offensive player in the NHL in terms of being a high-caliber playmaker and shooter. The Jordan Staal-Tyler Kennedy-Matt Cooke combo is the perfect third line. The D is dynamic and the goalie is a big-save guy. All of this and, like U2 and R.E.M., they play together as team. That's the most dangerous part.
With Marian Hossa in the mix and the Hawks getting healthier, this team is stacked. Hossa is such a difference-maker. I thought in the offseason, "Is he really that much better than Martin Havlat?" Yes, yes and yes. There really is little comparison between the two. Hossa does EVERYTHING at a high level. Plus, Cristobal Huet is starting to find his sea legs. Chicago is in Pittsburgh on Saturday night. TiVo that bad boy.
Jarome Iginla led all NHL players in both goals (13) and points (20, tied with Joe Thornton) in November. The 13 goals were Iginla's second-highest total in one calendar month (he scored 14 in December 2007). Miikka Kiprusoff's 5-0 win at Nashville was his second consecutive shutout and the 33rd of his NHL career. Kiprusoff's last six shutouts have all come on the road (his final three last season and all three this season).
Calgary has played two fewer games than the Sharks. If the Flames were to win those two games, they would have more points than San Jose. It's certainly very close between the Big Three of the Western Conference, but the defensive corps of the Flames and Hawks hold a slight edge on the Sharks, while the Hawks clearly have better depth at forward. Joe Pavelski and Devin Setoguchi have missed time and are crucial to the Sharks' success. Ryane Clowe no longer gets big power-play time and is not a 5-on-5 goal scorer. Where does he fit best? I think they Sharks need to make a significant move to improve their depth.
I really wanted to put New Jersey alone, but I just wonder if the Devils could handle the Caps' firepower in a seven-game playoff series. But the Devils are good at home and on the road. They have decent balanced scoring, but the David Clarkson injury could hurt. Still, when you have an MVP candidate in Zach Parise, plus Martin Brodeur and experienced coaching and players, you are dangerous.
Shot of the Week
It's back. You know how it works: We present an NHL photo, and Bucci provides a caption. E-mail him your suggestions (include your name and hometown/state), and we will use the best ones and provide a new photo the following week.
LAST WEEK: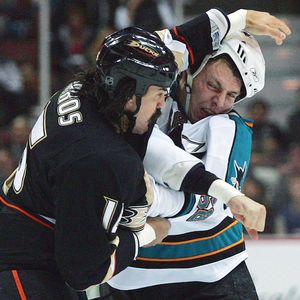 George Parros: Yoga instructor.
Your captions:
"I know you have Gummi Bears. I saw you put them in your pocket. Now GIMME!"
Aaron Blake (Philadelphia)
"Dude, you should have doubled up on the Old Spice."
John (Pittsburgh)
"I said right hand red, right hand red!"
John Schneider (Korea)
"For the last time, My Name Is Not Earl!"
Kevin Jagniatkowski (Clifton, N.J.)
"Sorry, dude, you need to be at least this tall to ride this fight."
Brad Touchette (St. Louis)
THIS WEEK: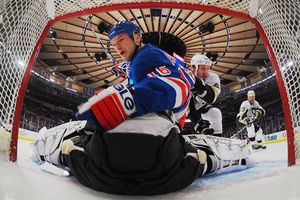 The Statue of Misery. (Getty Images)
Tuesday Poll
(Sponsored by Ken the Otter)