Dear Mr. Buccigross,
We have just re-read, for the fourth time, your story about our grandson, Brendan, and our son Brian Burke.
It is a magnificent piece of writing, so very sensitive and caring, and we thank you profoundly. Your ability to feel the pain of Brendan, your sensitivity about his father, and the implicit call for fairness are deeply appreciated.
Like Brian, we would have preferred that someone else would shoulder the burden that Brendan has had the courage to pick up, but we are proud that he did. Your wonderful article gave him the best possible beginning.
Thank you very much,
Joan and Bill Burke
Bucci,
I went to Xaverian in Westwood, Mass., when Brendan was an underclassman. I was a captain of the hockey team and he came up and skated with us at a few practices. He was the only freshman we liked because he didn't get a big head when he got called up. I never had any idea he was gay and I feel bad looking back on it because I'm sure I'm guilty of some of the locker-room talk you mention.
Ryan Leonard
Mr. Buccigross,
I recently graduated from Miami University and had a number of classes with Brendan, as well as a shared interest in hockey. He's just a great guy. Even after having countless conversations, I was still unaware (until 30 minutes ago) that his father is the Brian Burke. I think that says a lot about the kind of person he is.
Andrew Stowe
Washington, D.C.
John,
Thanks for a great write-up and the courage exhibited by Brendan Burke. Being a gay male who served in silence in the military, the story is all too familiar with me. Thanks and happy holidays to you and your family.
Steve
Mr. Buccigross,
I just wanted to thank you for the wonderful story of Brendan Burke and his family. It took my family years to come to terms when I told them in 1983; thankfully today they are. I know this story will reach and help so many; it may even be looked back as the start of a new chapter in people coming out, not only just in sports.
Patrick Barker
New York, N.Y.
Dear Mr. Buccigross,
I am a former teacher of Brendan Burke. I just wanted to thank you for your thoughtful and well-written article about Brendan and his family. It really moved me. The manner in which you presented his story will be a comfort to many other folks who may be struggling with issues related to their sexuality. As a father of three young children, I am moved by Mr. Burke's acceptance of his son. I am not really a hockey fan, but I want to go out and buy a Miami of Ohio or Toronto Maple Leafs hat!
Mike Pulizzi
John,
As a big Blackhawks and Panthers fan, now I have to add the Maple Leafs to my teams (not easy to do having grown up in Chicago!). My father did not speak to me for 13 years when he found out I was gay, so it's nice to see a father who loves his son unconditionally. My father has since come around in the past few years.
Tom Koyzis
Cutler Bay, Fla.
Some more of your e-mails from this past week:
Bucci,
Even though you turned down the invite to join our fantasy hockey league, I'll fill you in on some of the better names that we've had over the past nine years. Being a music fan, I hope you can appreciate some of the more metal names we came up with:
Gaborik Roll
Dead Skin Rask
And Justice for Staal
It Toews 2 to Luongo
Chik-fil-A-tov
Hide the Selanne
McLuhan Marshalls
System of a Doan
License to Ilya
Into the Great Wide Aubin
Ferris Mueller
Iginla Get You Sucka!
Kids in the Staal
Brookbank Mountain
Sporadic Bonk
Soylent Green
Harvester of Morrow
David A.
Atlanta
Hey John,
I was wondering if you had an opinion on arenas that decide to play music when two players drop the gloves. It seems to be a fairly recent occurrence and I find it to be in very poor taste. These guys are serious athletes and, in many cases, extremely skilled fighters. To cue up "Fight for Your Right to Party" or "Hit Me With Your Best Shot" while two players are trying to spark their team to victory by exchanging punches shows a lack of respect for the job they do.
Joe
Mantua, N.J.
I agree, Joe. That's cheesy.
Hey Bucci,
With Sergei Zubov's recent departure to the KHL, do you think he will ever be inducted to the Hockey HOF? He is the highest scoring Russian defenseman in NHL history, won 2 Stanley Cups, led the '94 New York Rangers in points. What do you think?
Franz
Edison, N.J.
I've gone back and forth on Sergei Zubov over the years. I think I have written in this space in the past that I have him as a Hall of Famer. Great skill, productive, good first pass, etc. But three All-Star Games and one postseason second-team All-Star doesn't quite sound like enough to be a Hall of Famer. But while their size was much different, Zubov's game and numbers align well with Hall of Famer
Larry Murphy
.
Bucci,
Your thoughts on Sergei Gonchar? Should the Pens try and re-sign him, deal him or let him walk? He has been an amazing player (Norris-caliber in my books) in all but his first year in the 'Burgh. Ray Shero will want to extend Kris Letang, leaving little money to re-sign Gonchar at a pay decrease he might never accept. How do you see this playing out?
Ryan Kasun
I see Sergei Gonchar as a relatively easy sign for the Penguins. He will be 36 at season's end, so you are signing him to a deal for ages 36-37-38-39. Gonchar is making $5.5 million this season and has a cap number of $5 million. He has had injury concerns the past couple of seasons, and one would think that durability and production would be a concern going forward. A plus for Gonchar is his weapons -- his shot from the point and slap shots -- tend to age well.
So, if I were GM Ray Shero, I would seek a five-year deal with a falling salary scale to help with the cap number: $5 million, $5 million, $4 million, $3 million, $1 million. That guarantees Gonchar $18 million over five years and ensures he will be on a high-level team for the rest of his 30s. Also, the cap number is $3.6 million a year, which will help keep Letang. Success keeps one young; losing ages an athlete. Also, productive, championship-level seasons late in his career would bolster Gonchar's Hall of Fame résumé. We are talking about a very high-level player who does everything well.
Letang is a little tricky. He has played only 163 games and, with his size, you would think durability could be a slight issue. But he turns 24 in April, so the Penguins are probably getting Letang at his most risk-free years. Letang has great hands; he's creative; he's good in the shootout and power play and on breakouts. He has a lot of Zubov in his game. Letang also has a "big game" element in his DNA.
I would probably do a six-year deal with Letang, who is a restricted free agent after this season. I would go: $2 million, $2.5 million, $3 million, $3.5 million, $4 million, $4.5 million. That is $19.5 million guaranteed with a $3.25M cap hit. That is a great contract for both sides.
Bucci,
Matt Duchene's goal this week was great, but how about some love for the clear goal of the year through the first quarter of the season: David Perron's between the legs maneuver, beating three Islanders is one of the best in years. It's even more impressive since the Islanders aren't terrible this year.
Dave R.
Chicago
That's a good call, Dave.
Bucci,
1. If you like Panera, try the mac-n-cheese ... seriously good. I recommend it in a Pick 2 with the creamy tomato soup. A great lunch for this cold weather that has recently appeared.
2. It's nearly time for your annual Hakan-Hanukkah song. I would love it if you could somehow include Johnny Oduya. Not only is that a great name, but yes, he is Swedish.
Carrie O.
From Jersey
Hanukkah begins at sundown on Friday, Dec. 11. So, we will unveil the 2009 version of the Hakan- Hanukkah song next week. Here is last year's version for you new readers:
This is a song that, uh ... there's a lot of Norwegian songs out there, but not too many about Hakan Loob and Swedish hockey players. So, I wrote a song for all those nice Swedish kids who don't get to hear any Swedish hockey songs. Here we go ...
Put on some ABBA-kah,
Here comes Hakan-Hanukkah!
So much Swedish-funukah,
To celebrate Hakan-Hanukkah!
Hakan-Hanukkah is a festival of ice
Instead of one night of hockey, we have 180 crazy nights.
When you feel like the only kid in town without a Synergy,
Here's a list of people who are Swedish, just like Mats Sundin:
Henrik Zetterberg
was once pulled over for speedin',
Henrik Lundqvist
and twin bro, Joel, were born in Are, Sweden
Guess who eats crayfish at a bistro in Malmo?
Patrik Berglund
,
Fredrik Modin
and ex-Oiler
Tommy Salo
Victor Hedman's rookie card will be something worth collectin'
So is Kent's and Ulf Nilsson's and Pelle Eklund's.
Swedish names are awesome, and Swedish names are fun,
There's a Nik Backstrom in Minny, and one in Washington! One's Swedish!
Put on your ABBA-kah,
It's time for Hakan-Hanukkah!
The ex-captain of the Vancouver Canuck-anukkahs, celebrates Hakan-Hanukkah!
Saku Koivu, not a Swede
But guess who is? Hakan's older brother Pete (he scored one goal in nine NHL games)
Peter Forsberg has bad feet, but he still likes dancin',
So do Roger, Mathias, Calle, Bjorn and Andreas Johansson.
Mike Grier's not from Sweden, nor Dainius Zubrus
But Henrik Sedin and Daniel Sedin and Hakan Loob is!
So many Swedes are in the NHL,
Tobias Enstrom's in Atlanta, but it feels like hockey hell!
Tell your friend Per-onica,
It's time for Hakan-Hanukkah!
I pray for new Graf-onikahs
On this lovely Hakan-Hanukkah!
So drink your cold Fal-connika
And golf 18 with Annika
If you really, really wannakah
Have a happy, happy, happy Hakan-Hanukkah!
Happy Hakan-Hanukkah!
John,
There is actually precedent for giving a player a misconduct penalty for swinging his stick after a goal or penalty in the manner similar to what we saw from Keith Ballard last night. During the Kings' home opener against the Sharks last season, Anze Kopitar swung his stick into the glass (either after a goal or penalty), and ended up breaking the glass, which delayed the game. The referee gave him a 10-minute misconduct because of the delay caused by him.
I think in Ballard's case, there's an argument to be made for the league to suspend him. It was a dangerous and reckless move that could have cost Tomas Vokoun his career or worse. Regardless of whether the player he hit was a teammate of his or not, there should be zero tolerance for swinging your stick violently anywhere near any player or personnel (referee, linesman, coach, etc). Players need to recognize that they are actually holding a weapon when they step on the ice.
Neil Kuczynski
Laguna Hills, Calif.
This anger stick-breaking needs to stop. Players are always told to keep control of their sticks. Keith Ballard showed us why swinging a stick can have unintended yet potentially dangerous consequences.
Bucci,
I noticed that Jordan Leopold played in 83 games last season (traded midseason, as you know). What is the record for most games played by a player in a season?
Michael
Minneapolis, Minn.
John,
Quite a few years back, Dave Andreychuk (second-to-last year in the NHL) showed up at a men's league tourney I was in. I was playing Junior at the time (the tourney was non-contact) and thought I could lay him out. On a 1-on-1, I went for it. He stiff-armed me in the face to the ice and roofed it backhand. His old-man power was overwhelming and so was the laughter on the bench when I got back. Good memories.
MJ
Ontario
John Buccigross' e-mail address -- for questions, comments or crosschecks -- is john.buccigross@espn.com.
BUCCI'S FAN PHOTOS
Hey Bucci,
My son Jack is just starting his hockey days. He loves watching Caps games with me, and chanting "P-A-C-S, CAPS, CAPS CAPS" (for some reason he just can't get the C-A-P-S part down in the right order). I've been taking him to open skates since he was 2½, and now that he's almost 5, we're going to be starting the beginner hockey class at our rink. This is a pic from his first trip into the locker room, putting on his gear.
With all of this being new ground for us (although I play hockey, I picked it up later in life; my dad wasn't a "hockey dad", so the only ones I've ever been around are the ones on my beer league team), I was particularly interested in your column about hockey dads and will definitely be picking up Mr. McKenzie's book.
Dan Franko
Odenton, Md.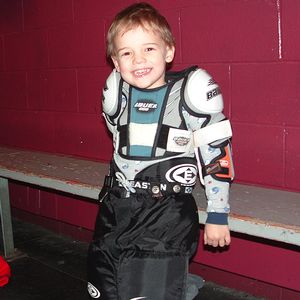 Bucci,
I took my girlfriend to her first hockey game on opening night at the Shark Tank! We got to the rink early and participated in the festivites where we hit the dunk tank, face painting, and got free shirts! I bought a black Dan Boyle jersey too! Got her a Joe Thornton. But after couple fights, big hits and a Dany Heatley hat trick capped off on a regulation shoot out goal, all I have to say is she is hooked for life! A new hockey fan, especially a Sharks fan and she hasn't stopped bugging me about going back yet. That's my kind of hat trick!
Michael Simpson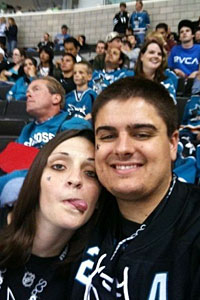 John,
My wife and I are both fans of your blogumn and hockey. Someday, we hope that our 2-month-old daughter Violet will be a hockey fan too. We aren't sure yet whether she should be a Thrashers fan (mom's team) or a Flyers fan (dad's team). It's likely she might even pick a favorite based on fashionable clothes like those worn by Canadians who enjoy "Wayne's World." A picture from Vi's first Halloween.
Cale Shewchuk
Atlanta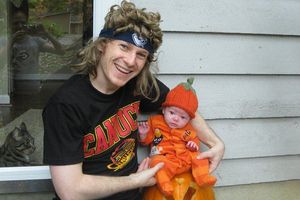 DON'T FORGET THE COLUMN ...
Ovechkin reaction, Berman-esque takes on 30 NHL names, one of the sickest goals of the season and the best tuna sandwich in the world ... it's all right here in Bucci's latest list. Column