Commentary
What does the Bucci blog reveal?
In the opening scene of "Batman and Robin," Chris O'Donnell (Robin) and George Clooney (Batman) fight Arnold Schwarzenegger and his legion of ice-skating villains. At one point, Robin turns to Batman and says "This is a hockey team from hell."
Playing against Alex Ovechkin and the Washington Capitals in D.C. can sometimes feel like that. Ovechkin, feeding off the energy of the home crowd like a solar panel, becomes a hockey player from hell. On ice. You can tie your CCMs with those laces of irony.
Sidney Crosby and Evgeni Malkin are Pittsburgh's Batman and Robin fighting Ovechkin and his waves of teammates. Pittsburgh has complementary pieces, but make no mistake, the Penguins will only go as far as Batman and Robin will take them. Crosby and Malkin have to be dominant on the power play, and both have to score.
One of my favorite mechanisms for this column is to do a running blog of a game. I'm not sure if I've even done one yet this season. So why not pick a night with one game … one Stanley Cup playoff game? It's a game the Penguins want badly, so the collisions should be fierce, the passion high.
So here we go. Game 2. Pittsburgh at Washington.
First period
Opening faceoff (20:00):
No
John Erskine
for the Capitals in this game. That's a big loss. He has been their best defensive defenseman in the playoffs. The Capitals will need to keep it simple. They are well-coached. Game on.
19:19: Sidney Crosby runs over Mike Green and has a late developing 2-on-1 with Bill Guerin that Simeon Varlamov gets a pad on to keep the game scoreless. Varlamov has looked like a star in net. Crosby's game is at an ultra-high level right now. He appears completely healthy. The problem is his wingers keeping up with him. This is where you see the absence of Marian Hossa. He is Crosby's peer when it comes to talent.
17:18: Ovechkin just completed a mammoth shift. His hitting, threat of hitting and speed kept the puck in the Penguins' end for the entirety of his shift. The Penguins had Rob Scuderi and Hal Gill out there for Ovechkin's shift, and it did not go well. The Penguins dominated the play when Crosby was on the ice and the Capitals dominated the play during Ovechkin's shift.
17:05: There's Chris Clark of the Capitals. He is from the town in Connecticut in which I currently reside, South Windsor. Both of his parents work at the post office. It's been a frustrating couple of years for Clark due to injuries. He is a player that can bring simplicity and leadership in these playoffs. A Capitals Stanley Cup benefits me because it means the Stanley Cup will come to South Windsor in the summer. Cool.
16:39: Andy Brickley, the analyst for this game, just said something interesting. He mentioned, as he talked of Ovechkin, how baseball has five-tool players to describe the ultimate well-rounded player. What would a hockey five-tool player be like? Let's take a shot at it: (1) speed and strength on one's skates; (2) physicality; (3) high-level wrist or slap shot; (4) courage and battling the puck; (5) extreme hockey sense. That would be my five-tool hockey player.
14:32: Evgeni Malkin and Mike Green have yet to make their mark in this game. Tyler Kennedy has been the best Penguins winger. Ovechkin has done something every second he's on the ice. Penguins' power play. It hasn't been good lately.
13:22: Goal: Crosby. 1-0 Pittsburgh. Brooks Laich had his stick broken. Sergei Gonchar's slap shot was saved by Varlamov, but the puck sat down right in front of him and Crosby shoved it underneath. Crosby's senses seem sky-high right now. When he is at this level, there is no one in the game as good. He is ultra-talented, ultra-competitive and ultra-smart. He accepts and understands the grimy, grinding part of the game. He is like Tiger Woods; he is a very quick learner of the subtleties of his tasks, therefore he can do great things at a young age. This takes an extreme dedication and concentration most young people simply don't have, and that's why young players are so streaky.
12:58: Two minutes charging on Jordan Staal. Power play, Capitals. Ovechkin stays out for the entire two minutes, and a little more. His looming presence is the strongest force in the NHL. One of his great gifts is getting a lot on the shot, even if the puck is not in a prime position between his feet. Bobby Ryan of the Ducks is also very good at that. Some players have to have the puck in their sweet spot to get a powerful shot off. Not Ovie.
10:08: Tripping on Kris Letang. It was close. It looked like he got the pick on the puck first before the trip. After doing college hockey games this year, I learned that, in college hockey, it doesn't matter if you get the puck first. If a player follows through after sweeping the puck away and still ends up tripping the opponent, a tripping penalty is still called.
7:50: The Penguins kill the power play and, as Letang comes out of the penalty box, he has a breakaway. He tries forehand-backhand and shoots it high. As Letang was breaking in, I thought how, when he first came into the NHL, he was a lethal penalty-shot performer. Varlamov is a Henrik Lundqvist goalie on breakaways: wide, deep in his crease and low. Five-hole, and next to his left ear, is how you beat him. The Capitals look like they have a goalie in Varlamov. Jose Theodore can be had for a seventh-round draft pick and a cassette of Vanilla Ice's second album.
3:42: Interference, Tom Poti. Power play, Penguins. At 1:14, Green is called for another penalty. The Pens have a 5-on-3 for 46 seconds. HUUUGE save by Varlamov. I just consulted my Russian-to-English dictionary and Simeon Varlamov is Russian for Ken Dryden.
End of first period: 1-0 Penguins: Both goalies are very sharp. Green appears to be wearing two left-footed skates. He either has a severe case of the flu or a severe case of eating too much dairy products. The Capitals are playing well in their own zone, keeping the Penguins and Malkin outside the action. Ovechkin was the best player on the ice in the first period. If he keeps playing like this, I can't imagine him not scoring at least twice in this game.
Second period
18:31:
Alexander Semin
had a golden chance to score, but it remains 1-0. The Penguins' defense is not having a good game so far.
Marc-Andre Fleury
is … GOAL OVECHKIN! Just as I was typing that "Fleury is saving the Penguins," Ovechkin scores the goal that looked destined to happen. Capitals fans have to like their chances in this game. All signs point to a Capitals win at this stage of the game. The Penguins' defense is jittery and very few Pittsburgh forwards are noticeable.
16:36: Another penalty. Pascal Dupuis makes a stupid play and flips the puck over the glass. The Penguins are panicking. This game could end up 5-1 Capitals. I would bet my mortgage at this point that the Capitals win this game 3-2 or 4-2. The Penguins survive the power play, but they are scrambling right now. Maxime Talbot is one of the Penguins playing well.
13:19: Finally, Malkin gets some space, but can't convert an off-wing wrist shot from 20 feet. Varlamov made a great read and was at the top of crease to make the save. This indicates great concentration and confidence.
10:40: Finally, a good shift for the Penguins. The Crosby-Chris Kunitz-Guerin line gets a couple of good chances. Kunitz was such a must-get for the Penguins before the trade deadline. He is one of the few Penguins forwards who is confrontational and skilled. He will score a big goal in this series at some point. Another great save by Fleury. The ice is tilted.
9:03: Goal, Crosby. This was a classic grit goal. Kunitz makes an unbelievable desperate play to keep the puck in the Capitals' zone. Guerin gets it and does the veteran thing and gets the puck toward the net. Crosby's will and hand-eye coordination beat Varlamov. It's hard to imagine beating Valarmov on a conventional goal right now.
7:40: Malkin has another golden chance, courtesy of another nice play by Talbot. The puck bangs against Varlamov's pads, but Ruslan Fedotenko can't get the proper leverage to get a shot on goal with only Green in front of the net. The replay seemed to indicate the Malkin shot would have been wide on the short side. Malkin has to find his game. Crosby can't do this by himself. The Capitals come back and Nicklas Backstrom shoots it high.
6:17: Varlamov makes another great save. Varlamov is a lot like Fleury at the other end. He is a great athlete with outstanding lateral movement and balance. As a result, he always appears to be big, covering most of the net. He also has great concentration and is very competitive. The most important skill a goalie can have is competitiveness.
4:11: Dave Steckel scores to tie the game at 2. Just dreadful defensive-zone coverage by the Penguins. They were drifting all around the zone, and Fleury could not bail them out. Penguins coach Dan Bylsma is going to have to play Sergei Gonchar the rest of this game.
1:38: Alex Ovechkin pulls a Mike Ribiero/Alexei Kovalev playoff acting move like he received a high stick from Kunitz. Kunitz's stick was below his waist when he collided with Ovechkin. Capitals fans can no longer accuse Crosby of embellishing after this move from Ovechkin. He duped the referee badly and the Capitals go on the power play. After I hit "Play" on the TiVo to write that previous paragraph, Brickley and Mike Emrick agree. When Emrick makes a comment like that, and he doesn't very often, it has the tone of a disapproving parent. I slumped my shoulders and I'm just sitting here watching hockey and eating Oreos. That's a very unhockey thing Ovechkin just did.
End of second period: Score is 2-2.
Third period
20:00:
Here we go. The Crosby line has a great first shift. Guerin is having a strong game. If I were Bylsma, I would give Malkin a couple of shifts with Crosby to see if he can get him going. The Capitals are doing a good job of getting in the shooting and passing lanes. When they're in their own end, the Capitals are collapsing on Varlamov and it's working very well so far.
16:26: Great setup by Crosby to Guerin, and Varlamov makes the save. Both teams are starting to get cautious. The Washington fans are getting nervous. I think they sense if they win this game, the series is theirs. Their goalie and Ovechkin are too good to lose four games to this Penguins team. Penguins fans are thinking "If Malkin will just do something."
12:36 to go: The Penguins' defense has settled down and is playing better. The Caps are getting great play from their blue line. This game is now at a better pace for the Penguins. They can manage things and wait for Crosby or Malkin to do something special. Part of it might be that we are in the third period and the pace has slowed a little.
9:11: Interference, Milan Jurcina. Power play, Penguins. This is their chance to steal this game. Fleury has given them this opportunity with his All-Star play.
7:37: What a sad, dreadful power play by the Penguins. And after it ends, Malkin is called for tripping. Good call. You get the sense this is where … OMG! He does it again. Malkin's lack of discipline results in an Ovechkin goal. Ovie's second of the night. The replay showed the shot was a centimeter inside the short-side post. Just a world-class shot. The replay showed there was interference on the faceoff as Matt Cooke tried to get to the point. But Stephen Walkom, the head of NHL officials, must have instructed his crews not to call that anymore because I have seen it happen multiple times in multiple games.
4:38: Goal Ovechkin! Hat trick. 4-2 Capitals. What a play by Viktor Kozlov to free Ovechkin in the neutral zone and take on Gonchar one-on-one. His Hall of Fame wrist shot, the best in the game, ices this game with 4:38 to go. The crowd is chanting "MVP!" and they are right on this night. The force of his will is mind-boggling. As I have written in this space for two years, Ovechkin is the most exciting athlete in D.C. There isn't a Redskin, Wizard or National that is in the same league. What he is doing to hockey in D.C. is akin to what Wayne Gretzky did in Los Angeles and, in some way, it surpasses it. Gretzky was a little past his prime in L.A., physically. Ovechkin is in full flight. It is games like this in which you can make a comparison to Bobby Orr. Orr dominated the game with his physical superiority and overall presence. That's what Ovechkin does. Orr was a rock star, as is Ovechkin.
0:30: Goal, Crosby. 4-3 Capitals. A power play with Fleury pulled. Kunitz laid a nasty crosscheck on Varlamov as he battled for the puck.
What a great night for the NHL. Its two best players on a singular stage, and they both brought it. Three goals each, all scored in each player's own way. Ovechkin in spectacular fashion, Crosby with his guile and hand-eye coordination. This was the first time opposing players got hat tricks in a Stanley Cup playoff game since Trevor Linden and Joe Sakic did it in 1996. Before that? "Chicken Parm" Ray Ferraro and Al Iafrate in 1993.
The Capitals won 4-3 to take a commanding 2-0 series lead. It's hard to imagine them losing this series now. They seem bigger and stronger and tougher to beat at home. Pittsburgh will need to take care of business at home, and maybe it can somehow wear down the Caps a bit. Then again, we might be at the early stages of an epic that will help define this era of the NHL and elevate the sport in ways that haven't been done since Gretzky in 1993. My instincts tell me, unless Geno shows up soon, it's the former.
Driver 8, take a break. You deserve it.
The Mother of All Mailbags
Dear John,
I really enjoy reading your articles on ESPN.com; they are really well written and insightful. I've been watching hockey for many years now, and I absolutely love the game, which is difficult out here in New Mexico. I have a question -- who do you think will win the Hart Trophy this year? I think it has to be Ovechkin.
Brandon Hajny
Albuquerque, N.M.
Are you sure you have been reading MY column and not Nick Lachey's articles on all things panda bears? I think the voters will mostly vote for Ovechkin; but if I had a vote, I would have selected Evgeni Malkin by a nose. It's very close and don't think it would be a miscarriage of justice if Ovechkin won. He is such a huge force in most games he plays. I just think Malkin is a little better all-around player and he did win the scoring title.
"The important thing is this: To be able at any moment to sacrifice what we are for what we could become." -- Charles DuBois
---
Dear Mr. Buccigross,
I am a lifelong Rangers fan trying to find a reason. I am quickly tiring of the "it's all Glen Sather's fault" line and tried to dig for a deeper reason for our lack of depth. I searched through the Rangers' draft picks from 1998 [through] today and found that with the exception of Marc Staal in 2005, not a single one of our first-round draft picks has ever had a meaningful NHL season with the Rangers. So instead of blaming Sather or the coaching staff, should Rangers fans turn their vitriol onto the scouts? Who are these invisible men and how is it that some teams in the East, Philly, the Pens, the Devils and the Caps seem to do such a good job at it?
A more extensive listing of the Rangers' picks and players they missed out on:
Let's start in the 1998 draft:
Rangers pick seventh: Manny Malhotra (games in a Rangers uniform: 0)
Who we could've got:
Alex Tanguay (12th pick Colorado)
Simon Gagne (22nd pick Philadelphia)
Scott Gomez in his prime (27th pick Devils)
Jonathan Cheechoo (29th pick San Jose)
Brad Richards (64th pick Tampa Bay)
1999
Rangers pick Pavel Brendl fourth (GIRU: 0)
Jamie Lundmark ninth (GIRU: forgettable)
Who'd we miss:
Martin Havlat (26th)
Alex Auld (40th)
2000
No first-round pick (traded away)
2001
Rangers pick 10th: Dan Blackburn (GIRU: a couple; retired)
Who'd we miss:
Ales Hemsky (11th)
Chuck Kobasew (14th)
R.J. Umberger (16th)
[+] Enlarge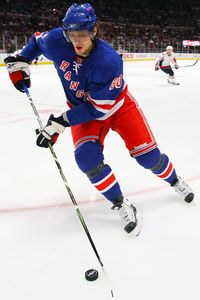 Jim McIsaac/Getty ImagesNik Antropov is set to become an unrestricted free agent in July.
2002
No first-round pick (traded away)
2003
This is the one that really hurts the most:
Rangers pick 12th: Hugh Jessiman (GIRU: 0)
Who'd we miss:
Zach Parise (17th)
Ryan Getzlaf (19th)
Mike Richards (24th)

2004
Rangers pick sixth: Al Montoya (GIRU: 0)
Who'd we miss:
Travis Zajac (20th)
Andrej Mezsaros (23rd)
Mike Green (29th)
2005
Rangers pick 12th: Marc Staal (GIRU: our one shining moment; a whole lot of good ones)
2006
Rangers pick 20th: Bob Sanguinetti (GIRU: 0)
Who'd we miss:
Claude Giroux (21st)
Simeon Varlamov (22nd)
2007
Rangers pick 17th: Alexei Cherepanov
Thanks,
Matt
New York, N.Y.
Well, you could argue T.J. Oshie over Marc Staal in the 2005 draft. I just don't see the Staal potential Rangers fans see, but he is very young and maybe he will turn into a Nicklas Lidstrom-type player. Otherwise, that is some good work, Matt.
The Rangers did get some good news when Markus Nasland announced his retirement. That is $4 million in cap savings. That helps as some of their role players (Brandon Dubinsky, Blair Betts, Ryan Callahan) will be up for raises.
One question surrounding the Rangers is their plans for Nikolai Zherdev and Nik Antropov. Zherdev will command a raise from his $2.5 million salary. Zherdev tied Scott Gomez for the team lead in regular-season points, but was held scoreless in the Rangers' seven-game series against the Capitals. He looked scared and disinterested. He is arbitration eligible and turns 25 in November. Personally, I would not sign him to a long-term deal. He has a lot of talent, but I would not trust him to be one of my high-salary players. I would look to trade him and open up more cap room.
Antropov, who just turned 29, will command $3.5-4.5 million on the open market, and someone, say the Islanders, can probably get Antropov if they slightly overpay him and convince their fan base Antropov is NOT Oleg Kvasha. This next contract will be the biggest of Antropov's career, so I'm sure he will go to the highest bidder. It looks like he has evolved into a somewhat dependable player who can be counted on for 25-30 goals. It's a tough decision. Antropov seems to disappear a bit at times, but overall I think he could live up to his contract if he can stay healthy, which has been a problem in the past.
Antropov will probably get a five-year offer at around $4.5 million a year and would probably lead the Rangers in goals next season unless they sign a 30-goal scorer over the summer. The Rangers could do a seven-year deal at $5 million for four years and $1 million for the remaining three. That would give Antropov a more than fair salary for four years and bring the cap number down to $3.3 million. I think that would be a win-win unless the Rangers make a trade or sign a Marian Hossa-type player. Unless I'm missing something, the only way the Wings can sign Hossa is if Lidstrom retires and frees up $7.4 million. But if Lidstrom were to do that and I were the Red Wings, I would look to sign Jay Bouwmeester before I would sign the 30-year-old Hossa.
---
Hey Bucci,
There is no doubt in my mind that Mad Max Talbot's fight with Daniel Carcillo in the second period of Game 6 turned the momentum around for the Pens. With this fine example of fighting serving a purpose in mind, can we finally put the "ban fighting in hockey" argument to rest.
Keith
Pittsburgh
No one is arguing what fighting can do. The issue is, is it safe for players? Long term, there are concussion issues; short term, there is the issue of an accidental death as a result of fighting.
---
Bucci,
Is there a better play-by-play guy in the league to listen to than Mike Emrick? I mean, what's more exciting than the rising tone of his voice as the offense connects on a few passes before he finally explodes when a shot on net is taken?
Justin Hurwitz
Westborough, Mass.
No bigger fan of Emrick than me. Emrick, Eddie Olczyk and Darren Pang had great chemistry Sunday. Just top-notch broadcasting.
---
Hey Bucci,
Loved "Jonesy." I couldn't put the book down. What a great story. I'm a huge Flyers fan and, needless to say, was very disappointed by their first-round loss to the hated Penguins. But unlike past years, I'm not as heartbroken by the loss because I feel like this team is going to be very good next year. They have tons of young talent in Richards, Carter and Giroux and players like Sbisa hopefully getting ready for the big show. What moves do you think they need to make in the offseason to improve, and what do you see in store for this team next year?
Jake
Philadelphia
The Flyers have colossal salary-cap issues. They are almost at the limit now and that is without a goalie on the payroll. Andrew Alberts is an unrestricted free agent, as is Mike Knuble. If James van Riemsdyk makes the team, he will have a big cap number. Assuming they can't or don't want to trade Daniel Briere, the Flyers have to trade either Simon Gagne or Joffrey Lupul or, ideally, both. Lupul would be easy to trade. He turns 26 this September; if he were a first option on offense and got his shots on goal in the high 200s, he could score 35-40 goals. The Flyers have big decisions to make this summer. Those decisions could ultimately decide the fate of the Flyers for the next five seasons. No pressure, fellas.
---
John,
I'm still trying to recover from the soul-wrenching loss the Devils managed a few days ago. Thankfully, I took my 3-year-old son, Ethan, to his first Devils game this year and he caught the hockey bug. Within a few days of the game, he was using anything he could find as a hockey stick and puck. We then got him some mini-sticks and a puck to use and he has been narrating his own games daily, thankfully with Doc Emrick as his play-by-play role model. The other day he added to his equipment, putting on his "Brodeur helmet," placing a water bottle on top of his "goal" and he's been insisting that his five hole is actually the "seven goal."
Seeing the pure joy and fun he has engaging in this every day helps remind you what the game is really about, even when your team suffers what feels like an unrecoverable setback. I provided a picture for you to illustrate his unique equipment. Thanks for your dedication to the sport and the depth of the articles you write. I don't think I've come across a comparable column for any other sport.
Zach
Easthampton, Mass.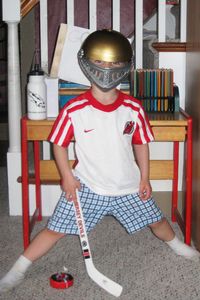 Thanks, Zach. And I haven't come across a more comparable photo of me on my wedding night.
John Buccigross' e-mail address -- for questions, comments or crosschecks -- is john.buccigross@espn.com.
SportsCenter anchor
John Buccigross joined ESPN as an anchor in October 1996. He currently can be seen as an anchor on "SportsCenter." Buccigross frequently contributes to ESPN.com during the season.
THE SHOWDOWN: CAPITALS VS. PENGUINS
Crosby. Malkin. Ovechkin. The NHL's three biggest stars on the same playoff stage with a conference finals berth on the line:
ANALYSIS
WATCH
VOTE