Commentary
Irony and agony of defeat for Flyers
PITTSBURGH -- There is cruel, and then there is what happened to the Philadelphia Flyers on Friday night.
After the Flyers made good on promises to play with discipline and controlled intensity, it looked as though the hockey gods would reward them for their perseverance with a split in this Eastern Conference quarterfinal. Instead, those same hockey gods chose to deliver a butt end to the head.
The Flyers gave up a power-play goal with less than four minutes left in regulation that tied the score, then allowed a rarely seen five-on-three goal with less than two minutes remaining in the first overtime to lose 3-2 and give the Pittsburgh Penguins a 2-0 series lead.
Look into the eyes of Flyers players and coaches in the aftermath of this one, and you saw something akin to shock. Or was it dismay? Or just plain defeat?
"It's tough. Right this soon after the game, it's tough, but we'll regroup," Flyers coach John Stevens said. "If nothing else, we've shown ourselves that we can play and we can certainly play with these guys. And now we get to go home and play in front of our fans."
[+] Enlarge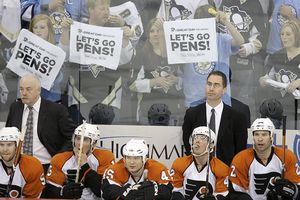 AP Photo/Gene J. PuskarThe Flyers held two leads in Friday's Game 2 before falling to the Penguins 3-2 in overtime.
Game 3 is Sunday afternoon in Philadelphia and, quite frankly, it will take a herculean effort for the Flyers to fight their way back into the series; that is the magnitude of the impact this loss.
"It's disappointing, for sure," said Flyers captain Mike Richards. "We did all the right things tonight. Just a tough pill to swallow right now after how hard we worked and how it finished."
In some games in a playoff series, a team can lose yet take away enough positive things to make it feel like less of a loss, to take the sting out just a bit, kind of like putting something in the bank to spend in the next game. The Flyers dutifully talked about doing just that Sunday, but this loss will stick in their throats because it didn't have to be this way.
No, it shouldn't have been this way.
With the Flyers leading 2-1 just past the midpoint of the third period, the Flyers broke in on a two-on-one. Jeff Carter made a pass to Joffrey Lupul, and the puck bounced back to Carter at the side of the net. The net couldn't have been more open if Pittsburgh netminder Marc-Andre Fleury had gone for a soda. If the puck finds the back of the net, the game is over and the series takes on a whole new tenor.
Yet, by the time Carter took the shot, Fleury had lunged to his right, kicking out his right leg at the same time, sending the puck into the corner.
"You know Fleury's quick. He's got quick feet, and he kicked the leg out," Carter said in a low voice after the game.
This is the same Jeff Carter who finished second in NHL with 46 goals in the regular season. Those are goals he simply does not miss. Until Friday night. Earlier in the game, Carter broke in on Fleury and also was denied. He has not registered a point yet in this series.
What does something like that mean to a team trying to get itself back in a game?
"It means the world to the team. I mean, it gives you a second life. You get energized by that," overtime goal-scoring hero Bill Guerin said of Fleury's heroics.
Want a little irony mixed in with your agony of defeat?
It was Carter who was whistled for hooking Jordan Staal with 4:04 left in regulation. Twenty-seven seconds later, a Kris Letang shot bounced off a Flyers defenseman and off Evgeni Malkin's leg and into the Flyers' net to tie the score at 2.
More irony? More agony?
In the overtime session, Fleury again showed his quickness, snaking out his left pad to deny veteran Mike Knuble at the side of the net.
Then, the Flyers could not capitalize on a cross-checking penalty assessed to Pittsburgh defenseman Hal Gill. Before that penalty expired, Knuble was called for a cross-checking penalty on Brooks Orpik in front of the Penguins' net. Thirty seconds later, Flyers rookie Claude Giroux slashed Chris Kunitz's stick in half as the Penguins were entering the Flyers' zone.
In the blink of an eye, what looked like a golden opportunity for the Flyers to even the series was suddenly a long five-on-three for the talented Penguins. Can you say inevitable? In the end, it was Guerin, with his second of the game, who pushed home the winner from the short side, an almost unavoidable conclusion to this contest.
The temptation, of course, will be to suggest the Flyers lost this game as a result of the same lack of discipline they showed in the first game. And that wouldn't be fair. In Game 1, the Flyers were guilty of losing their heads. On Friday night, they kept their heads and still ended up taking penalties. In some ways, that is what will make this loss so hard to overcome.
"You're going to have penalties in a game by just playing the game," Stevens said. "In my opinion, that's what happened tonight. The guys are playing hard. You guys are going to paint the picture you want to paint. Mike Knuble's trying to get position in front of the net there. I don't think that's a retaliatory penalty. I don't think I've ever seen Mike Knuble take a retaliatory penalty."
As for the Giroux penalty, Stevens acknowledged it wasn't a necessary penalty.
"That's the one I'd rather not see," Stevens said. "There's no danger on that play, so certainly I would like to see him not do that."
It seems painfully early in this playoff year to be talking "must wins," but that's the reality of what the Flyers face Sunday. And pain is something they are all too acutely aware of after this one.
Scott Burnside covers the NHL for ESPN.com.
ESPN Senior Writer
Covers hockey for ESPN.com
10 years at Toronto Sun, Windsor Star and National Post
Wrote best-selling true crime book "Deadly Innocence"
EDITORS' PICKS
Boston dealt a blow to Florida, while other Eastern playoff contenders looked to keep pace.
Inside the NHL

While it's too late for this season, the Blue Jackets are getting healthy and showing how tough they will be moving forward.
LeBrun »

Marc-Andre Fleruy has to prove he can dominate in the playoffs before anyone will expect the Penguins to make noise this spring.
Inside the NHL