Commentary
Giroux, young Flyers provide boost
PHILADELPHIA -- With all due respect to Kate Smith, God bless us, we have a series.
We pay homage to the legendary anthem singer on a Sunday afternoon when the Philadelphia Flyers revealed a steely resolve in defeating the Pittsburgh Penguins 6-3 to earn their first victory in this Eastern Conference quarterfinals series.
Even if this was a game shot through with the ghosts of the old Spectrum, whether it was Smith's image on the scoreboard joining Lauren Hart in singing "God Bless America," or the constant thud and whack of bodies being flung into the boards, it was nonetheless the next generation of Flyers who paved the way for this crucial victory.
[+] Enlarge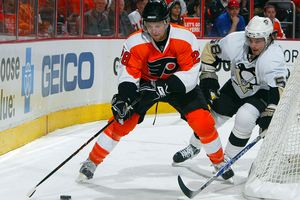 Jim McIsaac/Getty ImagesClaude Giroux is playing in the first playoff series of his career.
In the case of rookie Claude Giroux, last seen chopping Chris Kunitz's stick in half to set up the Penguins' overtime winner Friday night, Sunday's victory brought with it a little redemption, too.
The talented kid from Hearst, Ontario, playing in his first playoff series, scored and added an assist on arguably the two biggest goals of the series as the Flyers now have a chance to even this tilt at two games apiece here in Game 4 on Tuesday.
"He shows a lot of composure for a young player that age in a pretty intense environment," Philadelphia coach John Stevens said.
That "environment" came during a span of 4:26 in the second period, when it looked as though the Flyers were going to slide slowly into the playoff abyss. After the Flyers stormed to a 2-0 lead in the first 5:14 of the opening period, the Penguins scored with 12 seconds left in the frame on an unbelievable one-time snap shot from Evgeni Malkin and later tied the game 13 seconds into the second period.
But Giroux scored off the rush, thanks to a lovely feed from linemate Daniel Briere, and the Flyers were back in front, 3-2. Then, with the Flyers killing a penalty, Giroux took advantage of a lazy play behind the Penguins' net by normally reliable Sergei Gonchar to steal the puck. Giroux then waited until Simon Gagne moved into position and fed him a pass that became, ultimately, the game winner.
If the Flyers come back and win this series -- still a monumental task against a Pittsburgh team that also has all kinds of push-back in its lineup -- this may end up being the moment the series turned.
"He's been known to have elite vision," Stevens said. "That play he made to Gagne, I'm not sure there are many players that are capable of making a play like that. He didn't just throw it there blind. It was really an unbelievable pass by a young player."
"Gee, his hockey sense is incredible," added Flyers captain Mike Richards, while Briere suggested we may be witnessing the birth of a new NHL star.
Not bad for a young man who will always be remembered as the Flyers prospect whose name then-GM Bob Clarke forgot when Clarke got to the podium at the 2006 NHL draft.
"Obviously, I wanted to play a better game," Giroux said.
The goals revived a Wachovia Center crowd that, like the Flyers, had been momentarily dazed by the Penguins' revival and provided enough cushion to secure the victory.
It wasn't just Giroux who provided critical, if unexpected, youthful production in this game.
Jared Ross, the 26-year-old native of Huntsville, Ala., made it 5-2 with his first NHL point, and 23-year-old Darroll Powe, who scored his first playoff goal in Game 2, added an assist on the Giroux goal.
Their play was a major factor in the Flyers' evening the series in terms of even-strength play. The Penguins had simply been much better, rolling three, sometimes four, productive scoring lines through the first two games, outscoring the Flyers 4-1 at even strength. On Sunday, the Flyers scored three even-strength goals, four if you count Simon Gagne's empty-netter.
Overall, four Flyers registered their first goal of the postseason in this contest, including Jeff Carter, who had a chance to give the Flyers a two-goal lead in Game 2, but was denied. Carter scored the first goal Sunday during a wild, raucous opening to the game.
The question then becomes what this Flyers victory does to the dynamic of a series that had been squarely in the Penguins' control through the first two games. The stakes were dramatically higher for Philadelphia on Sunday; lose and they were done. Now, the Penguins will have to answer Tuesday or return home back at square one for Game 5.
So where does the pressure lie as the hours tick away to Game 4?
"It depends on who you ask," Pittsburgh captain Sidney Crosby said. "We want every single game, and it wasn't because we were looking ahead or anything. We expected this to be a tough series."
Crosby picked up two more assists Sunday to give him five points in three games, and also received his usual rough ride from the fans and managed to get into a bit of a tussle with Simon Gagne of the Flyers in the third period.
"The story of every series is different," said Jordan Staal, whose early penalty led to the Flyers' second goal. "Last year, we went up 3-0 in every series before the Cup final. So this year is going to be different. We have a little bit of adversity. We expected that. We didn't play well tonight, but we know we'll bounce back."
If those words sound familiar, it's because they mirror the words spoken by the Flyers after the first two games of this series. On Sunday, they were heard for the first time in the other dressing room.
Scott Burnside covers the NHL for ESPN.com.
ESPN Senior Writer
Covers hockey for ESPN.com
10 years at Toronto Sun, Windsor Star and National Post
Wrote best-selling true crime book "Deadly Innocence"
EDITORS' PICKS
Boston dealt a blow to Florida, while other Eastern playoff contenders looked to keep pace.
Inside the NHL

While it's too late for this season, the Blue Jackets are getting healthy and showing how tough they will be moving forward.
LeBrun »

Marc-Andre Fleruy has to prove he can dominate in the playoffs before anyone will expect the Penguins to make noise this spring.
Inside the NHL
MOST SENT STORIES ON ESPN.COM