Commentary
Biron existing just on edge of respect
PHILADELPHIA -- There was a time young Jacob Biron would insist on talking to his father, Martin, before every game, home or away.
He would outline, either in person or on the phone, what he wanted to happen, usually a couple of goals for good friend Daniel Briere and, of course, a shutout for his father, the Flyers' netminder.
This season, four-year-old Jacob's demands have been less predictable.
"He was almost superstitious about it. Now, he's not so methodical," Biron said Friday after the Flyers had an optional skate at their New Jersey practice facility.
[+] Enlarge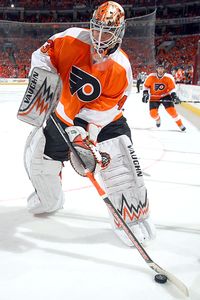 Jim McIsaac/Getty ImagesMartin Biron has a 2.28 goals-against average in the first round against the Penguins.
When Jacob woke up Friday, though, he had a special present waiting for him, a Pittsburgh Penguins' puck from his father's shutout performance in Game 5 on Thursday night. Jacob proudly took the puck to his preschool Friday morning to show his friends.
In some ways, the 31-year-old Biron is like his team, existing just on the edge of respect. Sometimes, he will edge into the spotlight, but just as often, he exists just outside its comfortable warmth.
Friday was one of those warm days.
"I think we played all playoffs last year as the underdog," Biron said. "It's not an easy thing because you know you're playing as an underdog because a lot of people are thinking the other team should win. So, you go out there and you're battling a huge battle."
He was talking about his team, but he might just as well have been talking about the perception of him as a goaltender.
At the outset of this Eastern Conference quarterfinals series, most observers thought the Pittsburgh Penguins would prevail at least in part because it was believed they held a significant edge in goaltending with Marc-Andre Fleury.
But as Game 6 looms Saturday afternoon, a glance at the numbers suggests Biron has played Fleury to a standstill. Fleury has a goals-against average of 2.27 compared to 2.29 for Biron. Fleury's save percentage is .929, while Biron's is .927. Both goalies have in effect stolen a game for their respective teams, Fleury in Philadelphia in Game 4, Biron in Game 5 (especially in the first period), keeping the Flyers alive for another day and, perhaps, changing the dynamics of this series.
"I'm sure Marty Biron's confidence has gone up a little bit after last game, going into Pittsburgh and winning us a hockey game where Fleury came in our building and won a game for them," Flyers forward Scott Hartnell said Friday. "I think you look at it that way. It's both 1-1 for the goalies winning games, and that's what you need in the playoffs, and we're going to need to feed off that energy tomorrow and help Marty as much as we can, blocking shots, clearing rebounds, tying up sticks … we all benefit from that."
Even though Biron was stellar last spring, leading the Flyers to upsets of the Washington Capitals and Montreal Canadiens before losing to Pittsburgh in the Eastern Conference finals, his future is by no means secure.
He will become an unrestricted free agent this summer, and there is a feeling that unless the Flyers can replicate their playoff success from last season, they will go in another direction goaltending-wise in a city where goaltending never seems to be quite good enough, at least for the fans.
"He was a bit part of our success last spring and it seems, like forever, there's doubts about goalies in Philadelphia," said Flyers forward Mike Knuble. "It's like quarterbacks in -- what's a good town where they're always doubting the quarterback? -- New York.
"But Marty battles. He's got a great demeanor," Knuble added. "He doesn't get too wound up, he doesn't get too low. You can't tell if he just had a shutout or he just got yanked for giving up a couple in the first. You can't tell. He stays on a really even keel and I think the guys really appreciate that, that there's no sense of, 'What's he going to be like today' or 'What's going to happen.'"
In fact, there is an appealing openness about Biron.
Earlier this season, when there were rumors he might be traded before the March 4 trade deadline, he chatted happily with ESPN.com about the rumors. Even facing elimination and the possible end of his career in Philadelphia, Biron appears nonplussed.
"It's one of those where you just forget about it," Biron said. "I remember last night, I was in the room after warm-up and I was like, 'OK, this is important, this is a big game for us.' But then I started to think, 'How did I feel in warm-up?' I wasn't thinking about what the situation is and how this game was a must-win for us. No, it was the guys shooting the puck.
"When you have too much time and you sit in the locker room, then you start thinking about it a little bit. But as soon as you step on the ice, you know that the game is the same and you play it."
After playing for years in the large shadow cast by Dominik Hasek in Buffalo, this represents Biron's first sustained opportunity to prove himself an elite NHL netminder, a starter, a go-to guy. Still, over the past couple of seasons, he has oscillated between being a bona-fide No. 1 netminder to being pushed by backup Antero Niittymaki for starts.
Did he imagine prior to Game 5 it might be the last time he throws on a Flyers jersey? Will he think about it Saturday?
"To be honest with you, when we played Game 4 [a 3-1 loss], after the game I was like, 'You know what, we're going to Pittsburgh, but this doesn't feel like this is the last game of the year playing in this building.' You have that feeling we're coming back.
"Tomorrow, when I come to the rink, hopefully I'll get that feeling, 'Well, you know what, I feel like we have another game in Pittsburgh this year.' You know, I've got some unfinished business over there that I'd like to accomplish," Biron said.
Biron is asked if he thinks he deserves to come back to Philadelphia, but quickly dismisses the question.
"Oh, I'm not even going to talk about it," Biron said. "I mean, who cares right now? It's so far down, the importance of the game and the playoffs and all of that, so that's not even an issue."
Scott Burnside covers the NHL for ESPN.com.
ESPN Senior Writer
Covers hockey for ESPN.com
10 years at Toronto Sun, Windsor Star and National Post
Wrote best-selling true crime book "Deadly Innocence"
EDITORS' PICKS
Boston dealt a blow to Florida, while other Eastern playoff contenders looked to keep pace.
Inside the NHL

While it's too late for this season, the Blue Jackets are getting healthy and showing how tough they will be moving forward.
LeBrun »

Marc-Andre Fleruy has to prove he can dominate in the playoffs before anyone will expect the Penguins to make noise this spring.
Inside the NHL