Commentary
The next 24 hours? It's all mental
PITTSBURGH -- The Pittsburgh Penguins have less than 24 hours to find out just how costly their 5-3 victory over the Washington Capitals was Friday night.
The Capitals have the same, painfully short period of time to find out if they are starring in the next chapter of their franchise's grisly playoff horror show.
Both teams face major challenges in regrouping mentally as a crucial fifth game looms Saturday in this Eastern Conference semifinal series, which includes the rare playoff occurrence of games on back-to-back days.
The Penguins may be without their best defensemen, Sergei Gonchar, who was lost after a controversial knee-on-knee hit by Washington star Alexander Ovechkin late in the first period. The Capitals, meanwhile, must rebound after blowing a 2-0 series lead, knowing their superhuman rookie netminder Simeon Varlamov sprung a leak for the first time this postseason.
[+] Enlarge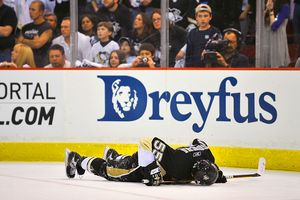 Jamie Sabau/Getty ImagesSergei Gonchar was hurt in the first period of Friday's Game 4 and his status is unknown for Saturday's Game 5.
As if this series needed any more drama.
Whatever happens Saturday in Washington, it's hard to imagine that the outcome won't be impacted in some way by Ovechkin's hit on Gonchar with 5:05 left in the first period. Ovechkin was bearing down on Gonchar, who tried to spin away from the Caps star. As he did, Ovechkin stuck out his right knee slightly and caught Gonchar flush on his right knee. Gonchar remained sprawled on the ice in obvious pain, even as the puck went up ice during the delayed penalty call.
"We're still evaluating where he's at," Pittsburgh coach Dan Bylsma said after the game. "It was an injury that he couldn't play with tonight. Our doctors are still looking at him and taking care of him."
Much of the discussion leading up to Saturday will be the hit, and no doubt, by the time you read this, league officials will have made a decision about whether or not to pursue supplemental discipline. It will be a shock if Ovechkin is suspended, even if many of the Penguins players were incensed by the hit.
"That's three games in a row where he's out there trying to hurt guys," Pittsburgh defenseman Brooks Orpik said.
Still, the NHL's goal-scoring leader for the past two seasons has no history of dirty plays.
That said, it will be a significant surprise if Gonchar plays Saturday night, and his loss has the potential to reshape the final three games of this series. It wasn't until Gonchar returned to the lineup in the second half of the regular season that the Penguins turned their season around and looked like Stanley Cup contenders. On this night, he ripped a power-play goal past Varlamov to tie the game at 1 early in the first period; he logs big minutes playing against opposing teams' top forward units.
"I think in terms of replacing Sergei Gonchar, you don't get to replace [No.] 55, but we have depth at the defensive position for a reason, this occasion," Bylsma said. "I think our team knows how to play whether we have a full lineup or whether we have to replace an injury like this. And I think our team will be confident going forward that we can do it and we don't have to change something or do something miraculously."
If Gonchar cannot play, look for Philippe Boucher to move into the lineup.
After the game, Ovechkin seemed genuinely remorseful about the hit on his fellow countryman.
"Yeah, probably was knee-on-knee, but like I tried to hit him with my shoulder and he just move left," the Russian forward said. "I was disappointed, too."
Ovechkin insisted he didn't want to hurt Gonchar. "It's not my play," he said.
This marked the second game in a row Ovechkin has seen the level of his play dip. He did not score for the first time in the series and registered only two shots on net. Remember Game 2 in Washington when he had three goals and 12 shots?
"Alex is only human. He can't be unbelievable every night," Washington coach Bruce Boudreau said. "If you take the analogies of baseball players, they don't hit home runs all the time. They can go eight games and then they'll get three and everyone's back on the bandwagon. Alex is a good player. He's a great player. He just had one of those nights where he's not going to get three goals."
If Ovechkin has been "mortalized," his counterpart in the hockey god department, Sidney Crosby, continues to lead the Penguins. He scored the game-winner early in the third period and added an assist. Both players have eight points in the series.
The problem for Boudreau is, he's suddenly got a team full of humans who need to regain their otherworldly form and not much time in which to engage such a transformation.
Norris Trophy candidate Mike Green did make a nice play that led to Washington's second goal, but Boudreau acknowledged there were a couple of defensive "gaffes." Most troubling, though, was the sudden deflation of Varlamov.
He was beaten five-hole from well out by Gonchar's shot that tied the game at 1 and then whiffed on a long Ruslan Fedotenko wrist shot that glanced off his catching glove and toppled into the net to give the Penguins a 3-1 lead in the first period. Later, when the Caps had closed to within one goal, Varlamov couldn't control a weak Maxime Talbot shot from the left side with 5:14 left in the third to restore the Penguins' third two-goal lead of the game.
Game 4 marked the first time in the series the Penguins had a two-goal lead at all, a testament to Varlamov's stellar play.
"He struggled. Again, he's human. He had a bad game," Boudreau said of his netminder. "When you look at it, it's his 10th game, I think, in the playoffs, and arguably there were four soft goals out of the five. But he'll bounce back. He's a real competitive guy."
Washington captain Chris Clark, who scored his first goal of the postseason Friday, said the Caps are still committed to Varlamov.
"If he gets it all out of him in one game, that's great," Clark said. "It happens. Everybody has an off night."
Boudreau made perhaps the boldest lineup move of this postseason. After Game 1 of the opening round, he yanked veteran netminder Jose Theodore and replaced him with the untested Varlamov, who responded by going 6-3 with a 1.64 GAA and .942 save percentage heading into action Friday.
The standing joke in the Caps' locker room has been that Varlamov, who speaks no English, has no sense of the pressure he should be facing. If that was the case, it is no longer.
Boudreau will go back to Varlamov in Game 5, but one wonders how long the leash will be if the Penguins get to him early. Not that giving up the first goal is a bad thing since the team that has scored first in this series has lost all four games.
This also marked the first game of the series in which Varlamov did not outplay his counterpart, Marc-Andre Fleury.
For the second game in a row, the Caps opened the contest by scoring on their first shot of the game. On Friday, it was Nicklas Backstrom, who beat Fleury with an eminently stoppable shot from the left side. Yet Fleury bounced back and did not allow the Caps to get up by two goals, robbing Sergei Fedorov with a glove save off a nice pass by John Erskine.
Varlamov did not provide such support for his teammates, and the "bend but don't break" theory of goaltending so important in Game 4 will be equally crucial as the clock quickly ticks away before Game 5 on Saturday night.
Scott Burnside covers the NHL for ESPN.com.
ESPN Senior Writer
Covers hockey for ESPN.com
10 years at Toronto Sun, Windsor Star and National Post
Wrote best-selling true crime book "Deadly Innocence"
EDITORS' PICKS
Boston dealt a blow to Florida, while other Eastern playoff contenders looked to keep pace.
Inside the NHL

While it's too late for this season, the Blue Jackets are getting healthy and showing how tough they will be moving forward.
LeBrun »

Marc-Andre Fleruy has to prove he can dominate in the playoffs before anyone will expect the Penguins to make noise this spring.
Inside the NHL