Commentary
Loyalty big part of Carolina's success
RALEIGH, N.C. -- When Carolina GM Jim Rutherford called up Paul Maurice in Toronto to ask Maurice if was interested in returning as the Hurricanes' coach, he might just as well have asked a simpler question:
Will you come home, Paul?
Because as much as the Hurricanes are a professional sports team and business entity, they have become a unique enterprise in that they have embraced and integrated the old-fashioned qualities of loyalty and consistency into their very makeup.
Looking around the Hurricanes' organization, there is the distinct impression that no one leaves, and if they do, they more often than not end up coming back.
They are the "Hotel California" of pro sports. You know, you can check out any time you like ... well, you get it.
It's not just Maurice, of course.
[+] Enlarge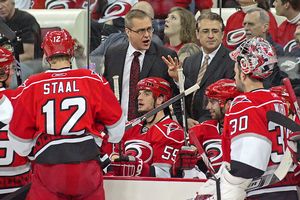 AP Photo/Karl B DeBlakerPaul Maurice rejoined Ron Francis in Carolina in December 2008, when the club fired coach Peter Laviolette.
• There's his associate coach Ron Francis, whose history with the team goes back to when Hartford drafted him in 1981.
• Assistant coach Kevin McCarthy has been with the organization 17 years.
• Glen Wesley finished out his stellar playing career in Carolina, saw his jersey raised to the rafters at RBC Center, and is now the team's director of defensemen development.
• Jeff Daniels played for Maurice, then became an assistant coach to Peter Laviolette and is now the head coach of the team's AHL affiliate in Albany. He's been with the franchise a dozen years.
• Matt Cullen won a Cup with the Canes in 2006 and went to New York, where the Rangers could afford to pay him what Carolina could not. Now, he's back in Carolina's lineup.
• Erik Cole was dealt to the Oilers for Joni Pitkanen as Rutherford remade his aging defense corps on the fly; but when Cole became expendable in Edmonton, Rutherford brought the forward back at this year's trade deadline.
You want more?
• Equipment manager Skip Cunningham was an original member of the Hartford Whalers of the World Hockey Association when they came into being in 1972.
"I think it means to everybody in the organization, if you do your job, you're not going anywhere," Maurice told ESPN.com this week. "A few bumps in the road really doesn't change their operating principles."
Francis recalled his first season as a player with the Hurricanes after he signed a big, five-year deal at the start of the 1998-99 season, the team's second in North Carolina after moving from Hartford, his first NHL home. Although he thought he was playing well, Francis said he wasn't putting up that many points and started to worry.
About 37 games in, though, Rutherford took Francis aside and told him not to worry; it was just taking his teammates time to get used to Francis' style of play.
"It was very comforting," Francis said.
Things, of course, did turn around, and after his Hall of Fame career ended, Francis returned to the franchise, first in a player development role and now as an associate coach with Maurice.
"I think from day one, I've always liked the way Jimmy and Pete Karmanos go about handling people," Francis said Friday.
They look for people with character, and when loyalty is shown to them, "they're extremely loyal to you. A lot of the time, that's not the norm," Francis said.
To understand how it came to this, you have to understand the architect: Rutherford.
The summer after the longtime netminder retired after 13 NHL seasons, Rutherford was approached by businessman and hockey fan Peter Karmanos about running some goaltending schools as part of Karmanos' growing minor hockey program in Detroit. That was in 1983. He hasn't left Karmanos' side since.
Rutherford worked with Karmanos when he bought the Windsor Spitfires major junior team and then when he bought the Hartford Whalers. It was Rutherford who oversaw the movement of the Whalers to Carolina in the summer of 1997. A relocation that probably should have taken 18 to 24 months was accomplished under Rutherford's watch in three months.
Sitting in the stands at Mellon Arena watching his team prepare for Game 2 of the Eastern Conference finals versus the Pittsburgh Penguins, he recalled the early days in Raleigh. People in North Carolina would ask him what he was doing there and he would explain he was bringing an NHL team to their town.
"And they still wouldn't understand what I was doing," Rutherford said with a grin.
No arena, no offices -- nothing -- when Rutherford first arrived.
"When you say nothing, you can say nothing, just a pile of dirt," Rutherford said.
Now he sees the banners on the cars and flags in front of homes and the thousands of tailgaters and the solid season-ticket base, and there is genuine pride in what he has accomplished.
Could he have gone elsewhere?
Rutherford is smart, patient and well-regarded. Bigger hockey markets with bigger payrolls have expressed interest, but, in the end, the Carolina Hurricanes are Rutherford's team. It is that simple. And so he remains.
"In the end, it's pretty hard to leave all that behind," said Rutherford.
It's that kind of investment in time and loyalty that speaks to the identity of this team.
"What Jim is above all is consistent, in everything that he does. He's not slow. He's just consistent. He thinks about these things," Maurice said. "Does it fit? Does it fit? It's the question that he always asks. Does this player fit what we're trying to do."
Since Maurice took over during the 1995-96 season, the franchise has employed two coaches, Maurice and Laviolette. Critics will argue Rutherford stuck with Maurice too long, yet the GM knew of the extenuating circumstances that faced Maurice, whether it was crippling injuries or moving the franchise. Then, all of a sudden, the Canes were in the Stanley Cup finals for the first time in 2002.
"You know, my name was in the paper occasionally about getting fired when I was in Carolina the first time through," Maurice said. "And the first time I knew it was serious when [Rutherford] sat down and said, 'It's critical now.' And that's when I knew it was on. When the day came, I knew I was toast because his secretary called me and said that Jim wanted to meet with me at 10 o'clock."
When Rutherford called to tell Maurice he was making a coaching change earlier this season, Maurice was on his way from Windsor, where he was taking classes, to Toronto.
"And he said, 'When can you be here.' And I laughed and I said, 'What are you going to do?' And he says, 'Can you be here tonight.' And so now there's a pause because now I know he's not messing around anymore," Maurice said. "We went through all the reasons why this, in my opinion, made absolutely no sense for both of us.
"But then he said these are the reasons why it will work. ... At the end of it, that's all it came down to. He said, 'I think this is the right thing for you. I know it's the right thing for us.' I said I'll be there tomorrow."
It might have looked like a curious move at the time, repatriating a coach who had mostly a losing record with the team, but Rutherford knew what he wanted and got it.
"I had no doubt that it was the right thing for our team because I knew what our team needed," Rutherford said. "I knew it would take some time."
He was right on both counts and here they are. Granted, the Canes are down 2-0 to Pittsburgh, but they are in the East finals, a place few thought they would be when Rutherford fired Laviolette in December.
As amiable as Rutherford is, there is a burning desire to win beneath his calm exterior. The past two years, especially last season when they lost on the final night of the regular season and missed a playoff spot, were grand disappointments after the sheer ecstasy of having won the team's first Stanley Cup in 2006.
"There's no way to describe it. You go to the top and you get knocked back down," Rutherford said. "Especially last year. We were in first place [in the Southeast Division] for 81 games."
The Hurricanes will never be a salary-cap team. That's just the reality of the market and the team's finances. So, when Rutherford goes shopping, he's not looking at players like Marian Hossa, who are proven, brand-name players with brand-name price tags; he looks at a more basic quality, character.
When the Hurricanes move a player, more often than not it's economic, a player can get more money somewhere else. It's rare they move anyone because they don't like him, Rutherford said.
That's why Cole and Cullen are once again part of the Canes' Stanley Cup hopes.
"When you come back it feels like home," Cullen told ESPN.com. "I think every guy that comes back feels that. They do a good job of creating a family culture."
And the proof of the team's success is obvious. It's obvious in the names of the players and coaches etched on the Stanley Cup for their 2006 win. It's obvious now in their third trip to the conference finals since 2002. No other team has had that kind of success over the same period of time other than the Detroit Red Wings.
"As much as they're loyal to you, a lot of people are loyal back to the team," said Daniels. "It's a two-way street."
For something that sounds pretty simple, the Carolina Hurricanes still seem to have carved out a unique space in the world of sports.
Scott Burnside covers the NHL for ESPN.com.
ESPN Senior Writer
Covers hockey for ESPN.com
10 years at Toronto Sun, Windsor Star and National Post
Wrote best-selling true crime book "Deadly Innocence"
EDITORS' PICKS
Boston dealt a blow to Florida, while other Eastern playoff contenders looked to keep pace.
Inside the NHL

While it's too late for this season, the Blue Jackets are getting healthy and showing how tough they will be moving forward.
LeBrun »

Marc-Andre Fleruy has to prove he can dominate in the playoffs before anyone will expect the Penguins to make noise this spring.
Inside the NHL