Commentary
Don't forget teams' journeys to Game 7
PITTSBURGH -- There was a picture taken six years ago of coach Dan Bylsma, then a forward with the Anaheim Mighty Ducks, and New Jersey Devils netminder Martin Brodeur.
It was Game 7 of the 2003 Stanley Cup finals. The score was tied 0-0. The puck was in the air. Bylsma had tipped a point shot into Brodeur's shoulder and Bylsma had another swing at the rebound. He missed.
The Mighty Ducks went on to lose that deciding game 3-0.
"I don't know if I saved the picture, but I think it's probably somewhere. I don't look at it, I don't pick it up. It's not something that I like to think about, but it's pretty much emblazoned in my memory," Bylsma said Wednesday morning, about 12 hours after his Pittsburgh Penguins had earned a chance to play a seventh and deciding game in the Stanley Cup finals Friday night in Detroit with an excruciatingly close 2-1 win in Game 6.
[+] Enlarge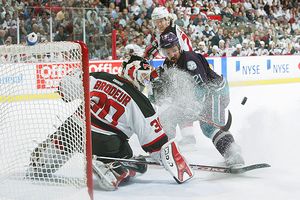 Elsa/NHLI/Getty ImagesThis picture? It's one Pens coach Dan Bylsma would rather not remember, a missed chance against the Devils in Game 7 of the 2003 Cup finals.
"But that's the agony and the beautiful thing of sports, that we play a game, and we play it for some great reasons to win a Cup, to win a trophy, to be the best," Bylsma said. "When you don't get it, it's painful. And when you get it, it's glorious, and you get a lot of good pictures. You take the bad ones if you don't win and you put them in a basement in a box somewhere and we're looking for one we can hang on the wall."
Bylsma's coach in the 2003 finals was Mike Babcock, now bench boss of the Red Wings.
He recalled that seventh game and how it was a scoreless tie after the first period and how he thought things were going to go their way. And he remembered the winning goal ping-ponging off of about four players and finding its way past netminder Jean-Sebastien Giguere.
One of these men and the players who play for them will have similar memories of heartbreak Friday night. The others will have their names engraved on the Stanley Cup for all time.
It doesn't get much more defined than that and is something that should be embraced, not feared.
"You understand they don't just give us a ticket to come here like you guys. We've got to earn it. So getting here is hard," Babcock said Wednesday. "Now do we want to win? Absolutely. Is the summer better if you win than if you lose? No question about it. But I'd say there are 28 teams sitting at home that would just love to be having this opportunity.
"To me, this is something that just adds on to your career; for the players, for coaches, for an organization, for everybody. It's just a great thing. I think our players should really enjoy the next couple of days in their preparation so that words like fear and what you're talking about, to me, don't enter the picture one bit. Not even close."
The view of this season is now at its finest point. The thin edge of the wedge. Being here tends to dull the memory of what it took to get here.
The path journeyed by these two teams now seems covered in mist, as though it happened in some dream world or to other people entirely.
The Penguins began the season in Stockholm. Remember that?
They lost defenseman Sergei Gonchar to a shoulder injury even before the season started. They chafed under coach Michel Therrien, the taskmaster who had revived the team's fortunes. They were a team adrift when Therrien was fired and Bylsma arrived in mid-February. It didn't take long, though, for Bylsma to introduce a different style in which the team forced opponents with an up-tempo, aggressive forechecking style of play.
"It wasn't a hard thing to do, to say, let's get on our toes and let's go after this thing and play the right way and get to the offensive zone and play at a pace that makes it tough for other teams to play with us," Bylsma said. "I think the biggest thing about what happened since February is how quickly the guys said that's the way we need to play."
Both Jordan Staal and Rob Scuderi recalled Wednesday morning a five-game road trip around the trade deadline that seemed to be the defining moment in their regular season. The team went to Chicago on Feb. 27 and made stops in Dallas, Tampa, Florida and Washington.
"We were in 10th or 11th place," Scuderi recalled. "We won the first three, and then we made a couple of trades after that, picked up Billy [Guerin] and [Craig] Adams. I thought after that, once you saw the team play, we had a realistic chance of really turning this around. For me, that was a turning point in the season."
The Pens went 5-0-0 on the trip and outscored their opponents 20-10. It was part of a stretch when they lost in regulation just once in 17 games.
"Yeah, I think that was definitely a turning point for myself, as well, that road trip," Staal said. "I think we knew coming into it, if we didn't have a great road trip, it would definitely be difficult to make the playoffs."
Under Bylsma, the Penguins went 18-3-4 and have gone 15-8 in the postseason. Over the past few days, Bylsma's wife and son have been fixtures at Mellon Arena after spending most of the time in Wilkes-Barre, where Bylsma was coaching previously. Other members of his family have been around and were, in fact, waiting outside the media area Wednesday morning.
Does he think about the journey to the edge of a seventh and final game?
"I do think about it pretty much daily," Bylsma said. "I mean, my family has come to see me and it's like, can you believe what's happening? Can you believe it? And I'm like, 'Not really, I can't believe it.'"
Bylsma insists he's not a person who denies the thoughts he has, whether they are thoughts of self-doubt or disappointment or hope.
"I'm not a person who likes to deny my thoughts or what I'm going through or ignore everything around me," he said. "It's a unique opportunity. Fifteen times there's been a Game 7. To play for the Stanley Cup, it's a unique and great opportunity.
"And where we've come since last year at this time, since the start of the season, since Feb. 15, wherever you want to pick up the storyline from, it's an amazing thing to have accomplished and earned."
Although it may seem to the uninitiated that this finals series -- and perhaps this final winner-take-all game -- was preordained, the Wings often looked slightly out of kilter during this regular season. They finished the season tied for 19th in goals against per game. They were 25th killing penalties during the regular season and have continued to struggle on the PK in the postseason.
Were there moments when Babcock wondered if his team was really good enough to get to this point again?
"Well, many times," Babcock said. "You know, we won a lot of games, but after the game each night when you know how you're supposed to play and you know how a team plays right, you say to yourself, 'Are we going to get this to the level we want to?' To be honest with you, going into the playoffs against Columbus, you wonder how much you have in the tank. You wonder how much drive you have."
Veteran winger Kris Draper, on the verge of winning his fifth Stanley Cup with the Red Wings, acknowledged that sometimes it was hard for this group to get up to speed in the regular season.
"Sometimes, I'll be honest with you, during the regular season, you know, when you play a lot of hockey and you get to the point we're at right now, sometimes it is tough to get up for some of those dog day games," Draper said. "But we found ways to win a lot of hockey games.
"The important thing right now is, we've always said, and it probably goes through all professional sports, that if you're going to play in a Game 7, you want to play it in your building. And that's exactly what we've been able to do. You know, win enough regular-season games to make sure that this, obviously, such an important game, is back here at the Joe. So we've found a way."
Detroit GM Ken Holland has said this many times: If you keep knocking on the door, eventually they'll let you in.
"That's what we're doing again," Babcock said. "We're right there, and both of us have our foot in the door and someone's going to knock it open."
Take a picture of that.
Scott Burnside covers the NHL for ESPN.com.
ESPN Senior Writer
Covers hockey for ESPN.com
10 years at Toronto Sun, Windsor Star and National Post
Wrote best-selling true crime book "Deadly Innocence"
EDITORS' PICKS
Boston dealt a blow to Florida, while other Eastern playoff contenders looked to keep pace.
Inside the NHL

While it's too late for this season, the Blue Jackets are getting healthy and showing how tough they will be moving forward.
LeBrun »

Marc-Andre Fleruy has to prove he can dominate in the playoffs before anyone will expect the Penguins to make noise this spring.
Inside the NHL