Commentary
15 reasons to love the Blackhawks
Updated:
April 30, 2009, 2:50 PM ET
By
George Johnson
| Special to ESPN.com
Hockey is back in the City of Big Shoulders. In a major way. And we who worship at the shrine of Elmer "Moose" Vasko could not be more ecstatic.
From the emergence of Jonathan Toews and Patrick Kane as Teen Beat heartthrobs to the icy excitement generated by the Winter Classic at venerable Wrigley Field, to the updating and reimagining of a franchise languishing in neglect, this is indisputably the Year of the Hawk.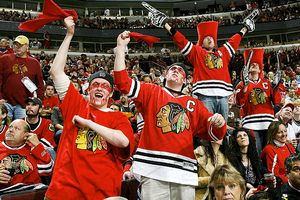 Bill Smith/NHLI/Getty ImagesBlackhawks fans are seeing their first second-round series since 1996.
Hey, they're young, they're fast, they're audacious, they're fun. No denying it. And although nothing's perfect -- you cringe a little at the money shelled out for softie defenseman Brian Campbell and playoff backup goalie Cristobal Huet, and the fact that they're into that really annoying "Don't step on the logo" nonsense in the dressing room and fence off the big Hawk on the carpet -- there's no doubting we're over the moon to see the Chicago Blackhawks returned to their rightful place.
As they open their first second-round series in 13 years, against the Vancouver Canucks, we salute the Hawks and give you 15 reasons why it's so great to have them around at the beginning of May:
1. The anthem
It's big, it's bold, it's brassy and it brings a nostalgic tear to the eyes of those of us old enough to remember. One of the true spine-tingling moments you'll ever experience, as crescendo upon crescendo of noise builds to the boffo finish by opera baritone Jim Cornelison, "Oh, say, does that Star-Spangled ba-a-ner-er yet waaaaaaave …" Because of the dimensions of the new building, it's not as ear-perforating as the more intimate old Stadium (aptly dubbed the Madhouse on Madison), maybe, but close. At least as close as you're going to get anywhere today. And this joint can hold 22,000-plus. Worth the price of admission alone.
2. The defensive pairing of Brent Seabrook and Duncan Keith
Arguably the most compatible tandem in hockey at the moment, perfectly complementing each other. Seabrook can bang bodies and unleash howitzers from the point. The quiet, absurdly unheralded Keith was plus-33 as a shut-down defenseman. Best of all, they're 24 and 25, respectively. A duo you can build a team around for a decade. And our first choice for the Team Canada 2010 blue line in Vancouver.
3. The Jordan Statue
OK, it's a basketball shrine, but it's still cool to be able to stroll past His Airness at full stretch on a big hockey night.
4. Jonathan Toews
At 20, he's already wise and winning beyond his years. Wee Patrick Kane, a cocky little sprite, might have received the Calder Trophy last season and still generates most of the out-of-town attention, but Toews is the complete article. And he hasn't stopped growing, or developing. This guy is going to be a captain on the Steve Yzerman/Joe Sakic level, and in short order.
5. The Palace Grill
Just down from the United Center, right next door to the Johnny's Ice House practice rink, it's a roadhouse right out of the '40s. You've got to love a place that has one sign -- "Sorry, we are open" -- during business hours and another -- "Thank God, we're closed" -- when it's locked. Spend $6.50 and buy the Sphincter Heater (aka Smokin' Colon) Hot Giardiniera, 16 ounces of fiery goodness.
6. Owner Rocky Wirtz
The resurrectionist of the franchise, he put the Hawks back on TV, hired president John McDonough away from the Cubbies and made the puck fashionable again.
7. The rebirth of Nikolai Khabibulin
Who doesn't get a kick out of a pariah-to-messiah story? And the Bulin Wall is certainly fashioning one so far this playoff year. Placed on waivers and unclaimed in the preseason, the soon-to-be unrestricted free agent is making a statement that he's still got the goods, five years after backstopping Tampa Bay to a Stanley Cup championship.
8. That jaunty "Here Come the Hawks" anthem
Written by J. Swayzee and produced by the Dick Marx Orchestra and Choir in 1968. Schmaltzy, sure, but it's one of those old-time ditties that you can't get out of your head, no matter how hard you try.
[+] Enlarge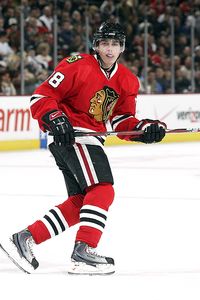 Bill Smith/Getty ImagesPatrick Kane has two goals and two assists so far this postseason for the Hawks.
9. The regal presence of Scotty Bowman in the front office
Enough said.
10. Coach Joel Quenneville
Hardly the most dynamic quote going, but one of the nice guys in the game who fell into a dream job when Denis Savard was fired. He outcoached the flinty Mike Keenan, the last man to take the Hawks as far as the Cup finals, as Chicago trumped the Flames in the first round.
11. The emergence of Dustin Byfuglien as a premier power forward
A broth of a boy at 6-foot-3 and 255 pounds, Byfuglien came of age during the Calgary series. "When he grows into his body," said Hawks left winger Andrew Ladd, "he's going to be scary." A rink rat who grew up in Roseau, Minn., raised by his mom who worked in a Ski-Doo factory to support them, Byfuglien (pronounced Buff-lin), led the physical assault on the more experienced Flames. When he figures out what he's capable of, Byfuglien might be close to unstoppable.
12. The Brady Bunch factor
Kane and Toews are only 20, Niklas Hjalmarsson 21, Dave Bolland and Kris Versteeg 22, Cam Barker, Andrew Ladd and Troy Brouwer 23, Seabrook and Byfuglien 24, Ben Eager 25 and Adam Burish 26. Think of it. If general manager Dale Tallon can somehow find a way to keep this group together as contracts start coming up, they're going to be a force at playoff time for the next half-decade, minimum. Perhaps not since the Oilers of the early '80s has such an assemblage of burgeoning talent been in one place with the opportunity to grow up together.
13. Easily the best pregame JumboTron video package we've seen
Reverential yet modern, as current as Kane's curls and as old-school as a Billy Reay fedora. The Golden Jet, Stan Mikita, Tony O, Mr. Goalie, Keith Magnusson, Pierre Pilote, J.R., Eddie the Eagle, Dipsy-Doodle Denis, Al Secord … what else could a slavish shinny devotee possibly ask for?
14. The Allen Organ
A spot-on replica of the old arena's famous Barton organ.
15. You can keep the pinstripes or that Celtic green tank top
For our money, the Hawks' red home model is the best jersey in all of sports. Bar none.
George Johnson, a columnist for the Calgary Herald, is a regular contributor to ESPN.com.
George Johnson, a columnist for the Calgary Herald, is a regular contributor to ESPN.com.
2009 STANLEY CUP PLAYOFFS

The second round of the Stanley Cup playoffs is here. Scott Burnside, Pierre LeBrun and the rest of our NHL team preview the action:
EASTERN CONFERENCE
WESTERN CONFERENCE
MORE COVERAGE
SPORTSNATION
MOST SENT STORIES ON ESPN.COM