Commentary
Rangers winning physically, mentally
WASHINGTON -- This is no longer about Henrik Lundqvist single-handedly beating the Washington Capitals.
That may have been the case in Game 1, but as the New York Rangers departed the nation's capital Saturday evening with a stunning 2-0 lead in their best-of-seven Eastern Conference quarterfinals series with the favored Washington Capitals, one thing is abundantly clear: There's only one team paying the price in this series right now.
As underlined by their whopping 29 blocked shots in Saturday's 1-0 victory at Verizon Center, the seventh-seeded Blueshirts are laying it all on the line in their bid to upset the second-seeded Capitals. They are sacrificing their bodies for the greater good, taking hits to make smart plays and collectively committing themselves to a shut-down game that's limited one of the NHL's premier offensive machines to three goals in two games.
[+] Enlarge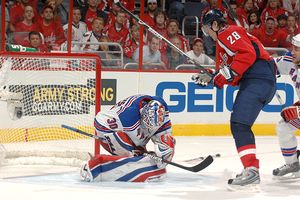 Mitchell Layton/Getty ImagesHenrik Lundqvist made 35 saves in Saturday's win, including one during a bizarre sequence where he had to use a teammate's stick.
And let us just say, it's damn impressive to watch.
"It's just a lot of courage on their part," Capitals coach Bruce Boudreau said in tipping his hat to the visitors. "They're a committed group. It's going to be a tough hill to climb."
Pretty? Not so much. We pity NBC for being stuck with this one. It was a throwback grindfest as the Rangers filled up lanes and kept it simple. But it worked.
"Anything that gets us the win," said Rangers captain Chris Drury, who returned after missing two games with an undisclosed injury and played 15:25. "We're not trying to be the prettiest. We just want to win, and at this time of year, that's all that matters."
It's fitting Ryan Callahan scored the lone goal of the game 7:44 into the first period, finishing off a pretty setup from Markus Naslund and roofing it top corner on surprise starter Simeon Varlamov. As we told you in our Friday story, the hard-working Callahan has been a big story with the Rangers this season, his aggressive two-way game rubbing off on his teammates.
This was a team that searched for an identity for so much of the season and came into this series very much the underdog. None of the New York beat writers picked the Rangers to win this series. Not a single one. (Neither did we, of course.)
But what began with a late-season push to make the playoffs, including a season-ending, home-and-home sweep of the rival Philadelphia Flyers, is now showing its colors. The John Tortorella Rangers have a face. They grind it out. They're not fun to play against.
"I love the way we're fighting right now," said the Rangers coach. "But we cannot lose our edge because this series could turn around quickly."
Maybe, but what a scene awaits us Monday night at Madison Square Garden. Bring the earplugs.
"I'm sure the Garden is going to be rocking," Drury said. "It's going to be fun."
Nothing's been fun so far for Alex Ovechkin. The Caps superstar winger doesn't have a goal despite 19 shots on goal in the series. On Saturday, he managed six shots, but countless efforts were thwarted by a swarming Rangers defense that repeatedly blocked or deflected his shots away. The Rangers have a read on Ovechkin's patented toe-drag wrist shot, and they're getting in the way of that one, too.
"He's going to get shots," Rangers defenseman Wade Redden said. "You want to try and get in his way and not give him time to wind it up. I don't think you ever neutralize a guy like that, he finds ways to get things done. Everyone collectively has been real strong coming back and helping out in our end."
Redden -- you know, the guy who got booed all season at MSG -- was dynamite again for a second straight game. He played a team-high 25:04 and was instrumental along with partner Michal Rozsival in helping shut down Ovechkin's top line with Nicklas Backstrom and Viktor Kozlov.
"Wade's almost played 100 playoff games, he knows what he's doing out there," Drury said. "Rozy has been around a long time. It's showing."
It is indeed. The Rangers have made the playoffs all four seasons since the lockout. The Caps are still new at this. Right now, the team that's up 2-0 in the series is playing like it's been here before.
"Every little thing adds up," Redden said. "That's one thing we try to key on -- being real good in key areas of the ice. We feel good about where we're at, but there's lots to be done yet."
But let's not forget Lundqvist in all of this. Yes, his team played much better in front of him in Game 2 and deserved equal billing, but the fact remains the 2006 Olympic gold medalist from Sweden has stopped 67 of 70 shots thrown at him in this series. He's oozing confidence, and that relaxes the guys in front of him.
"Hank was phenomenal," said Rangers forward Brandon Dubinsky. "That's not a surprise. It's not a secret. He's always good. I guess sometimes it gets overlooked because it happens so much. But he was definitely phenomenal tonight."
Count Ovechkin among his fans.
"He made some unbelievable saves, especially in the third period," said No. 8. "Lundqvist did an unbelievable job."
At this point, if you're Washington, you have to be concerned that Lundqvist is also gaining a mental edge on your young players, much like Patrick Roy and Martin Brodeur did over the years.
"I don't know about in their head," Boudreau said. "They know he's good."
The Caps' confidence is clearly shaken. That's human nature. You rock and roll all season long and then fall on your face in the opening two games of the playoffs against a team nobody gave a chance. For a team with only nine playoff games under its belt since the lockout, it's tough to draw on anything for inspiration.
"Everyone is a little frustrated," Caps defenseman Mike Green said in a dressing room that had less life than a funeral home. "Some of us weren't really excited about coming out here to speak right now. But we have to stay focused and stay confident and we'll be fine. We're a good hockey team. We proved that this year. There's no reason why we can't win."
Some of the Caps pointed to last season's opening round with Philadelphia, when the team rallied from a 3-1 series deficit with Philadelphia to force Game 7.
"Anything is possible," Green said. "But one thing I've seen from our team over the last two years in the playoffs is that we come out slow. Hopefully it's not too late here."
And what of Boudreau's surprising gamble in goal? You can't fault Varlamov. He was solid in allowing only one goal on 24 shots. But what now? You've played your one ace in the deck and it still didn't produce a win. Boudreau is running out of options and his team is running out of time.
We'll find out more about Ovechkin on Monday in New York, in the franchise's biggest game since the 1998 Cup finals. This is where reputations are earned. Just ask Henrik Lundqvist.
Pierre LeBrun covers the NHL for ESPN.com.
ESPN Senior Writer
Covers the NHL for ESPN.com and TSN in Canada
Six years on the "Hockey Night In Canada" Hotstove panel
13 years at The Canadian Press national news agency
EDITORS' PICKS
Boston dealt a blow to Florida, while other Eastern playoff contenders looked to keep pace.
Inside the NHL

While it's too late for this season, the Blue Jackets are getting healthy and showing how tough they will be moving forward.
LeBrun »

Marc-Andre Fleruy has to prove he can dominate in the playoffs before anyone will expect the Penguins to make noise this spring.
Inside the NHL