Commentary
Caps' frustration? We've seen it before
NEW YORK -- Not sure if Alex Ovechkin is a big hockey history buff, but if he looked up the 1992-93 Quebec Nordiques, he would see an eerily similar squad to his young and mystifying Washington Capitals.
The way in which the high-flying Caps are down 3-1 to the New York Rangers in their Eastern Conference quarterfinals series following Wednesday night's 2-1 loss at Madison Square Garden brings back memories of that '93 first-round matchup between the ubertalented Nordiques and rival Montreal Canadiens.
[+] Enlarge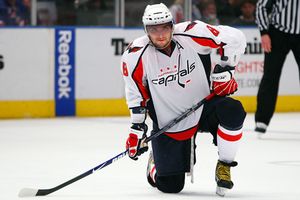 Jim McIsaac/Getty ImagesAlex Ovechkin had 11 shots and scored the Caps' lone goal in Wednesday's Game 4.
The Nordiques were loaded with 21-year-old Mats Sundin, 23-year-old Joe Sakic, 20-year-old Mike Ricci, 20-year-old Owen Nolan and 21-year-old Adam Foote. But what they didn't have was Patrick Roy. He was in the Montreal net and single-handedly stole the series away from the more talented Nordiques; the Habs were outshot and outchanced, but not outscored, during their six-game victory.
Feel like you've seen this movie before?
The Caps have the 23-year-old Ovechkin, 21-year-old Nicklas Backstrom, 25-year-old Brooks Laich, 25-year-old Alexander Semin and 23-year-old Mike Green. But what they don't have is Henrik Lundqvist. Sure, Capitals rookie goalie Simeon Varlamov played another solid game, stopping 19 of 21 shots. But like Roy in '93, Lundqvist is in the process of stealing this series.
The Caps have outshot the Rangers a whopping 149-99 through four games, a margin that to the naked eye would all but guarantee a series lead. But on Wednesday night, Lundqvist was yet again ... "the best," said Rangers forward Brandon Dubinsky. "Like Tina Turner, 'Simply the Best.'"
We're a little concerned the 22-year-old Dubinsky even knows who Tina Turner is, but hey, he's right. Right now, in these Stanley Cup playoffs, no netminder in the NHL is putting on this kind of performance.
Oh, you'll hear all these critiques of the Caps again -- too much perimeter play, not enough traffic in front of Lundqvist, blah, blah, blah. Stop it. Ovechkin was a monster Wednesday night, his highlight-reel goal in the third period the only dividend of what was another passionate performance. The guy had 11 shots on goal -- that's more than what the entire Rangers team mustered in the final 40 minutes, when it was outshot 30-10.
"When you outshoot a team 19-5 in a period in their own building and they come out of it with the one goal, you know the goalie at the other end is doing something right," said Washington coach Bruce Boudreau.
Folks, don't overanalyze this baby. The seventh-seeded Blueshirts are one victory away from upsetting the second-seeded Caps because of one man.
"Lundqvist did an unbelievable job," an obviously frustrated Ovechkin told reporters.
We're not trying to downplay what the Rangers are doing. You have to admire Chris Drury's courage, the captain playing with a suspected right hand/wrist injury and scoring the game winner Wednesday night.
[+] Enlarge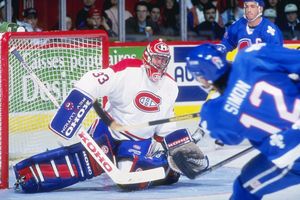 Robert Laberge /Allsport/Getty ImagesMany young Nordiques forwards tried to get shots past Patrick Roy in 1993, but to no avail.
"Big heart," said Rangers defenseman Derek Morris. "That's why he's our captain."
And let's underline the fact that Washington's star-studded power play, ranked second in the NHL in the regular season, was shut down on six opportunities Wednesday night, including two key kills in the third period when Rangers pest Sean Avery took a pair of stupid penalties.
"The penalty kill was fantastic," said Rangers coach John Tortorella, whose club ranked first in the NHL during the regular season in that department.
But again, the best penalty killer on the ice was the man wearing the mask.
"That is why we have a very good goalie and he is going to have to be good," said Tortorella. "They going to get chances. That is just the way it is. We knew that going in. We talked about that before we started the playoffs. We just need to contain them the best way we can. At times, we are good at it; at times, we struggle. I don't think it is so much our struggle; that is a pretty good group of forwards."
When you're an underdog you also need the odd bounce. Paul Mara's first-period goal was a pingpong job that bounced off Caps blueliner John Erskine and into the net. Drury's second-period tally was a shot that popped over Varlamov after the goalie let out a fat rebound.
"I think they scored two lucky goals," said Ovechkin. "But they got in the net. We didn't score on our chances. We played with energy and passion, but it wasn't good enough."
It ended in ugly fashion for those 1993 Nordiques. Who can forget Quebec coach Pierre Page laying into Sundin on the bench during a Game 6 clinching win by the Habs at the old Montreal Forum. The young Nordiques had come undone at the seams as the series moved forward. Roy had got into their heads.
The question now is whether Lundqvist has done the same with the Caps.
Pierre LeBrun covers the NHL for ESPN.com.
ESPN Senior Writer
Covers the NHL for ESPN.com and TSN in Canada
Six years on the "Hockey Night In Canada" Hotstove panel
13 years at The Canadian Press national news agency
EDITORS' PICKS
Boston dealt a blow to Florida, while other Eastern playoff contenders looked to keep pace.
Inside the NHL

While it's too late for this season, the Blue Jackets are getting healthy and showing how tough they will be moving forward.
LeBrun »

Marc-Andre Fleruy has to prove he can dominate in the playoffs before anyone will expect the Penguins to make noise this spring.
Inside the NHL