Commentary
Lidstrom shows that vets still got game
DETROIT -- While the Alex Ovechkin vs. Sidney Crosby playoff premiere takes center stage in Round 2 of the NHL playoffs, we were reminded Friday night that reruns can be fun to watch, too.
Six-time Norris Trophy winner Nicklas Lidstrom scored a pair of goals, including the game winner with 50 seconds remaining in the third period, as the defending Stanley Cup champion Detroit Red Wings edged the Anaheim Ducks 3-2 in Game 1 of their Western Conference semifinals series.
Playing in his first game as a 39-year-old (his birthday was Tuesday), Lidstrom stole the spotlight when he darted in from the point and slipped his own rebound between the legs of Ducks netminder Jonas Hiller for the winner. Joe Louis Arena rocked, just as it has so many times in the past two decades whenever Lidstrom has displayed his artistry.
"I'm not sure," Lidstrom said with a quizzical look when we asked him whether he had ever scored such a late game winner in the playoffs. "I can't remember ever scoring that late in a [playoff] game."
[+] Enlarge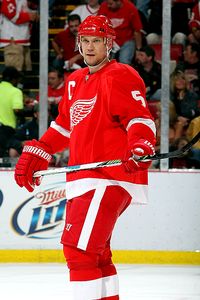 Dave Sanford/NHLI via Getty ImagesNicklas Lidstrom has never missed a playoff game for the Red Wings.
His first goal of the night has been seen over and over and over again in these parts. Perfect slap shot through a Tomas Holmstrom screen on the power play, top corner, blocker side. It's an old movie, but, oh, does it ever have a happy ending year after year after year.
Lidstrom collected the 46th and 47th playoff tallies of his illustrious career. But was he mentioned even once in any kind of national preview for the second round? We know where the attention is going. That's fine with the Red Wings, who are 5-0 in the postseason, even if no one is paying attention right now.
"We kind of liked the first round. I don't even know if TV covered us in the first round," said Wings coach Mike Babcock. "I think it's great for hockey what's going in Washington and Pittsburgh. The guys you [media] like to talk about are in that series, and that's going to sell the game.
"We just like to motor along here and keep winning and not have to deal with anything [media attention]. It's actually a break."
Well, there is going to be some kind of attention on this series. If Game 1 is any indication, it's picking up right where we left off in 2007, when these two teams last clashed, with the Ducks prevailing on their way to their first NHL championship. It was a nasty, physical series that could have gone either way, maybe the best series of the playoffs that season.
So far, so good in this Game 1. These two teams didn't take any time to feel each other out. Mike Brown's borderline hit on Jiri Hudler 11:29 into the first period ended the formalities. The Ducks forward was given a five-minute interference penalty and a game misconduct for a play that left Hudler bloodied. Babcock called it a dirty and vicious hit. Lidstrom said one of the referees told him, "It was a shoulder, but late."
Ducks coach Randy Carlyle saw it differently.
"I'm sure they're going to say it's dirty," Carlyle said. "But this is a game that's played where physical contact is allowed. We timed the hit … there wasn't a second that went off the clock. … He didn't hit him with his elbow; he hit him with his shoulder. Hudler was admiring his pass. They can say it's a dirty hit, [but] it wasn't."
Expect NHL disciplinarian Colin Campbell to take a good look at it. Hits to the head have become a serious issue that Campbell and his hockey operations staff in Toronto have tackled well this season. That was demonstrated when Washington Capitals tough guy Donald Brashear was suspended for his nasty check to the head of New York Rangers forward Blair Betts in the first round. This one wasn't as bad because -- as Carlyle correctly pointed out -- Hudler was indeed admiring his pass, but it was still a hit to the head.
"The league and the players' association are big at protecting guys' heads," Babcock said. "Like you, I'll just wait and see."
Can you already sense the tension in this series, folks?
Carlyle sounded agitated after the game. The Wings spent twice as much time on the power play, and you got the sense the Ducks coach was frustrated some calls weren't going his way.
"Does the officiating have some effect on my temperament? Yes. But that's not the reason [we lost]," said Carlyle, carefully watching what he said to avoid a league fine.
He was steamed about Johan Franzen's opening goal, when "The Mule" bowled over Hiller (after the puck was already in the net) and knocked the goalie's mask right off.
"It's amazing, isn't it?" Carlyle said.
Penalties and power plays most likely will decide this series. The Ducks ran around and took a pile of penalties in the first round, a league-high 119 penalty minutes. But it didn't cost them because the San Jose Sharks scored on only four of 24 power-play chances.
After one game, the Wings are already halfway there with a pair of power-play tallies Friday night. And that's the difference from Round 1 to Round 2 for the Ducks. This time, the opposing team, which had the NHL's top power play in the regular season, is likely to make Anaheim pay for its transgressions.
The Ducks had three power plays to the Wings' six Friday night. That's a recipe for disaster.
"It is a fine line," said star Anaheim blueliner Chris Pronger. "You don't want them to have double. That's not what we're looking for."
The Wings watched tape of the Ducks' six-game defeat of the Sharks. They saw how San Jose forgot to work a power play.
"That's going to be one of the keys in this series," Lidstrom said. "We have to take advantage of our chances. We have to capitalize on the power play."
And leading the way will be old Lidstrom, who's still got lots of game.
Pierre LeBrun covers the NHL for ESPN.com.
ESPN Senior Writer
Covers the NHL for ESPN.com and TSN in Canada
Six years on the "Hockey Night In Canada" Hotstove panel
13 years at The Canadian Press national news agency
EDITORS' PICKS
Boston dealt a blow to Florida, while other Eastern playoff contenders looked to keep pace.
Inside the NHL

While it's too late for this season, the Blue Jackets are getting healthy and showing how tough they will be moving forward.
LeBrun »

Marc-Andre Fleruy has to prove he can dominate in the playoffs before anyone will expect the Penguins to make noise this spring.
Inside the NHL