Commentary
Canucks' answer? Wear Hawks down
CHICAGO -- Sorry, hockey fans, but the Vancouver Canucks had an unfortunate announcement Tuesday night.
To beat the Chicago Blackhawks, the Canucks took your viewing pleasure out of their second-round playoff series.
No more end-to-end nonsense. Sure, the fans loved it in Games 1 and 2, but the Canucks couldn't keep up in a track meet with the speedy Blackhawks. So on Tuesday night, what you saw was a near-perfect road effort from the Canucks, a 3-1 defensive gem that limited the Hawks offensively and, yes, squeezed a lot of the entertainment out of the game.
So what if it was boring? All the Canucks care about is that they're up 2-1 in the Western Conference semifinals and know what they need to do going forward if they want to win this series. The Canucks, as promised, tightened up their game Tuesday night; there were no Chicago breakaways, very few odd-man rushes and not a lot of rebound chances. The Blackhawks' vaunted speed game was neutralized completely. It wasn't pretty, but Jacques Lemaire would be proud.
"I don't think we can play chance versus chance with that team," said Vancouver coach Alain Vigneault, conceding his role as party pooper. "They have too much skill. We need to play a high-percentage game, and that's what we're going to continue to try to do."
You can't blame the Canucks. They escaped Game 1, then learned the hard way in Game 2 that playing '80s hockey wasn't going to cut it against a Hawks team that has speed on all four forward lines and a mobile defensive corps that quickly spearheads the transition. On their heels for much of the opening two games, the Canucks on this night closed up passing lanes and clogged up spaces.
[+] Enlarge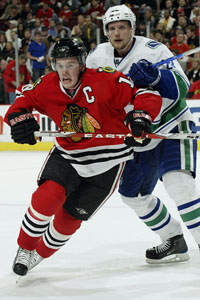 Bill Smith/Getty ImagesThe Canucks built another early lead against the Hawks, but this time, they didn't allow a Chicago comeback.
"We didn't allow them a whole lot of speed through the neutral zone," said Vancouver defenseman Willie Mitchell, second on the team with 23:37 of ice time. "We blocked their pressure pretty well."
It might not have been fun to watch, but it was impressive.
"We were able to shut down one of the best transition teams in the NHL," Vigneault said.
The Blackhawks, limited to 24 shots on goals, will need to adjust their game.
"They did a really good job standing us up at the blue line," Hawks defenseman Duncan Keith said. "We need to use our speed and chip it in behind their D and get on the forecheck. We didn't do that enough tonight."
The stretch pass wasn't there Tuesday night. Not a single Hawk got behind the Vancouver defense corps.
"They checked better," Chicago coach Joel Quenneville said. "They did a good job. They were taking out lanes better."
For a third straight game, Vancouver jumped out to a multigoal lead, 3-0 this time. That helped take what had been a vibrant and raucous pregame crowd out of the game in a hurry. Just what a road team wants to do.
The building rocked for the national anthem, but then had very little to cheer about on the night.
"It was a great atmosphere in the building tonight, but we didn't do anything to enhance it," Quenneville said.
Hawks rookie Kris Versteeg wondered whether his young team wanted to do too much.
"We just didn't play our game early on," Versteeg said. "Maybe it was nerves or something, I don't know. But I think we can be a lot better all in all."
When the Hawks did try to come back for the third game in a row, superstar goalie Roberto Luongo shut the door with 10 third-period saves. He had allowed eight goals in the opening two games, and there were actually suggestions in these parts that perhaps that Hawks had got to him.
Ah, no.
"Every aspect of our game tonight was really good," Luongo said.
Credit Vigneault and his staff. They pored over video and showed the players the perils of trying to go pound for pound with Chicago offensively.
"Just a greasy road win," Canucks defenseman Shane O'Brien said. "We talked about it before the game, about just wanting to grease one out in here."
Boring? Beauty is in the eye of the beholder.
"I thought it was pretty exciting from where I stood," Canucks winger Alexandre Burrows said.
Pierre LeBrun covers the NHL for ESPN.com.
ESPN Senior Writer
Covers the NHL for ESPN.com and TSN in Canada
Six years on the "Hockey Night In Canada" Hotstove panel
13 years at The Canadian Press national news agency
EDITORS' PICKS
Boston dealt a blow to Florida, while other Eastern playoff contenders looked to keep pace.
Inside the NHL

While it's too late for this season, the Blue Jackets are getting healthy and showing how tough they will be moving forward.
LeBrun »

Marc-Andre Fleruy has to prove he can dominate in the playoffs before anyone will expect the Penguins to make noise this spring.
Inside the NHL
MOST SENT STORIES ON ESPN.COM