Commentary
This round, Caps can't escape mistakes
WASHINGTON -- The playoffs ended the way they started for the Washington Capitals -- with a goalie change.
But know this, the goaltending was not the overriding reason for a crushing end to a disappointing playoffs for the Caps, a 6-2 Game 7 loss to the Pittsburgh Penguins. No, the blame is shared collectively. By the time rookie goalie Simeon Varlamov was pulled early in the second period Wednesday night after giving up his fourth goal, the shots were 18-5 Penguins.
[+] Enlarge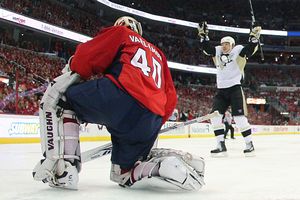 Bruce Bennett/Getty ImagesAfter a strong and surprising playoff run, Caps rookie goalie Simeon Varlamov was pulled in Game 7.
Gee, thanks for coming out, boys.
"It's just so amazing, I still don't really know what happened," a glazed-eyed Tom Poti said in a somber Caps dressing room. "I don't think we could have come out any flatter. They took it to us, they got a lucky bounce on the first goal, and it was kind of mayhem from there on in."
It was a brutal effort in this franchise's most important game since the 1998 Stanley Cup finals. And here's the worrisome trend with this talented but underperforming squad: The Caps are 1-2 in Game 7s in the Alex Ovechkin era, and they're darn lucky it's not 0-3.
"We were terrible for the first two periods," said veteran Washington blueliner Brian Pothier.
Added Caps GM George McPhee: "I thought our team played really well the entire series but for the first two periods tonight."
Those were not comments from Wednesday night. Those quotes actually were given to this hockey writer on the night of April 28, when the Caps escaped -- and we mean escaped -- with an underwhelming 2-1 win over the underdog New York Rangers.
The efforts in both Game 7s were nearly identical, but the opposition -- and, obviously, the end result -- differed greatly. The Rangers can't score. Washington's sheer talent level was enough to pull it past Round 1. The chickens came home to roost in Round 2.
This team has not yet learned how to win the big one. You see how painful it was over in San Jose earlier this postseason? That's what the Caps must avoid by winning next season.
"We're very close to being a very good team," Washington coach Bruce Boudreau said. "Maybe all it is, is a little bit more maturity in some areas, and I think we'll be able to make that step. It's like, I would believe, next year, that if you're asking me this again right now, that we'd be very disappointed if we weren't in the final four."
There's a ton of talent on this team, but, as the Sharks have already shown us, talent alone doesn't cut it.
"It's very disappointing and upsetting because the team out there tonight, that wasn't our team," Caps forward Brooks Laich said. "That's not what we call Caps hockey. It just came at a really bad time for us. I don't know what it was. Maybe we were just afraid to just take charge and get it done.
"Winning is a science, you have to learn how to do it. It takes a lot to learn how to win."
Don't blame Ovechkin, who Boudreau said played hurt in this series. No. 8 was dynamite in these playoffs, so you can't point the finger at him. But he had some passengers. Oh yes, he had some passengers. Most notably, fellow sniper Alexander Semin, who fell asleep in the second round and didn't score one goal. He too was playing with an undisclosed injury. Then there's Norris Trophy candidate Mike Green. The star blueliner left the rink without talking to the media Wednesday night, obviously crushed by his poor effort.
Boudreau confirmed that Green also played through an injury, but still, his drop-off in play was stunning. The coach had enough in Game 7, gluing him to the bench for most of the third period.
"He wasn't very good," Boudreau said of his reason for benching Green. "You know, I mean, as great a player as he is, he really struggled, I thought, tonight. I know Mike very well, and when he struggles, he puts a lot of pressure on himself to do something better. So every mistake is magnified in his mind, and I just thought, 'Let's not play him anymore to save himself.' Because he was really struggling."
Green, like his teammates, will hopefully be stronger for this. He's not the first star to fall on his face early in his playoff career. There's a long list there. The Penguins certainly expect Green and the Caps to be around for years to come.
"At the end of the day, I think both these teams have a lot of respect for each other, and I'm sure it's not going to be the last time we face this team in the playoffs," Pens blueliner Brooks Orpik said.
On this night, however, it was hard to look ahead before being able to digest what had just happened. A 6-2 rout on home ice in a game that mattered so much to the players and organization.
"It's a tough pill to swallow," Laich said. "We did a lot of good things this year, but this game tonight is the way the season is going to be remembered, and it's a shame because I thought a lot of our players did a lot of good things, and as an organization, I thought we did a lot of good things. It's a sour note to go out on."
And then some.
Pierre LeBrun covers the NHL for ESPN.com.
ESPN Senior Writer
Covers the NHL for ESPN.com and TSN in Canada
Six years on the "Hockey Night In Canada" Hotstove panel
13 years at The Canadian Press national news agency
THE SHOWDOWN: CAPITALS VS. PENGUINS
The series featuring the NHL's biggest stars in Crosby, Malkin and Ovechkin didn't let fans down. We recap the Pens' 4-3 series win over the Caps:
ANALYSIS
WATCH
THE SERIES
MOST SENT STORIES ON ESPN.COM