Commentary
Hawks write new chapter in series
CHICAGO -- A three-goal lead evaporated. A dead-quiet rink. Their starting goalie injured, and the defending Stanley Cup champs smelling blood.
Oh, and the season on the line.
Turns out, you didn't miss anything by not being a fly on the wall in the Chicago Blackhawks' dressing room Friday night after the second period.
"Not much was said," forward Patrick Sharp said.
Instead, the Hawks came out and played one of their finest periods of the season, and finished it off 1:52 into overtime when Sharp pounced on a rebound to lead Chicago to a 4-3 win and the United Center rocked again.
Take a step back for a second and digest what happened here Friday night. No matter what happens in these Western Conference finals, this will be a night when people will remember a young, star-filled hockey team beginning to show its maturation.
With the roof seemingly caving in and everything that could going wrong late in the second period, the Hawks took a deep breath and responded like a battle-tested squad that's been there, done that.
"Maybe a couple of weeks ago or certainly a year ago, you might have seen a different Hawks team," said Sharp, who also opened the scoring 8:45 into the first period. "But we've been through a lot in these playoffs. I think we played one of best periods of the season in the third."
Let's be honest, when Detroit blueliners Nicklas Lidstrom, Brian Rafalski and Jonathan Ericsson scored unanswered in a 4:23 span in the middle frame, we were all thinking the same thing: sweep. The Wings would finish the job in the third period and we'd all be heading home Monday morning after a Game 4 win.
Instead, the Hawks continued to write new chapters in their exciting story, picking themselves up off the mat and sticking it right back to hockey's modern-day dynasty.
"We've had a lot of ups and downs in this year and in these playoffs," said star Chicago blueliner Duncan Keith, who assisted on Samuel Pahlsson's goal that gave the Hawks a 3-0 lead. "In fact, we were down a lot in the last series with Vancouver and kept finding ways. I really think that builds up character.
"That builds mental strength, to know that we can come back no matter what the situation is."
The Red Wings were one goal away from going for the jugular. Now, they might have a series on their hands. The young Hawks, whose confidence was shaken after going down 2-0 in a series for the first time this spring, whether they want to admit it or not, have a bounce in their step again.
"We know we can beat this team," said Sharp, who has seven goals in the postseason. "It's a confidence-booster."
Friday night was Chicago's first real victory over the Red Wings all season, if you take away two meaningless games that wrapped up the regular season in April, when neither team had anything to play for. Detroit won the first four regular-season matchups that mattered, including the Winter Classic.
[+] Enlarge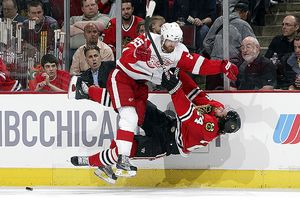 Bill Smith/NHLI via Getty ImagesWings blueliner Niklas Kronwall laid out Hawks star winger Martin Havlat at 13:08 of the second period.
After starting to wonder if Big Brother was ever going to relent, he did on this night. Odds are the Hawks will still fall in this series, but they've taken the first step in chipping away at their more established Original Six and Central Division rivals.
There's an official hate-on between these two clubs that was guaranteed after Wings blueliner Niklas Kronwall laid out Hawks star winger Martin Havlat at 13:08 of the second period with perhaps the biggest hit since Scott Stevens pummeled Paul Kariya at center ice in the 2003 Stanley Cup finals.
Havlat lay on the ice for several minutes after the hit and would be forgiven if he thought he was still playing for Ottawa. He left the game and is obviously questionable for Game 4 on Sunday, although he was listed as day-to-day. You'd need your leg to be cut off not to be listed as "day-to-day" in the playoffs. Starting goalie Nikolai Khabibulin, by the way, is also "day-to-day" with a "lower body" injury.
Kronwall got a five-minute interference major and a game misconduct for the hit on Havlat. From our vantage point, it was a clean but vicious hit. A league official explained the call by saying Havlat didn't have control of the puck so it was interference.
The two coaches sounded like they were describing different plays when discussing the call after the game.
"It's a dangerous hit when you haven't touched the puck," said Hawks coach Joel Quenneville. "It was a hard hit. A dangerous hit when you still haven't touched it."
When asked about the five-minute major, Quenneville said: "I think it was the right call. He hadn't touched the puck. He left his feet. It was a tough hit."
Wings coach Mike Babcock was listening to Quenneville's news conference in another room.
"It's amazing how two people that know each other and see things similar a lot of times can see things so different," Babcock said. "You know, the bottom line is, the puck came around the wall. Havlat had it in between his legs. Kronwall didn't leave his feet. He did it on the follow through. He just finished the check. He hit the guy fair and square. …
"It takes one of your good players [Kronwall] out of the game right off the hop," Babcock said. "In my opinion, it was absolutely the wrong call. It was actually a good finished check."
The Hawks and the Wings, just like old times.
Pierre LeBrun covers the NHL for ESPN.com.
ESPN Senior Writer
Covers the NHL for ESPN.com and TSN in Canada
Six years on the "Hockey Night In Canada" Hotstove panel
13 years at The Canadian Press national news agency
EDITORS' PICKS
Boston dealt a blow to Florida, while other Eastern playoff contenders looked to keep pace.
Inside the NHL

While it's too late for this season, the Blue Jackets are getting healthy and showing how tough they will be moving forward.
LeBrun »

Marc-Andre Fleruy has to prove he can dominate in the playoffs before anyone will expect the Penguins to make noise this spring.
Inside the NHL
MOST SENT STORIES ON ESPN.COM