Commentary
Hit brings out hate in West finals
CHICAGO -- The hit of the playoffs has polarized the two teams in the NHL's Western Conference finals.
There was very little middle ground Saturday as the Blackhawks and Red Wings exchanged barbs over the thunderous check from Detroit's Niklas Kronwall that injured star Chicago winger Martin Havlat.
"I thought it was gutless all around," said star Hawks blueliner Brian Campbell.
"I thought it was a great hockey hit," countered Red Wings coach Mike Babcock. "So far from being gutless it's not even funny. He did it right. He didn't leave his feet. The puck was right in between the guy's feet. I mean, no way."
[+] Enlarge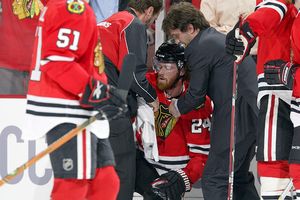 Bill Smith/Getty ImagesAfter taking the hit from Niklas Kronwall in the first period of Game 3, Martin Havlat was down on the ice for several minutes before being helped off by teammates and a trainer.
Where's the truth in all this?
The NHL's head office deemed that it was not worth further discipline. Not worth a fine and certainly not a suspension. There was concern, however, at the NHL Players' Association, as one source told ESPN.com on Saturday that the hit was "precisely the type of hit that the rule proposed by the PA [at the March GM meetings] is designed to penalize and deter."
And that's where the grey area comes into play.
The hit itself, at least from this vantage point, was clean. But because a head injury was suffered, some people have an issue with it. It's been a theme all season long with players, coaches, GMs, and both the league's head office and the union.
Because of that, Campbell believes Kronwall should have been suspended.
"Yeah, I definitely think so. It's a head shot," Campbell said. "Or it's just an illegal hit all around. Hit with your shoulder, that's how you're supposed to hit, and finish guys. We've talked about it as a league and as players. I'm on the competition committee, so we've talked about it. We did a leaguewide vote, the players want it stopped; they want the fines and suspensions to be there.
"I don't know what the percentage was, at least 70 percent of players that wanted it addressed with a stiffer penalty. But it keeps happening."
Down the hall in the visitors dressing room, Campbell's fellow NHLPA members saw it differently. Funny how the lenses of a bitter playoff series clouds one's vision -- for both teams.
"It's a clean hit," star Red Wings forward Marian Hossa said.
Consider the source. Hossa and Havlat were teammates in Ottawa. Hossa feels for the guy getting hurt but believes Kronwall did nothing wrong.
"Sometimes it's a tough play. You're trying to find the puck and you know somebody is coming after you, and you hesitate one second and it's too late," Hossa said. "That's what happened on the Kronwall hit. It happens once in a while. You lose control [of the puck], you try to look for it, and the guy hits you. You have no chance to respond. I saw it today on the replay, the puck was there. It's a clean hit. It would be a different thing if the puck wasn't there."
Kronwall, for his part, sounded genuinely remorseful that Havlat went down so hard.
"Of course it's unfortunate he got hurt the way he did," Kronwall said after practice. "Scary to see him go down like that. From my perspective, the way I think things happened, the puck went off the wall, he went to pick it up. I stepped in and he never saw me coming. He never touched the puck, but the puck was right there."
Stanley Cup Playoffs Blog

Check out the latest updates and analysis from the 2009 Stanley Cup playoffs as our NHL crew weighs in:
• 2009 Playoffs blog
When told that the Blackhawks considered it a dirty hit, he said he understood their position.
"Well, I mean, he never saw me coming, so I think I would have felt the same way if somebody did that to one of my teammates," Kronwall said.
That was the only comment of the day that tried to find middle ground.
The two coaches sounded like they were describing a different play.
"It's a dangerous hit," Hawks coach Joel Quenneville said. "Same stance as I had [Friday] night. You know, he didn't touch the puck. The guy left his feet. You know, it was a tough hit."
One hour later, Babcock stood on the same podium at the United Center.
"I heard Joel Quenneville talk about it," Babcock said. "What he does is, he comes in, whether he believes it or not, he tells you what he's got to tell you. I actually believe what I'm telling you. It's the facts.
"I mean, I went over it a hundred times before I came in here. I wanted to see, did he leave his feet. Kroner, what he does, usually he's got so much pop in him, he explodes through the guy; at the end of the check when he's done, he's off the ice. That wasn't the case here at all in the situation."
OK, so now we've got one coach saying the other coach is lying. Things are indeed heating up in the Western Conference finals. The Wings have a 2-1 lead going into Sunday's matinee at the United Center. Havlat, Hawks goalie Nikolai Khabibulin and Wings star center Pavel Datsyuk all missed practice Saturday; their status for Game 4 is very much up in the air.
But the topic du jour wasn't their injury status; it was Kronwall's hit and the fact that he's got a track record for borderline checks.
"He's got the rep for it," Campbell said. "I know as players, we want to see head shots taken away from the game. We've talked about it. It needs to be addressed. I have no problem if he comes in and uses his shoulder and hits; there's nothing wrong with that. But he didn't do that. He came into a guy that did not have the puck, was exposed, jumped, forearms, exploded through his head.
"That isn't part of the game. Nobody wants that to be part of the game. And he keeps doing it. Somehow, some way, it's got to stop."
"I mean, everyone has a right to hold an opinion," Kronwall said. "I think anyone who knows me knows I'm not trying to hurt anyone out there."
Three springs ago, Campbell himself delivered the hit of the playoffs, a devastating check on Philadelphia's R.J. Umberger when Campbell was still with the Buffalo Sabres.
"I think it's totally two different hits," Campbell said. "One where a shoulder is down, hitting him with your shoulder like how you're supposed to check; and another one where a guy explodes, jumps, [the other] guy doesn't have the puck, and uses his fists and forearms to finish the deal off.
"To me, it's two totally different things. And he's a guy that does it all the time and should be punished for it."
Wings GM Ken Holland couldn't believe anyone saw something wrong in the Kronwall hit.
"It's a classic hockey play," Holland said Saturday. "The puck is between his feet."
Dirty hit? Clean hit? Here's the only thing we do know: There's some serious hate in the NHL's Western Conference finals.
Pierre LeBrun covers the NHL for ESPN.com.
ESPN Senior Writer
Covers the NHL for ESPN.com and TSN in Canada
Six years on the "Hockey Night In Canada" Hotstove panel
13 years at The Canadian Press national news agency
EDITORS' PICKS
Boston dealt a blow to Florida, while other Eastern playoff contenders looked to keep pace.
Inside the NHL

While it's too late for this season, the Blue Jackets are getting healthy and showing how tough they will be moving forward.
LeBrun »

Marc-Andre Fleruy has to prove he can dominate in the playoffs before anyone will expect the Penguins to make noise this spring.
Inside the NHL